Vikes women's rugby 7s team claims national title
- Braedan Willis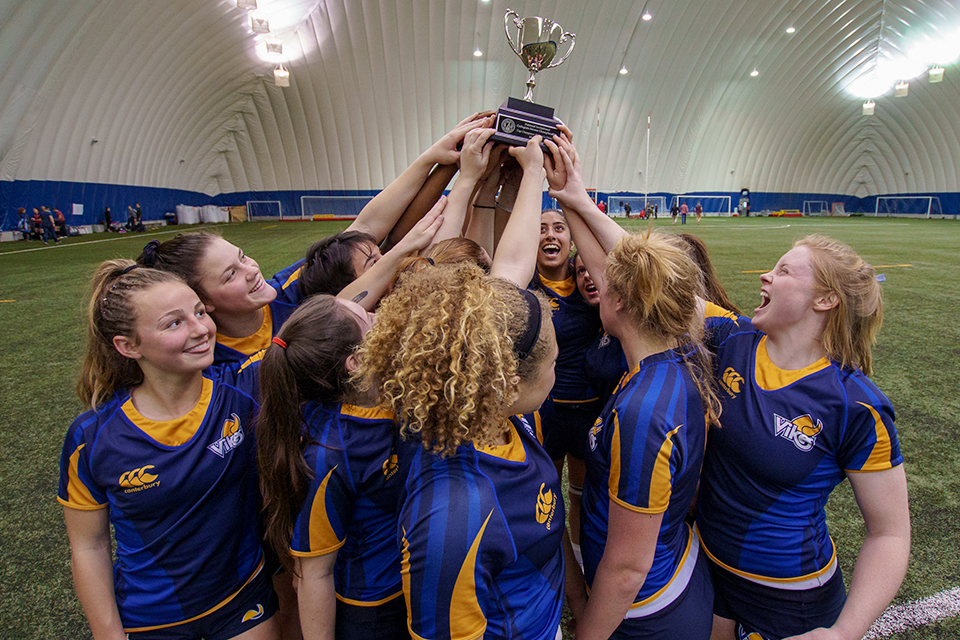 On March 24—exactly three weeks after claiming their second-straight Canada West banner—the University of Victoria Vikes women's rugby 7s team captured the 2019 National University 7s championship title in Kingston, Ontario. The Vikes went undefeated in the tournament, reaffirming their place as one of the premiere women's rugby schools in Canada.
"I am so proud of our teams effort all season and this was the perfect way to cap it off," says Vikes head coach Brittany Waters. "This was some of our best and most consistent rugby all year. We played to our strengths all weekend and stuck to our game plan, which was to play a wide game, maintain possession off restarts and to play a fast up tempo game."
The Vikes played six matches total, defeating Laval in the quarterfinals (with a score of 31-5) and Queens in the semifinals (24-14). They faced off against Sherbooke in the tournament final.
Sherbrooke had won against two previously unbeaten teams en route to the final, topping the Alberta Pandas in the quarters and the Guelph Gryphons in overtime of the semis. But they couldn't beat the Vikes, who led from the outset and dominated the match. The game ended with a score of 30-0, and the Vikes headed home with another piece of well-deserved hardware.
"The part of the weekend that impressed me most was how the girls continued to build off each game and kept elevating their performance," says assistant coach Mandy Marchak.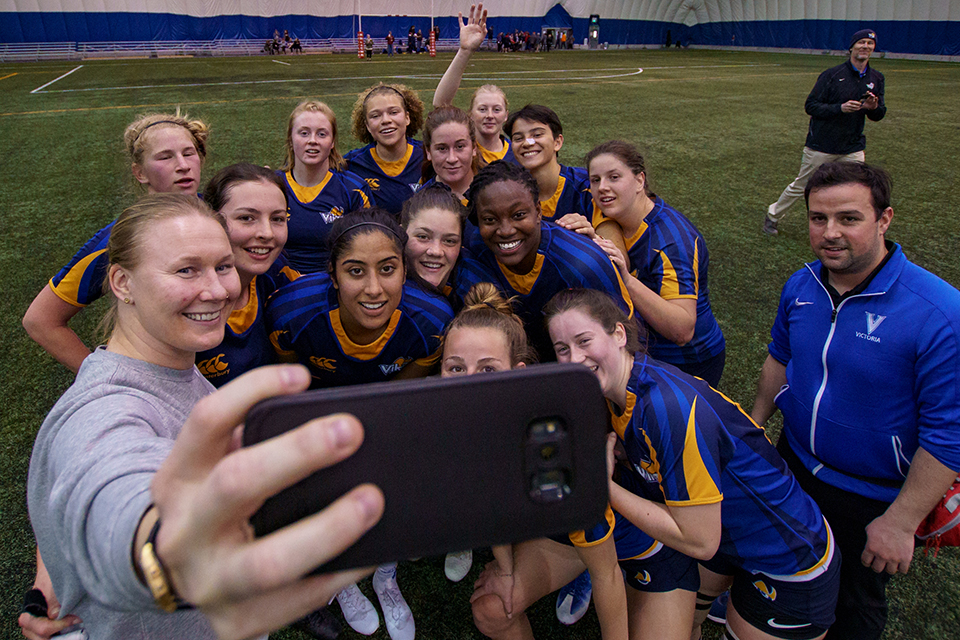 Vikes' athlete Brooke Bazian finished second in tournament scoring with a total of 45 points.
For fifth-year Gurp Dhaliwal, this tournament is the last time she'll wear Vikes colours as prepares to graduate at the end of the school year. Dhaliwal scored two tries in the championship final.
"Gurp had a fantastic final weekend as a Vike," says Marchak. "She owned the kick offs all tournament long, and we were able to retain the ball in many occurrences just from a few outstanding individual efforts she made. We want to thank her for everything she has done for own program and wish her all the best in her future."
The national title caps off a very successful year for the squad whose accolates include a Canada West silver medal, a fifth-place finish at the 15s national championships, and the Canada West 7s banner for a second consecutive year.

Story adapted from the Vikes' press release.
Photos
In this story