Vikes field hockey team crowned back-to-back national champions
- Ali Baggott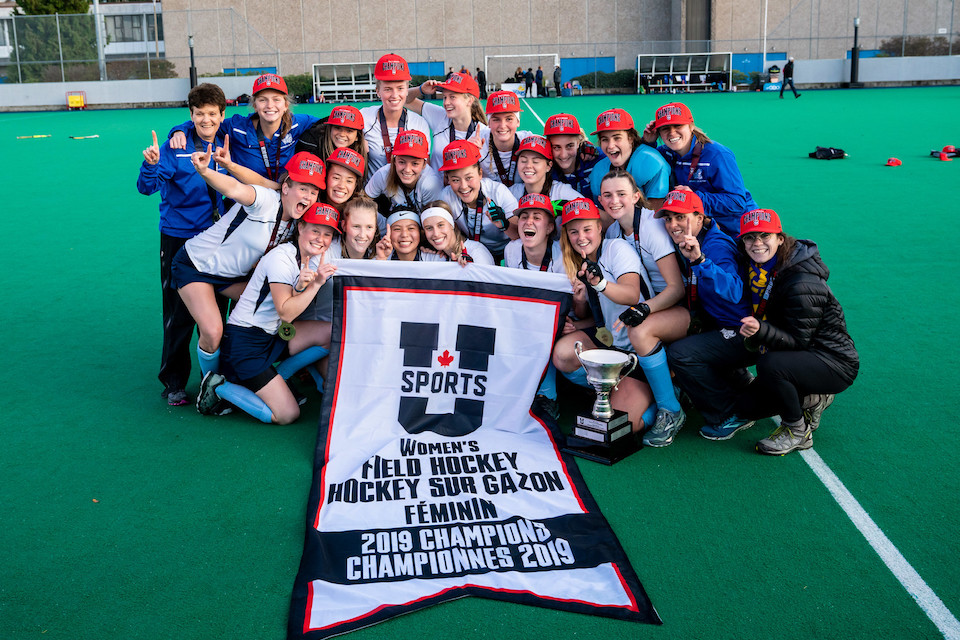 Congratulations to the UVic Vikes women's field hockey team for their extraordinary season and back-to-back championship win!
The University of Victoria Vikes women's field hockey team captured the program's 13th national championship on home turf. The Vikes beat the University of Guelph Gryphons 3-0 on Nov. 1 and 3-1 on Nov. 2 to claim the best-of-three U Sports national championship series for the second straight year.
Mollenhauer named MVP
Third-year defender Anna Mollenhauer was named the championship Most Valuable Player after the education major scored two goals in the final game. Mollenhauer was also named one of 11 U Sports First Team All-Canadians at the awards banquet prior to the start of the tournament. The MVP nod is a feather in the cap for the St. Michael's University School graduate who was the conference Rookie of the Year in 2017 and the country's Player of the Year in 2018.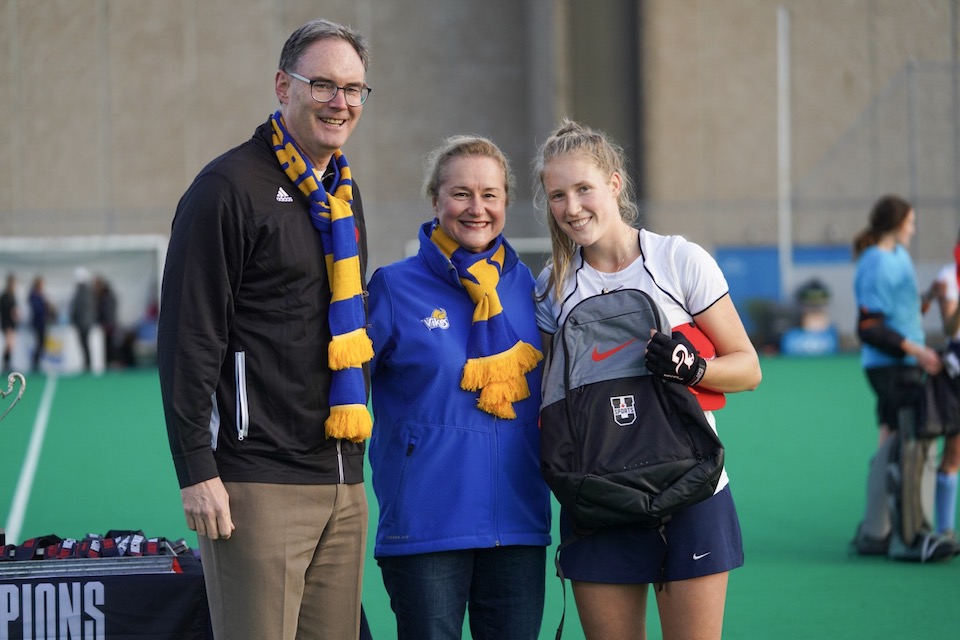 "It's super exciting and this team was a lot of fun," said Mollenhauer after the game. "We worked really hard this year so it was really rewarding getting the banner for a second season in a row."
Mollenhauer competed for Canada at the 2019 Pan American Games but chose to return to UVic to focus on her studies and compete for the Vikes. It paid off.
Youthful team delivers
Despite graduating seven seniors from last year's championship team, the Vikes were able to find success this season. With no fifth year players, the team looked to fourth-year players Justine Balen and Emily Wong as well as a core of second and third year players.
The Vikes went undefeated in regular season for the first time since 2015 and also knocked off the perennial powerhouse UBC Thunderbirds to be crowned back-to-back conference Canada West champions. It marked the 19th conference banner for the Vikes field hockey program.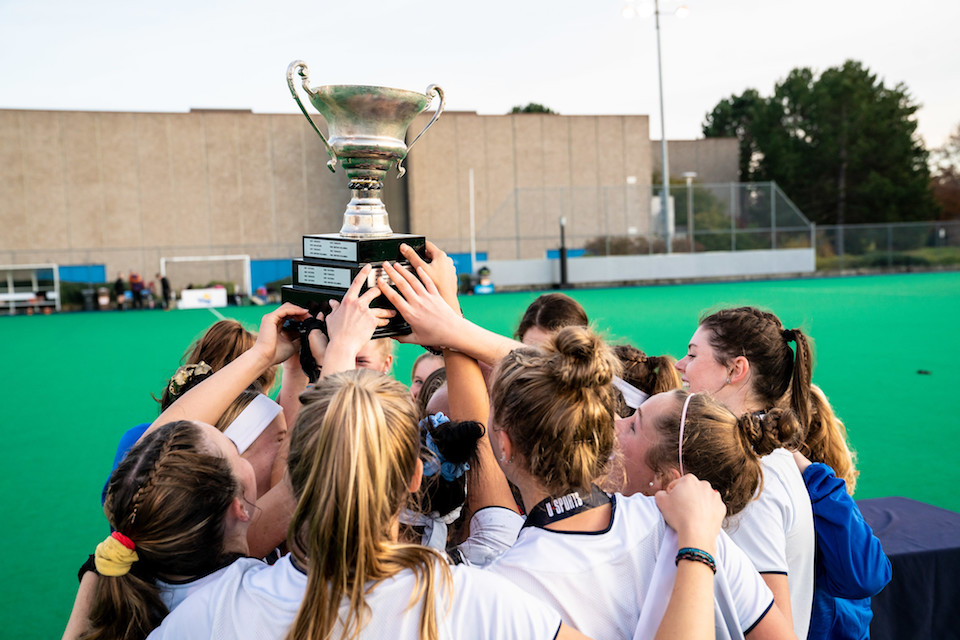 This is the first time the Vikes have won two straight national championships since 1995, and the first time the Vikes have won at home since 2008.
The crowd was amazing and we could totally hear them throughout the entire game which is awesome. Last year (winning) at York was amazing but nothing is as exciting as playing on home turf.
— Field hockey championship MVP, Anna Mollenhauer
Field hockey leads Vikes championship tally
The field hockey program has the most national championships won of all varsity sports and brings UVic's overall Canadian university national championship total to 80. 
Vikes field hockey teams have now amassed 13 national championships since 1984, with all of those championship victories coming under head coach Lynne Beecroft. Beecroft, or "Buzz" as her players call her, is in her 36th season as head coach of the Vikes. 
I am so excited for our athletes. They are a great group of girls and they are really connected on and off the field. It's just so exciting for them to be successful and have all this fan support.
— Vikes women's field hockey head coach, Lynne Beecroft
A family affair
Several of the current players are daughters of national champions and Olympians who were also Vikes field hockey players under Beecroft. Second-year defender Judy Cristante, daughter of former Vike Kolette Cristante, first-year defender Sophia Berk, daughter of UVic Sports Hall of Fame inductee and Olympian Milena Gaiga, and Anna Mollenhauer, daughter of two-time Olympian and Vike Nancy Mollenhauer, celebrated as teammates, much like their mothers did decades ago. The team's student athletic trainer, Erin Brant, is also daughter of Olympian and former Vikes field hockey stand out Sara Brant.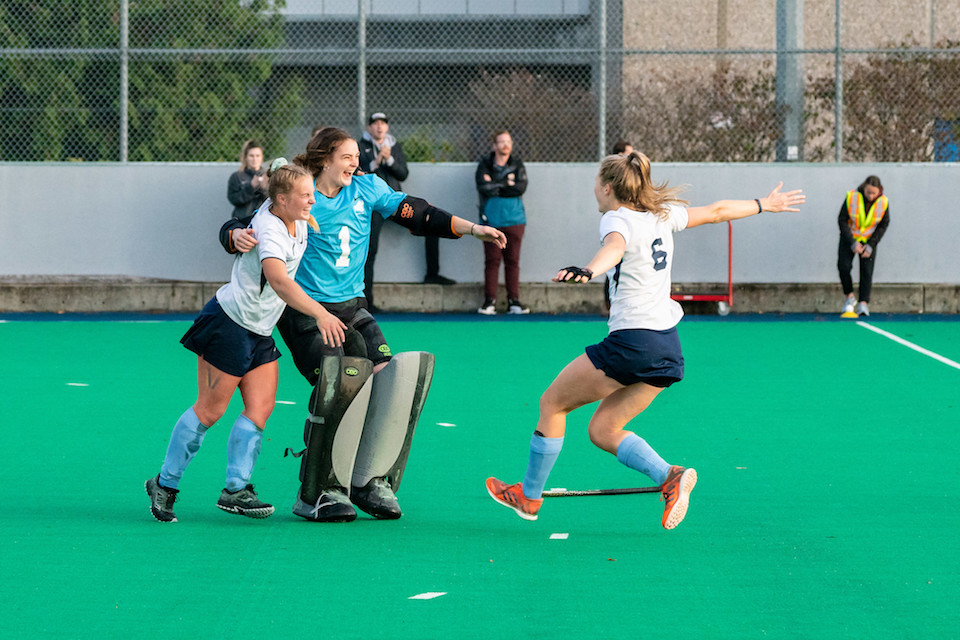 Family, friends, alumni and supporters created the capacity crowd atmosphere that cheered the Vikes to a storybook ending on the Ring road campus. 
Read more
Video highlights
Photos
In this story
Keywords: vikes, sports, student life, athletics