Mary Jo Hughes: Framing the conversation through art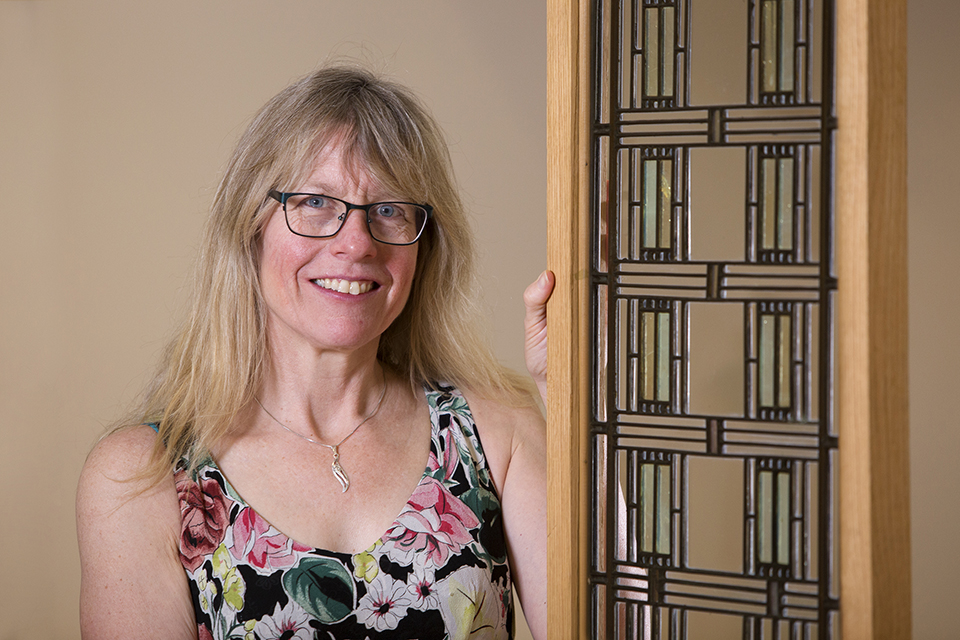 Bringing the Strategic Framework to life
The fourth in a series of articles that explores how staff and faculty across campus are implementing the university's Strategic Framework
Q and A: Mary Jo Hughes, Director, Legacy Art Galleries
Tell us about your work at the university.
Seven years ago, one thing that drew me to the position of director of UVic Legacy Art Galleries is that UVic has more art on public display than any other Canadian university.
Currently, we have approximately 3,000 works of art displayed in our two dedicated gallery spaces including UVic's free public art gallery, Legacy Downtown, and in nearly every building on the UVic campus, from a total collection of nearly 20,000 objects. More about UVic Legacy Art Galleries
As director, I provide vision for how the collections can serve UVic's goal and strategies. Within this overarching role I get to do a huge variety of things from the repatriation of children's art to residential school Survivors, to the return of precious art glass windows to the original building designed by celebrated architect Frank Lloyd Wright, to speaking to community groups and students about our collection and project managing our current exhibition, Myfanwy Pavelic: Mirrored Selves Within and Without, which opened May 25 at Legacy Downtown.
How do you see the Strategic Framework helping or connecting to your work, and the work of your unit?
The framework priority nearest and dearest to our hearts is fostering respect and reconciliation. We have already been doing a lot of Indigenous programming for years, but having it be an area that the whole university is dedicated to really helps us to know we're going in the right direction.
Two exhibits that spring to mind are There Is Truth Here: Creativity and Resilience in Children's Art from Indian Residential and Day Schools, curated by UVic anthropologist Andrea Walsh, which taught us a lot of new lessons and emphasized the importance of true collaboration with Survivors, and last year's exhibit, Testify: Indigenous Laws + the Arts, where we realized the value of relinquishing control to allow space for the voices of others.
In this regard, we are continually focusing on our own learning and listening. We seek out workshops and experiences that will help gallery staff recognize such things as how our values, daily practices and words are steeped in colonial power structures.
We hold monthly meetings that we call "decolonial check-ins" where we share what we are learning and ideas for modifying our practices.
And these efforts also extend to how we catalogue the collection. We're currently updating our collection's database, including trying to find out the names for Indigenous artists who have for so long been listed as anonymous. And we are researching traditional Indigenous place names.
Does the work you do correspond to particular strategies in the framework?
The UVic art collection reflects our extraordinary academic environment, especially with its distinctive strengths visible on campus in Pacific Northwest Coast and contemporary Indigenous art.
We're really interested in bringing Indigenous art to life so that when people come to campus, they'll be able to engage with the cultural meanings and be reminded that they are standing on the traditional territory of the Lekwungen-speaking peoples.
As for intensifying dynamic learning, that's something we are really proud of—we give students real-world experiences. We present programming and exhibitions that engage students. Many of our professors use the exhibitions as part of their curriculum. We have work study students and co-op students and every year we bring in interns. We're dedicated to making sure that each student is involved in some kind of meaningful project related to real museum work. Whether it is curating, collections management or programming school tours, the students have something tangible when they leave us that they can point to as being their own significant contribution.
With respect to promoting sustainability, we now use recyclable materials. For example, we switched from foam core to paper products for displays. More significantly, we see our contribution in promoting healthy dialogue around issues that matter to society as working toward healthy social sustainability. For example, our Indigenous art exhibitions have allowed us to hold public discussions on contemporary issues such as stereotyping and cultural repression with the hope of promoting informed attitudes. And, our recent collaboration with UVic's Transgender Archives allowed us to explore with the public how society can grow to be more welcoming to the wide spectrum of genders.
As for engaging locally and globally, all that I have just explained is done in partnership with local stakeholders as we work to provide a link between UVic and the wider community.
Furthermore, our new database and our online projects allow the collections and the research of faculty and students to have a reach globally, engaging curiosity, inspiring artistic pursuits and providing learning opportunities well beyond the gallery walls.
Photos
In this story