A rock-solid solution for CO2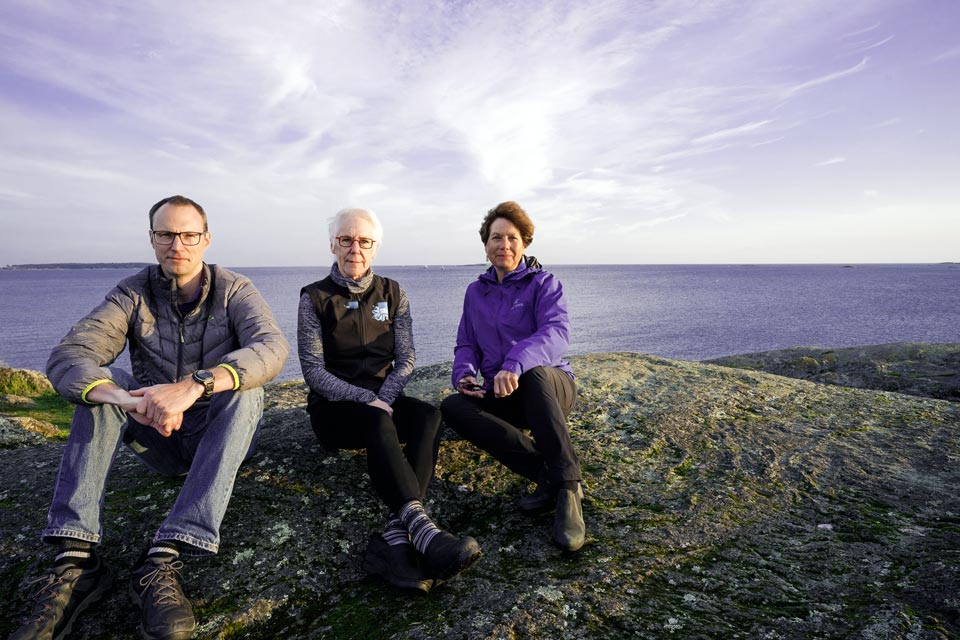 International team works to advance technology that will turn a greenhouse gas into rock
Scientists now know that for Earth to stay within the temperature increase limit set by the Paris Agreement, negative emission technologies (NET), which remove and permanently sequester carbon dioxide from the atmosphere, are essential. 
The UVic-led Pacific Institute for Climate Solutions (PICS) is bringing together an international team of experts to take on this challenge with a new four-year feasibility study.
The Solid Carbon project aims to permanently and safely sequester carbon dioxide (CO2) as rock. The vision is to extract CO2 directly from the air, then, using deep-ocean technology powered by ocean-based wind and solar energy, inject the CO2 into sub-seafloor basalt, where it will mineralize into solid carbonate rock.
PICS executive director Sybil Seitzinger says if this ambitious project proves feasible, oceans around the world could be home to floating platforms that house this NET solution.
"Drastic reductions in greenhouse gas emissions are essential but not sufficient to combat climate change," she says. "The ultimate goal is to develop a commercially viable solution to support negative emissions by 2050."
Solid Carbon boasts an international team with researchers from Canada, the US and Europe, who bring expertise in ocean science, carbon mineralization, renewable energy generation, engineering design, and oil-and-gas drilling/injection operations. Also onboard are experts able to navigate the social and legal implications of emerging NET advances.
Over the next four years, the Solid Carbon project will assess the integration of six existing technologies in a way that's never been conceived of before. The best outcome will be selected for a real-world demonstration at Ocean Networks Canada's observatory site, 2,700 metres underwater in the Cascadia Basin. "With nearly 10 years of operation in the deep sea, Ocean Networks Canada's observatory team brings expertise that will provide close analysis of the CO2 injection and mineralization processes and environmental monitoring of the overlaying sediments, seafloor, and water column," says ONC President and CEO Kate Moran, who is also Solid Carbon's principal investigator.
Another key component—direct air capture technology on land—was developed by Squamish-based Carbon Engineering over the past 10 years. "One key design challenge will be adapting direct air-capture technology used on land to perform reliably on a floating offshore platform powered by renewable energy," explains Curran Crawford, a professor with UVic's Institute for Integrated Energy Systems. Crawford will lead the investigation into what ocean technology design works best for capturing—and then injecting—the CO2 into ocean basalt. Prototypes will then be built for further evaluation.
So why chose an ocean location for this project, given the challenges posed by access, waves and seawater corrosion?  In short, because 90 per cent of the planet's basalt is beneath the ocean floor. When CO2 is injected into porous basalt, a type of volcanic rock, it reacts relatively rapidly with minerals to form a solid carbonate—permanently removing it from the atmosphere. And by using the world's largest reservoir of basalt—the deep ocean—to incorporate and permanently store CO2 as solid rock, the project will have an edge in expanding the use of the technology globally.
Another important aspect is ensuring that the venture has societal acceptance. A team from UBC will look at the social and regulatory needs of the project including both a small-scale demonstration and a larger commercial-scale operation. Led by Terre Satterfield, of UBC's Institute for Resources, Environment and Sustainability, the team will investigate the laws affecting offshore carbon capture and storage to ensure future projects are conducted in a manner that not only helps to mitigate climate change, but is also safe and environmentally responsible.
UVic's engineering faculty are experts in renewable energy and sophisticated monitoring and power systems, UVic's Ocean Networks Canada operates world-leading ocean observatories that can deliver a demonstration project offshore of Vancouver Island, Carbon Engineering is a world-leading air-capture company, and UBC has an internationally-recognized research team on the interface of nature, humans, technology and policy related to climate. 
PICS and its Solid Carbon team recognises both the enormous ambition of this project and its potential payoff for combatting climate change, if the technology succeeds.  By leading this international project, British Columbia is showing it has the expertise, drive and know-how to be a pioneer in the emerging field of negative emissions technologies.
By bringing these partners, and others, together in the Solid Carbon project, PICS seeks to advance its vision of net-negative greenhouse gas emissions by mid-century alongside all communities adapting to a changing climate. Climate change is the greatest challenge of our time, and the Solid Carbon team strives to be part of the solution.
—
Photos
In this story
Keywords: climate, oceans, partnerships, research, Ocean Networks Canada, Pacific Institute for Climate Solutions, climate solutions
People: Sybil Seitzinger, Kate Moran, Curran Crawford
Publication: The Ring