Expert Q&A on sexually transmitted infections in Canada and beyond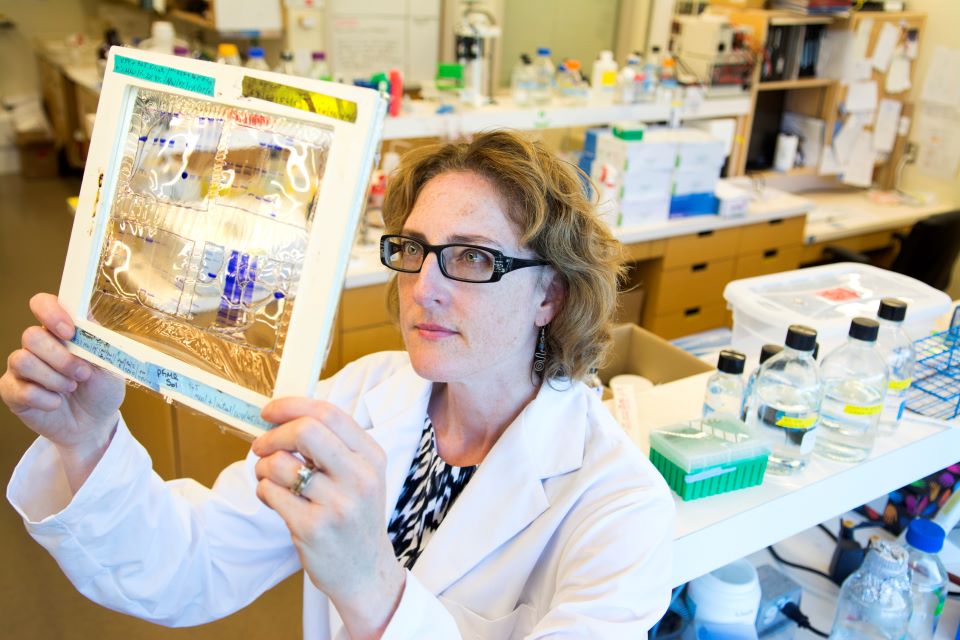 University of Victoria microbiologist Caroline Cameron will co-chair the STI & HIV 2019 World Congress, the world's largest international conference on sexually transmitted infections (STIs), including HIV, in Vancouver from July 14 to 17. Recognized internationally for her research on sexually transmitted infections, the Cameron Lab is one of only a few labs in the world, and the only lab in Canada, that is working to understand the basic science of the pathogen that causes syphilis, Treponema pallidum. 
Recently, Cameron was recognized with a LifeSciences BC award for her work successfully advancing health outcomes in BC, while at the global stage, Cameron has been recognized by the National Institute of Allergy and Infectious Diseases with a MERIT Award celebrating an outstanding record of achievement and acknowledging the promise of her research.
In recent months, we've seen a rising incidence of syphilis cases in Canada, including congenital cases. Why is this?
Over the last decade we have seen a rise in the number of cases of infectious syphilis mostly because of a decreased use of condoms. This increase has occurred in men who have sex with men and heterosexual men and women, but the issue also affects children and families since the pathogen can be passed from a pregnant women to her developing fetus with devastating consequences.
Given the increase in syphilis infection and the burden of infection on communities, what can be done to decrease infection rates?
There are a few things, it is important to remind people that STIs are still a major problem and we need to remove barriers to screening and treatment. Outreach also remains key, as enhancing outreach to communities, especially rural ones, will increase the number of pregnant women who receive early and appropriate prenatal screening, care, and treatment for STIs. And while this work is being done in communities it is important to also be developing vaccines against STIs, including syphilis, to help prevent infections from occurring in the first place.
A recent World Health Organization study suggests more than one million people a day get a sexually transmitted infection. How can this be mitigated?
By increasing public health campaigns and letting people know STIs are an increasing problem, promoting condom use, improving access to screening and treatment of infections and by supporting investment in the research and development of preventative vaccines we can mitigate STIs. We also need to work hard to decrease the stigma associated with STIs, by using many of the same approaches that were used to eliminate the stigma associated with HIV infections.
The STI & HIV World Congress focuses on Indigenous approaches to sexual health. Why is this important and what can we expect to learn on this topic?
There are many ways to communicate the importance of sexual health and wellbeing, and current popular communication methods may not work with every culture or population. We should not have a "one approach fits all" strategy.  Instead, we should learn from each community about the best ways to improve sexual health and well-being through approaches that are culturally inclusive.
What are some of the key factors in vaccine development for STIs?
From a public health perspective, we need to realize the need for vaccines against STIs as a complementary approach to screening and treatment, and work to decrease the vaccine hesitancy that is on the rise. More research dollars are also needed to support the study of pathogens that cause the leading STIs. And we need to work now, while vaccines are in the development stage, to pave the way for STI vaccines to be accepted by communities throughout the world.
How can we de-stigmatize STIs?
By talking about them and by treating them like any other disease. What if people of influence, such as celebrities, helped to destigmatize inflections by talking about STIs? This is what occurred with the anti-stigma campaigns for HIV. Community engagement is also critical. We need community advocates to dispel the stigma and change perceptions.
Photos
Media contacts
Dorothy Eggenberger (Science Communications Officer) at 250-721-8745 or scieco@uvic.ca
Paul Marck (University Communications + Marketing) at 250-721-6246 or pcmarck@uvic.ca
In this story
Keywords: disease, health, Carolyn Cameron, biochemistry, microbiology
People: Carolyn Cameron