Queenswood now the Ocean-Climate Building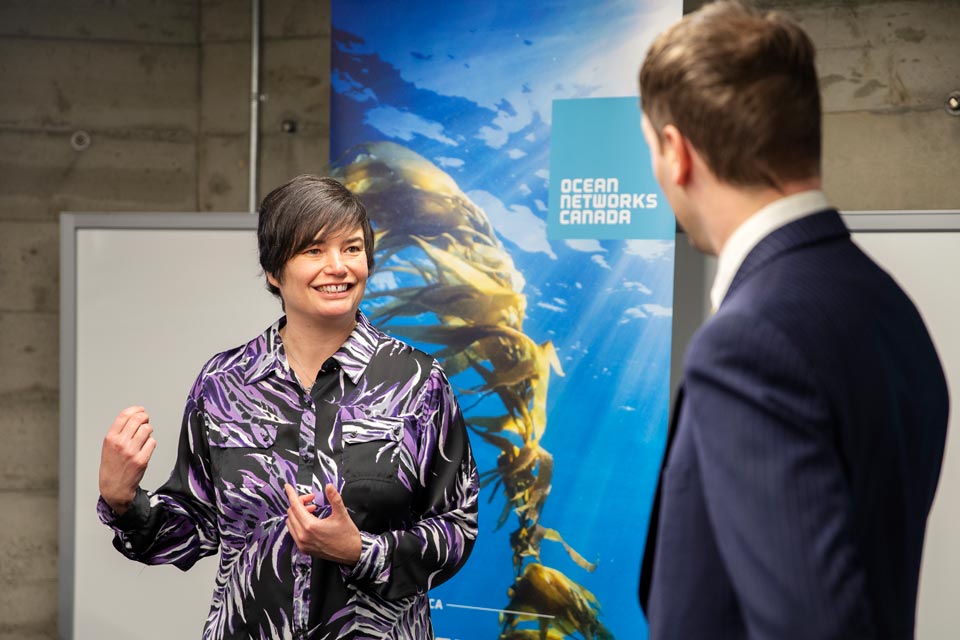 When UVic bought the Queenswood property from the Sisters of St. Ann in 2010, the site was envisioned as a special location for the university's growth over the ensuing decades.
Now, UVic's world-leading ocean and climate researchers have a new centre where they can continue producing the critical knowledge used nationally and internationally for sustainable ocean management and to mitigate and adapt to climate change.
The $9.5 million Ocean-Climate Building officially opened Jan. 10 with an event attended by staff, faculty, politicians and media that acknowledged the funding support to significantly renovate and reconfigure the former residential care facility. Funding included $3.5 million from the Government of Canada's Post-Secondary Institutions Strategic Investment Fund, $850,000 from the Province of BC and $5.15 million from UVic. 
UVic president Jamie Cassels thanked the Sisters of St. Ann, and federal and provincial governments for making possible the Ocean-Climate Building where work will deepen the world's knowledge for a sustainable future.
"Our programs of research and education respond to our planet's major issues, including those related to our 'air, water and land'—the vital elements of our planet, fundamental to our future. Knowledge about those three ingredients of life—how they are changing, how they are interacting within complex ecosystems and how we interact with them—is essential to the world," said Cassels.
$12.6 million funding announced for ONC
At the opening, the Government of Canada announced $12.6 million over four years for Ocean Networks Canada (ONC), the anchor group in the building. Jonathan Wilkinson, minister of Oceans, Fisheries, and Canadian Coast Guard, said the investment will support ONC's work to monitor ocean health and factors that affect endangered Orca whales, and to expand its ability to provide real-time data on ocean surface currents, better informing navigation and emergency response.
Upgrades to the nearly 30,000 square-foot facility includes new fibre optic networks, a flexible interior wall system to create large, collaborative workspaces for interdisciplinary work, individual offices configured to serve specific needs, and extensive seismic upgrades.  
The new complex provides physical space for collaborations among one of Canada's largest concentrations of climate and ocean researchers. This research happens across UVic—in biology, geography, earth and ocean sciences, environmental studies, biochemistry, business, law, history, and electrical, computer, mechanical and civil engineering. 
UVic also hosts three research and knowledge-sharing institutes focused exclusively on ocean and climate: ONC, Pacific Climate Impacts Consortium and the Institute for Integrated Energy Systems as well as Pacific Institute for Climate Solutions—a collaboration with BC's three other research-intensive universities hosted and led by UVic.
In addition, UVic is home to two Environment Canada labs—the Canadian Centre for Climate Modelling and Analysis, a flagship, internationally recognized climate modelling laboratory, and the Water and Climate Impacts Research Centre, specializing in hydro-climatology and the hydrologic and ecological impacts of atmospheric change and variability.
—
UVic media release
Government of Canada release
Province of British Columbia release
Photos
In this story