Small boat noise in the Salish Sea impacts whale health
- Anne MacLaurin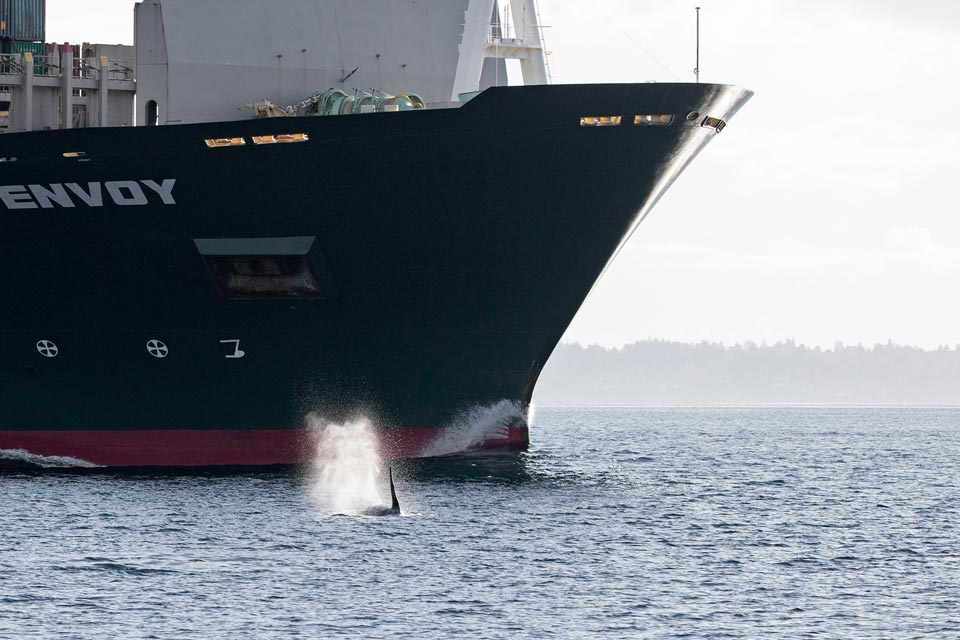 On World Ocean's Day, marine biologist and coastal geographer Lauren McWhinnie is excited to be part of the festivities at Fisherman's Wharf and supporting local organization Saturna Island Marine Research and Education Society (SIMRES); however, her purpose will be to raise awareness about small boat noise in the Salish Sea and its impact on the health of whales and in particular the endangered Southern Resident Killer Whales (SRKW).
Education and public outreach are very important activities for McWhinnie who has been interpreting the new Federal Transport Canada laws and Department of Fisheries and Oceans management measures that came into effect on June 1, imposing mandatory restrictions on vessel and marine mammal interaction.
"The average small boat owner may not know where the important areas such as foraging sites are for the SRKW, but with some public education people can learn and change their behavior, such as slowing down in these critical areas," says McWhinnie.
"It is also about keeping your distance when you are out on the water," says McWhinnie. "The new laws say 400 meters but boaters need to use caution and good judgement."
McWhinnie has been listening to marine mammals and documenting the activities of SRKW and monitoring the large volume of marine traffic in the Salish Sea for the past 4 years.
Whales can be greatly impacted by underwater noise. They rely on sound to communicate with each other, to navigate and for detecting their prey and boat noise can interrupt these vital activities.
—Marine biologist and coastal geographer Lauren McWhinnie
There is evidence that suggests the orca sometimes reduce their rate of vocalization in the presence of vessel noise so McWhinnie hopes by collecting data about small boat noise she can raise awareness about the impact this could be having on the feeding habits of the SRKW.
"We use three passive forms of data collection," says McWhinnie, "Automatic Identification System (AIS) receivers, hydrophones and a land-based camera are all located at known SRKW foraging sites in the Salish Sea."
The Automatic Identification System (AIS) are mandatory on any large vessel for safety reasons as it allows the ships to broadcast their position, but smaller vessels are not legally required to have AIS so monitoring the presence of smaller boats is much more difficult, explains McWhinnie.
She is using land-based cameras as another form of data collection to determine the type of small vessel and the amount of time a vessel spends in the important foraging area.
"The cameras allow us to capture information on whale and vessel interactions without having to be on the water," says McWhinnie, "this is key since we don't want our instruments to effect the whales."
By using all three forms of data collection, McWhinnie hopes to gain a better understanding of how many small and large vessels are out on the water and what sort of interactions are occurring between boat owners and the SRKW.
It will also allow McWhinnie to build a more complete picture of the SRKW habitat use and inform key management and mitigation measures aimed at lessening the amount of noise mammals are exposed to in key feeding areas.
"In order for the SRKW to not only survive but thrive, says McWhinnie, we must minimize our level of impact and that includes the number of noise producing vessels in the Salish Sea."
The small boat noise monitoring research project is part of work supported under the Canadian Governments Oceans Protection Plan funded by the Department of Fisheries and Oceans and is also supported by colleagues at Environment and Climate Change Canada and MEOPAR a Canadian Centre of Excellence. There will also be several research papers with results from this study forthcoming later this year.
Photos
In this story
Keywords: oceans, fisheries, transportation, wildlife, geography
People: Lauren McWhinnie
Publication: The Ring