Writer's extraordinary archives reflect her remarkable life
- Lisa Abram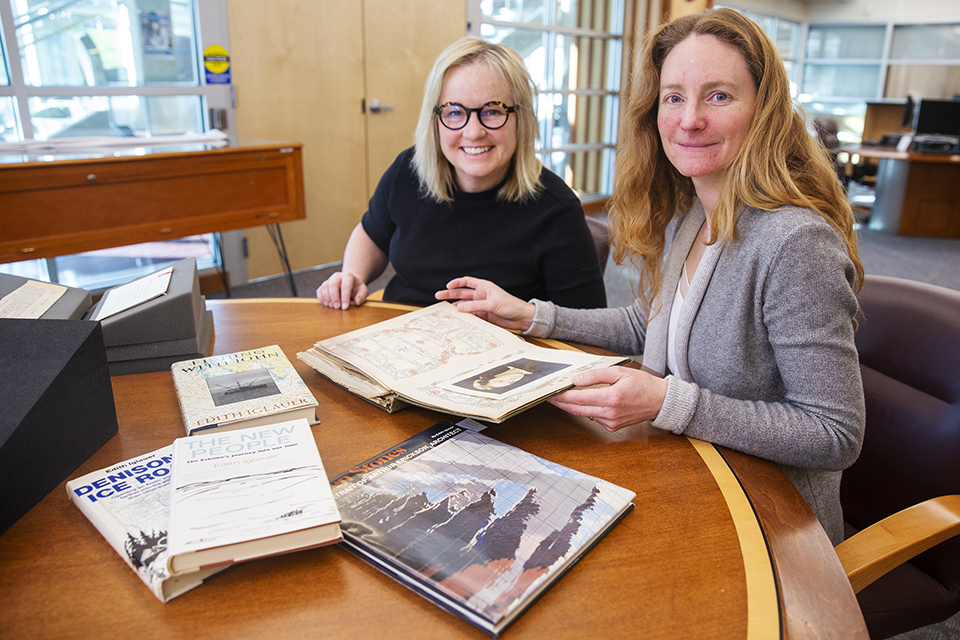 Famed New Yorker writer Edith Iglauer's reporting spanned wars, revolutions, reflections on Canada—and a famous dinner party with Pierre Trudeau and Barbra Streisand.
The archives of Dr. Edith Iglauer—acclaimed journalist, author and activist—are now available at UVic for learning and research, providing a scholarly resource for researchers studying literature, politics, history and the writing process. Recipient of a UVic honorary degree in 2006 for her role as a trailblazer for women in the field of journalism, Iglauer's writing showed an instinctive grasp of the significance of extraordinary events, attention to detail and love of the written word.
Iglauer passed away last month in the Sunshine Coast community of Garden Bay, BC. Though her writing is most well-associated with the New Yorker magazine, she moved from New York City to BC in the 1970s—and stayed. And while Iglauer never considered herself a feminist, she made history by becoming a formidable female writer covering most of the last century.
Edith Iglauer was not only a wonderful and beloved writer at The New Yorker, she was a pioneering reporter. I've always loved her book Denison's Ice Road. I fell upon it in a used book store years ago and read it straight through—such a wonderful book.
—The New Yorker Editor David Remnick
The new UVic collection includes correspondence, fan letters, and cassette tapes of interviews, original notes for her New Yorker articles, non-fiction book manuscripts, Second World War reporting, and work at the US Office of War Information, along with material covering US First Lady Eleanor Roosevelt's speeches.
It was a privilege meeting Edith in 2017 when we visited Garden Bay to pack her archives. We had an opportunity to visit with her briefly, and always the interviewer, she asked us questions about our lives and deflected attention away from her own remarkable life and career. This fascination and appreciation for people is reflected in her archives and her writing. Looking through her day planners, and folders of materials relating to parties she hosted, it's extraordinary how social she was and how many friendships she sustained.
—Associate Director of Special Collections Heather Dean
An early life interest in adventure, US politics, the environment and the Canadian North, born out of the nascent days of the last century, led Iglauer to an extraordinary writing career. "[Edith] was groundbreaking. She said I am going to do this. I am a woman. That will not stop me," recalls elder son Jay Hamburger about his spirited mother.
Eighty years of writing, one remarkable woman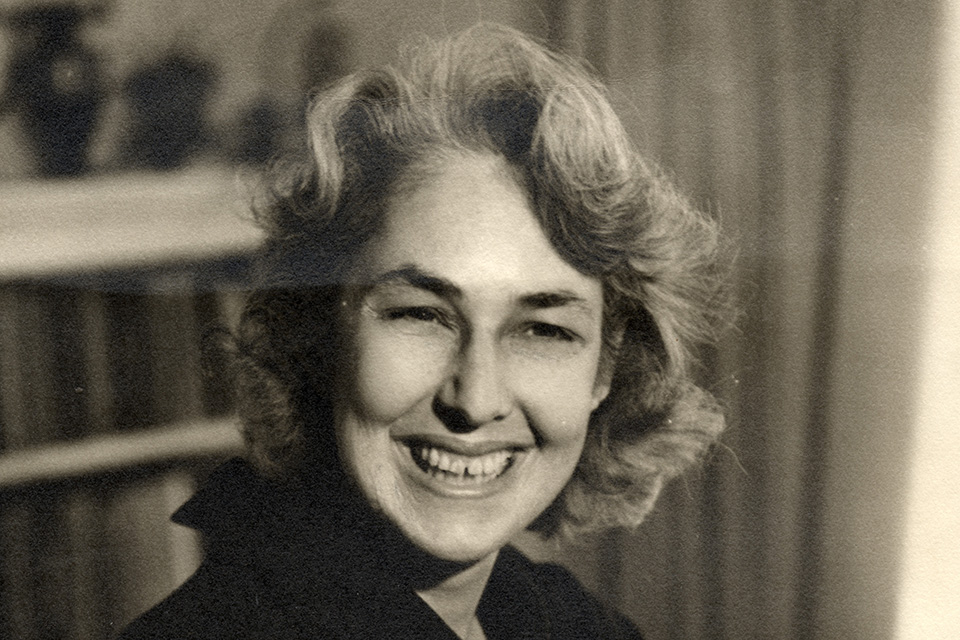 Born March 10, 1917, in Cleveland, Ohio, Edith Theresa Iglauer's reportage spanned extraordinary times and events. She worked as a war correspondent in the Mediterranean theatre for The Cleveland News in the 1940s, convinced her editor that she should cover Eleanor Roosevelt, and moved to New York City to write about the beginning of the United Nations for Harper's magazine.
Iglauer's no-nonsense approach to the issues of the day and her prescient nature led her to the front lines of investigative journalism. She was among the first American correspondents going into Yugoslavia and reporting on the Tito Regime at the end of the European War, accompanied by her first husband, New Yorker writer Philip Hamburger. She interviewed Czechoslovakia's foreign minister before his suspicious death in 1948, did coverage of environmental issues in Manhattan six years before the inaugural Earth Day and investigated the foundation of the newly built New York World Trade Center decades before 9/11—commenting that the Italian stone used in the lobby reminded her of a "particular kind of ornate tomb."
Her early influences came from both her parents, who encouraged Iglauer and her sister to pursue higher education. At the age of 12, a school librarian gave her Tolstoy's Anna Karenina, and from that pivotal moment, she was attracted to the detailed writing style of the Russian classics. Iglauer attributed her early fascination with politics to receiving Wellesley College's 1939 Woodrow Wilson Prize in Modern Politics for her work on Franklin D. Roosevelt.
Her younger son, Richard Hamburger, acknowledges there were many influential literary writers in Iglauer's career, including her husband Philip, Rachel Carson, A. J. Liebling, E. B. White, Anton Chekhov, Dickens, Joseph Mitchell (of The New Yorker), Sidonie-Gabrielle Colette, William Maxwell and Tolstoy, among others.
Edith Iglauer's archives not only document a significant writer's process and career, they cover eight decades of world events and social change—and as such, they are a rich source for object-based learning and primary research.
—Director of Special Collections and University Archivist Lara Wilson
Drawing inspiration from research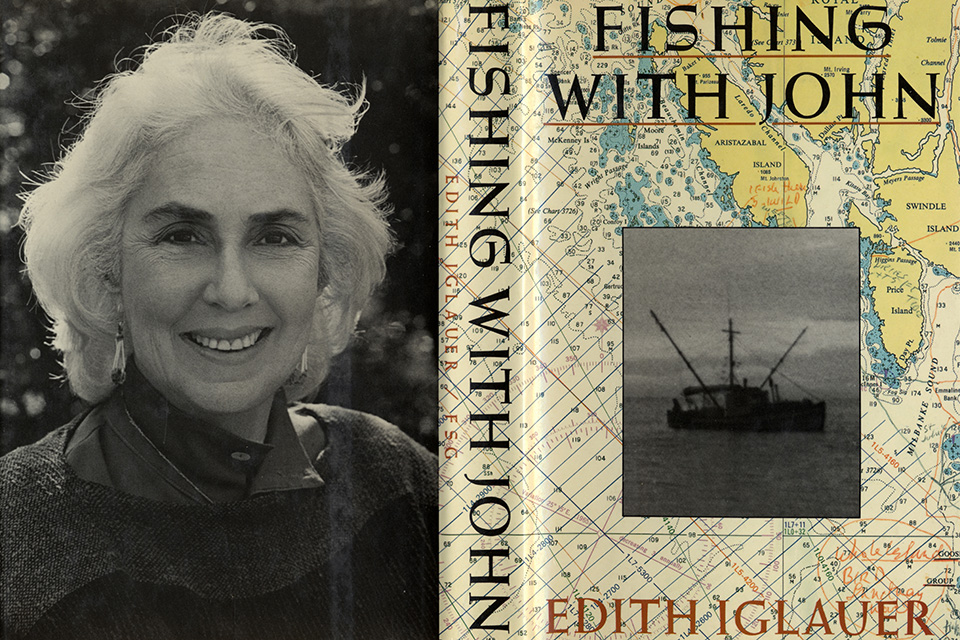 Iglauer's fastidious attention to detail, astute listening skills and prodigious memory complemented her insatiable interest in a wide range of topics. Her passions drove research that spanned months, even years—from the World Trade Center in New York to air pollution, Arctic co-operatives and Inuit culture. 
The list of publications for which she wrote are as extensive as her long life, including The New Yorker magazine, The Atlantic, The Cleveland Plain Dealer, The New York Herald Tribune, The New York Post, McCall's Magazine, Saturday Night, Geist magazine and the Christian Science Monitor.
It was love—and loss—of her second husband John Daly in 1978 that led to her most acclaimed work, Fishing with John, which was nominated for a Governor General's Literary Award in 1988. The shock from John's sudden and unexpected death, after being married for only two years, gave Iglauer the impetus to use the power of prose and grief to create a loving tribute to him and his way of life.
I believe for Edith it was a way of mourning and healing through her writing. She was able to tell the story of fishing with John, to rise creatively to an occasion over the loss of a man she loved, and she found a way of life she enjoyed and cherished.
—Jay Hamburger, Iglauer's elder son
The Prime Minister comes to dinner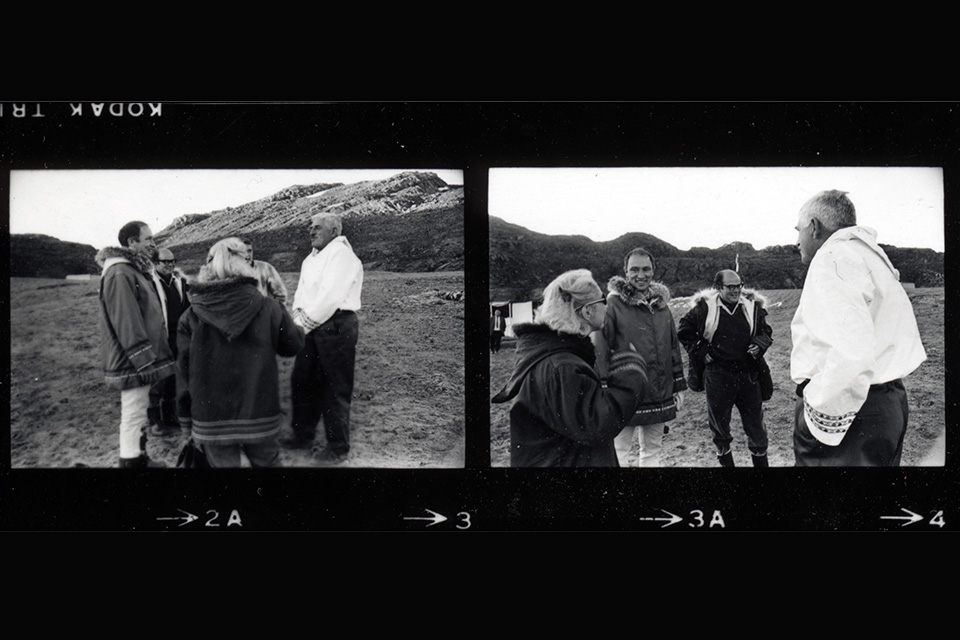 Iglauer had an innate ability to put her subjects at ease, nurturing friendships with some of them long after her assignments were filed.
In 1968 she found herself covering Prime Minister's Pierre Trudeau's Canadian Arctic trip, the first such journey for a Canadian prime minister in office. She was the only female journalist in a small crew: chief aide Marc Lalonde, Trudeau's brother Charles and three pooled press members—a photographer, a Canadian Press representative and the CBC.
Her subsequent correspondence with the elder Trudeau from 1968 to 1999 is convivial and caring, highlighting a mutual respect for each other's work and opinions. After her profile of the Prime Minister was published in The New Yorker in 1969, she casually invited him to her New York City apartment for dinner—and he agreed. Surrounded by her long-time New Yorker editor William Shawn, a handful of friends and an RCMP detail, the dinner was well received (save for some soggy raspberries), and capped off with the surprise appearance of actress Barbra Streisand. Trudeau sent a letter of appreciation afterwards for the gesture, thanking Iglauer for the hospitality shown to Streisand and the opportunity of seeing Iglauer again.
"I was 18 years old when I met Trudeau," recalls Richard Hamburger. "He was urbane, elegant and charming. Barbra Streisand was mischievous and fun." Hamburger notes the context, as well. "We lived on the eighth floor of a prewar apartment building that had an elevator on 94th St and Lexington Avenue. Our apartment in New York City was modest—rambling but cozy. Nothing too precious so as to be suitably protected from two boys who loved to throw indoor balls to each other and against the walls. Mom wrote her articles and books in a small backroom off the kitchen."
Observances of life and celebrations of Canada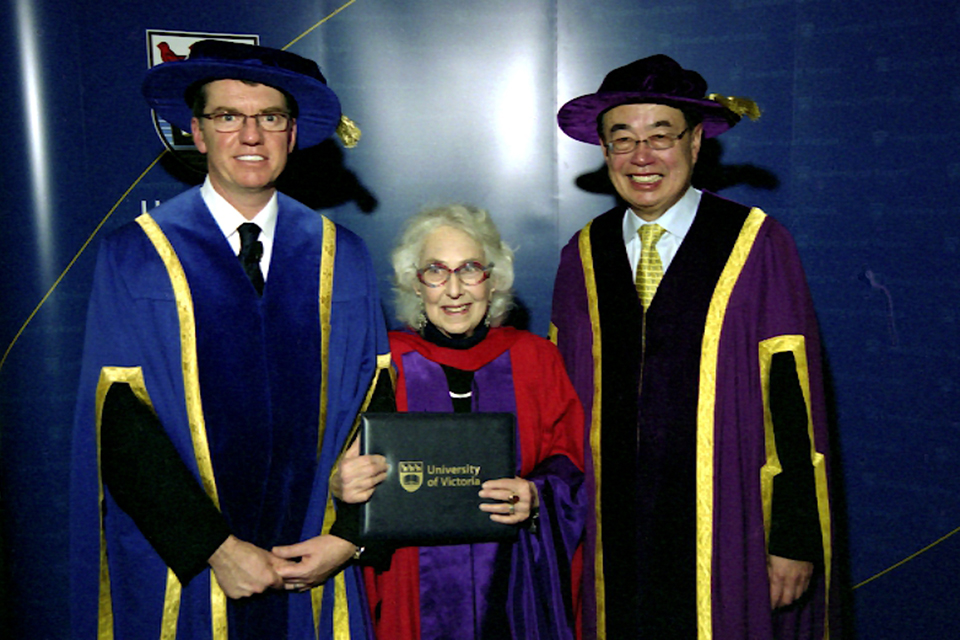 On Nov. 15, 2006, Iglauer received an Honorary Doctor of Laws degree at UVic, recognizing her as an acclaimed writer who was a trailblazer for women in the field of journalism, whereupon Iglauer exclaimed that it was the proudest moment of her life.
"Edith wrote in the mid-twentieth century when an accomplished woman was expected to do many other things before she ever sat down to the typewriter; host dinner parties, raise her kids—which she loved doing—cook for a multitude of eccentric writers and be a warm friend and host to all the kids in the neighborhood," observes Richard Hamburger. "She figured this out by getting up very early in the morning to write and by seizing every odd moment later in the day to squeeze in a few more paragraphs. She had formidable powers of concentration and was very disciplined. Somehow, while managing the domestic front, she also managed to take trips to the Arctic and report a story. Women at that point in time had to do it all."
"A staff writer for the New Yorker magazine since 1961, Edith Iglauer became one of her generation's most adventurous and astute observers of the Canadian way of life," said Lynne Van Luven, then acting chair of UVic's writing department, at Iglauer's convocation.
Libraries played an integral part in Iglauer's life from an early age, when she met her future husband Philip at Columbia University library. However, her destiny was sealed when a librarian in her childhood set her on the path to becoming a writer.
"I remember Edith coming to speak when I was a student taking my first ever creative non-fiction class, and still recall the vivid impression she made," recalls Deborah Campbell, now director of UVic's professional writing program. "Back in her day, The New Yorker would give you $20K and tell you to come back in two years with a story."
A centenarian's perspective
"Edith cherished living in British Columbia and considered it a precious privilege to be a part of the Sunshine Coast community and Canadian society," says Jay Hamburger.
When Iglauer was in her 90s, she was asked in a Geist magazine interview what her greatest accomplishment was, and did not hesitate to say that it was the birth of her two sons.
Edith found a lasting home on the west coast of Canada and never wanted to leave it. She loved her neighbours, the traditions of that part of the world and the ravishing landscape she could see from her window in Garden Bay. It was her pleasure to tell the stories of so many warm, independent and fascinating people who dotted its coves and deep woods.
—Richard Hamburger, Iglauer's younger son
In summing up the secret to getting to one-hundred-years-of-age, Iglauer matter-of-factly proclaimed in a radio interview, "I enjoy my life. I enjoy everything I do. I never think about it."
Find out more
Photos
In this story
Keywords: history, in memoriam, literature, research, writing, library
People: Lara Wilson, Heather Dean
Publication: The Ring