Students create molecules in global partnership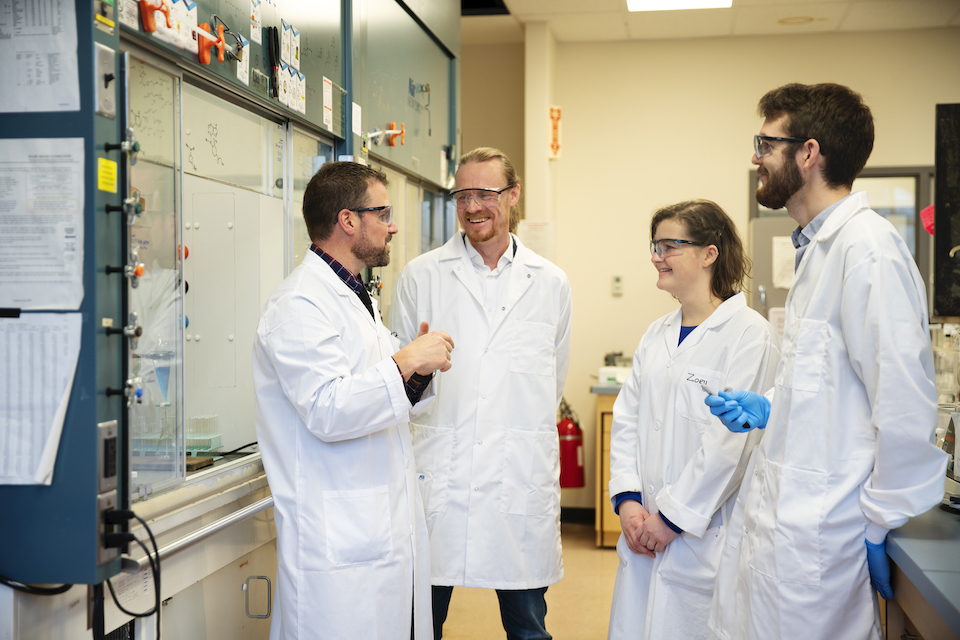 Chemistry students at the University of Victoria can now take part in an international program with Denmark-based pharmaceutical company LEO Pharma A/S that will provide them with hands-on learning during their academic course work. 
As part of LEO Pharma's Open Innovation program announced today, students are designing and synthesizing molecules at UVic, and sending them to Denmark for biological testing. This gives the students access to LEO Pharma's unique bioactivity tests to screen small molecule compounds against pathways implicated in skin diseases like eczema. In turn, LEO Pharma can potentially identify new chemical leads that may then be used in various levels of drug discovery. The partnership includes sharing of traditionally confidential and proprietary research data and capabilities to involve UVic and students directly with innovative and clinically relevant research. 
The project serves two goals: it focuses on global partnerships as a way to enhance innovation and create new research opportunities and knowledge mobilization, and it provides students with valuable training, says Jeremy Wulff, UVic chemistry professor and project lead. 
"Students get a hands-on chance to create and test molecules to find next-generation treatments for skin diseases like psoriasis and eczema," says Wulff. "They also get to learn how a global, pharmaceutical company operates, which gives them an integrated, dynamic learning opportunity while studying at UVic."
The announcement today includes an event involving dignitaries from provincial government, executives from LEO Pharma, the Danish Trade Council and LifeSciences BC.
Read LEO Pharma's news release here
A media kit containing high-resolution photos is available on Dropbox.
-- 30 --
Photos
Media contacts
Jeremy Wulff (Dept. of Chemistry) at 250-721-7179 or wulff@uvic.ca
Jennifer Kwan (University Communications + Marketing) at 250-721-7641 or researchcomm@uvic.ca
In this story
Keywords: chemistry, international, partnerships, research, teaching, VPR, RPKM
People: Jeremy Wulff