Sue Paish named 2019 Distinguished Entrepreneur of the Year
Peter B. Gustavson School of Business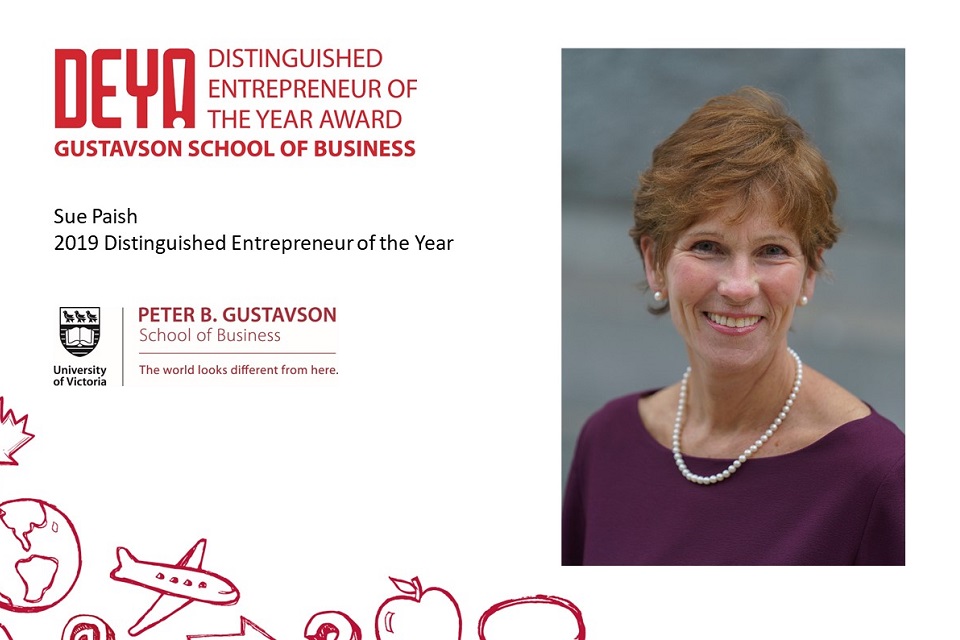 Innovator and entrepreneur Sue Paish, QC, CEO of Canada's Digital Technology Supercluster is the Peter B. Gustavson School of Business 2019 Distinguished Entrepreneur of the Year (DEYA). 
"We are thrilled to recognize Sue Paish as our 2019 recipient," says Peter Gustavson, chair of the DEYA committee. "Sue is a true inspiration, always working towards making the world better – whether it is through technological advancement, innovations in healthcare, or law." 
Paish will receive her award on May 22, 2019 at the Distinguished Entrepreneur of the Year Gala, at the Victoria Conference Centre.  
Canada's Digital Technology Supercluster, is one of five business-led innovation superclusters, which facilitate and fund ambitious, collaborative technology leadership projects that develop products and platforms. Projects approved and supported through the Digital Technology Supercluster will foster economic growth across Canada through delivering globally leading digital technologies developed by strong industry led consortia who will support the scaling of small enterprises while delivering jobs, increased GDP and advancing Canada's competitiveness. 
Under Paish's leadership, the Supercluster has positioned Canada as a global leader in digital technologies by bringing together small, medium-sized and large companies, post-secondary institutions, research organizations and non-profits. 
In addition to the Supercluster, Paish has led transformative change in her previous position as president and CEO of LifeLabs Medical Laboratory Services where she grew the company to be the nation's leader in diagnostic services. Prior to that, in her role as CEO of Pharmasave Drugs (National) Ltd., she implemented new dispensary management technology that has become the Canadian standard. 
"Sue's ability to lead companies and people through technological transformations with great success is a quality we're excited to celebrate," says Saul Klein, dean of the business school. "Our students and business leaders will learn from her exceptional leadership, teamwork and innovation skills." 
Paish has received an Influential Women in Business Lifetime Achievement Award from Business in Vancouver, Women's Executive Network has named her to their Hall of Fame for Canada's Top 100 Most Influential Women, and the Public Policy Forum has honoured her with the Peter Lougheed award for Public Policy. Paish holds an honorary doctorate from the British Columbia Institute of Technology and is an appointee to Queen's Counsel in British Columbia. 
Paish received her BCom in 1980 from the University of British Columbia. She then went on to receive her Bachelor of Laws (LL.B.) in 1982.
Full biography of Sue Paish and list of previous DEYA award recipients.
A press kit containing high-resolution photos is available on Dropbox.
-- 30 --
Photos
Media contacts
Krista Boehnert (University Communications + Marketing) at 250-721-6246 (cell) or boehnert@uvic.ca
In this story
Keywords: business, DEYA, entrepreneurship, technology, alumni, award
People: Sue Paish