Federal government invests in new centre for Indigenous law and reconciliation at UVic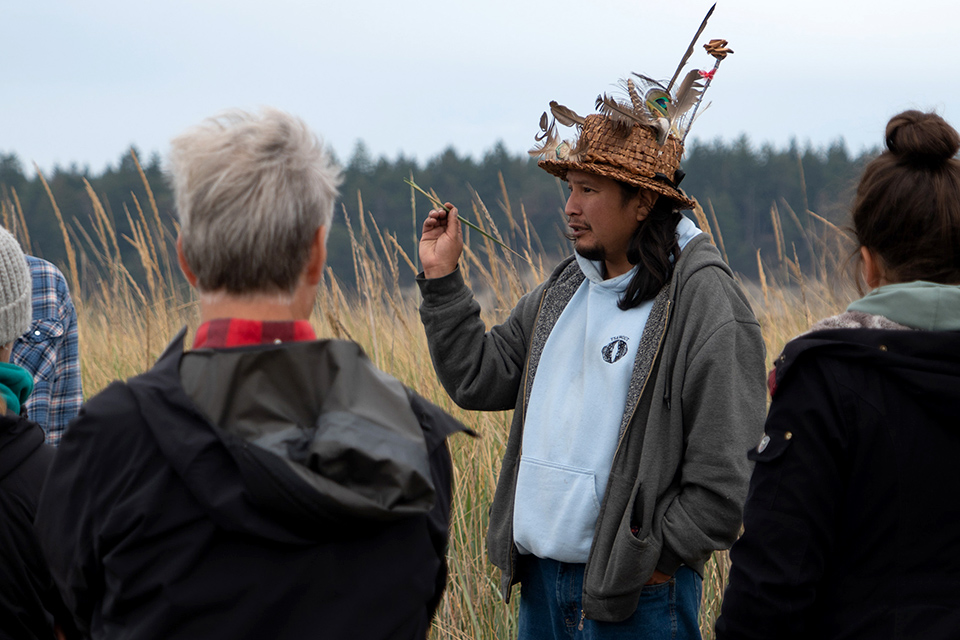 The construction of a national centre for Indigenous law and reconciliation at the University of Victoria received major funding support today with the federal government's announcement of $9.1 million for the transformative project.
This national centre of excellence for the study and understanding of Indigenous laws will house the world's first joint degree in Indigenous legal orders and Canadian common law (JD/JID), launched at UVic last September. The design of the building will reflect modern and traditional values of the Coast Salish peoples, welcoming students, academics and community members from all nations for engagement, debate and public education.
Budget 2019 states the federal government will contribute the funds over three years starting in 2019/20 to support the construction of "an Indigenous Legal Lodge at the University of Victoria, a leader in this field."
"We are grateful to the federal government for its support of the University of Victoria and this national centre for Indigenous law which will play a vital role in helping to grow a more just and inclusive Canada—socially, economically and legally," says UVic President Jamie Cassels. "This learning and research centre and UVic's Indigenous law degree program are part of UVic's commitment to the Truth and Reconciliation Report and Calls to Action to establish Indigenous law institutes for the development, use and understanding of Indigenous laws." 
The centre will also house the Indigenous Law Research Unit (ILRU), which is a world leader in the study and application of Indigenous law. ILRU has partnered with over 50 Indigenous communities across Canada on legal research questions related to lands, water, governance, citizenship, gender and human rights, harms and injuries, and child welfare, and works with institutions across the globe to revitalize and rebuild Indigenous legal orders.
"Figuratively and literally, this commitment will enable us to build a strong, stable foundation from which to teach and study Indigenous law as one of the great legal traditions of the world," says Val Napoleon, director of the ILRU and the JD/JID program.
UVic is committed to continuing its work with other institutions to share knowledge, curriculum and course materials to help them develop their own versions of the JID/JD and ILRU.
The centre, to be built as an addition to the current UVic law building, will be designed to reflect and honour the long-standing relationships between the law school and the Songhees, Esquimalt and WSÁNEĆ peoples. It will include public lecture theatres, faculty and staff offices, an Elders' room and spaces for gathering, ceremony, and sharing of histories and knowledge.
The building's state-of-the-art digital capabilities will enable students to connect with their home territories and allow communities to share their legal traditions with one another. It will also allow UVic to host conferences, public workshops, research and partnerships for faculty, students and visitors. Planning for the building is in the early concept stage.
The development and 2018 launch of the JD/JID program relied on consultations with and support from a wide range of stakeholders across Canada. The BC government invested $2.5 million in the program's operating costs in Budget 2018. Also last year, Vancity contributed $1 million and the McConnell Foundation donated $500,000.
For more info, please refer to the backgrounder.  
-- 30 --
Photos
Media contacts
Dr. Val Napoleon (Law, Foundation Chair in Aboriginal Justice and Governance) at 250-721-8172 or napoleon@uvic.ca
Suzanne Ahearne (University Communications + Marketing) at 250-721-6139 or sahearne@uvic.ca
Click here for the backgrounder.
In this story
Keywords: indigenous, law, funding, National Centre for Indigenous Laws
People: Val Napoleon, John Borrows