Drug checking project responds to ongoing overdose crisis
Science, Human and Social Development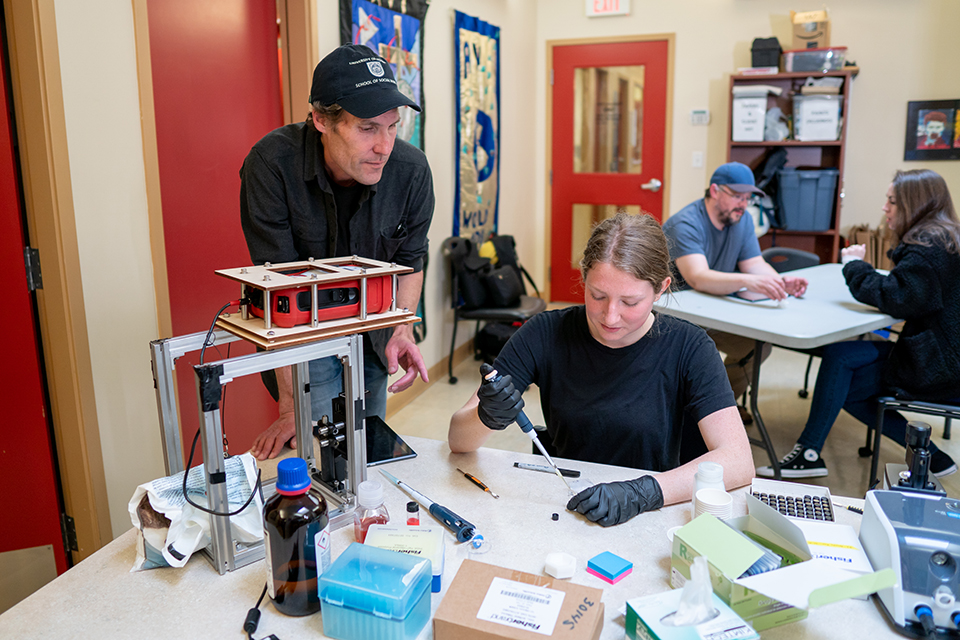 An innovative program designed by a chemist and social worker at the University of Victoria is being piloted at Victoria harm reduction sites to provide a quick, accurate chemical analysis of drugs in order to prevent overdoses while also comparing and evaluating different drug-checking technologies. 
On-site technicians can test a sample as small as a grain of salt for people who use drugs or for family members or partners, giving them information about the main active ingredients. The project can identify if fentanyl is present and also what fillers or cutting agents have been used. At the current testing sites—AIDS Vancouver Island and SOLID Outreach—harm reduction supplies and services are also available. 
The research team—led by Dennis Hore, professor of chemistry and Bruce Wallace, associate professor of social work—is evaluating the different instruments and technologies for cost, efficiency and portability. Through optional surveys and interviews, UVic researchers—including computer scientists and nursing faculty—are also able to explore what type of service works for whom, in what settings. 
The three-year pilot project was initiated by a $1.7 million grant from Health Canada's Substance Use and Addictions Program. 
"This crisis continues to be one of the most serious public health issues in Canada's recent history. It is a medical issue, not a moral one. We know the vast majority of deaths occurred because of substances that were tainted with fentanyl. This is why we will continue to do all we can to save lives by investing in research and technologies that help people who use drugs know what's really in them," said Ginette Petitpas Taylor, Minister of Health. 
"We're offering a free and confidential drug-checking program at harm reduction agencies in Victoria. Service users are able to check their drugs, discuss results with project staff, and access information and supplies for safer drug use," said Wallace, also a scientist with UVic's Canadian Institute for Substance Use Research. "As the project progresses, and we evaluate the evidence during the pilot phase, we hope to start offering services in additional locations on Vancouver Island and elsewhere."   
"Drug checking is an important, life-saving tool for people who use drugs in the midst of a toxic and unpredictable drug supply," said Judy Darcy, Minister of Mental Health and Addictions. "This pilot will tell us how drug-checking services can be expanded and adapted so that we can save more lives and connect more people to the treatment and recovery services they need when they need them." 
More than 100 people in the Capital Regional District died last year as a result of the high presence of fentanyl and carfentanil contaminating the drug supply, said Dr. Richard Stanwick, Chief Medical Health Officer, Island Health. "This is a wonderful opportunity to explore potentially life-saving drug checking technologies, which will provide more information on potential interventions and patterns of use." 
The research team includes policy makers from the BC Ministry of Mental Health and Addictions, Island Health, Victoria's primary drug user agency (SOLID Outreach), Vancouver Island's primary harm reduction agency (AIDS Vancouver Island), a health provider from Victoria Cool Aid's Community Health Centre, several industry partners, and a harm reduction pharmacy (STS Pain Pharmacy). The project is also supported by the BC SUPPORT Unit (Vancouver Island Centre) as part of Canada's Strategy for Patient-Oriented Research. 
The project received community-based research support from the Vancouver Foundation and a Pathway to Patient-Oriented Research (P2P) award by the BC SUPPORT Unit, in partnership with the Michael Smith Foundation for Health Research. 
More info is available on the research project website including explanations of the technology being evaluated: Vancouver Island Drug Checking Project
A media kit containing video b-roll and photos of the project underway at AVI, as well as their overdose prevention site, is available on Dropbox.
-- 30 --
Photos
Media contacts
Bruce Wallace (CISUR, School of Social Work) at barclay@uvic.ca
Dennis Hore (Chemistry) at 250-721-7168 or dkhore@uvic.ca
Suzanne Ahearne (University Communications + Marketing) at 250-721-6139 or sahearne@uvic.ca
In this story
Keywords: drugs, health, social work, CISUR, chemistry
People: Dennis Hore, Bruce Wallace