UVic entrepreneurs get $1M boost from Coast Capital Savings
Peter B. Gustavson School of Business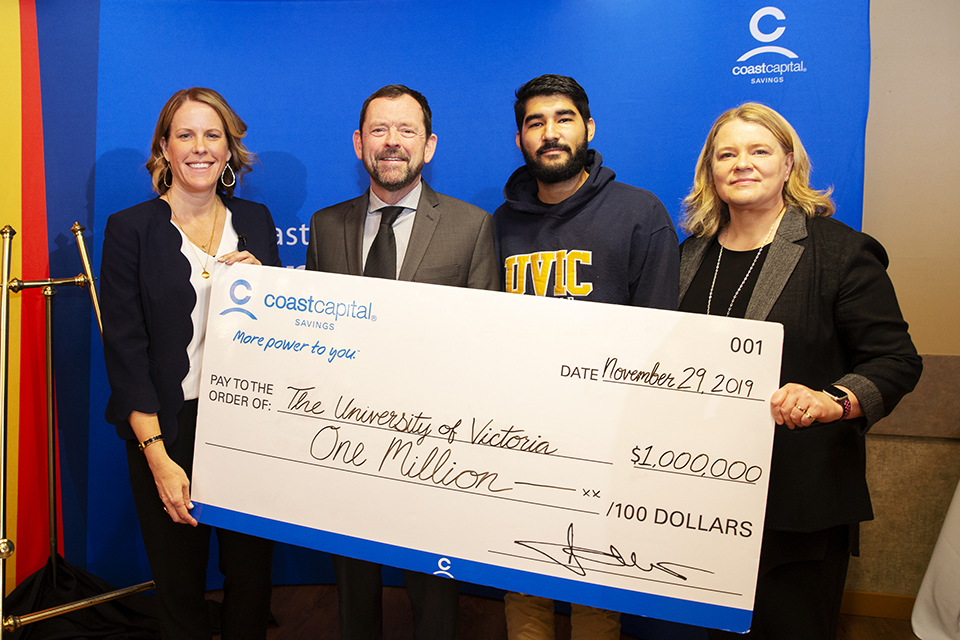 University of Victoria innovators and entrepreneurs will benefit from a $1-million funding boost to the Coast Capital Savings Innovation Centre (CCSIC) that will provide students access to support, mentorship and financial skills required to contribute and thrive in British Columbia's economy and beyond. The funding marks the largest philanthropic contribution given to a Vancouver Island organization by the BC-based Coast Capital Savings. 
With partnerships underscoring UVic's Strategic Research Plan, CCSIC is a hub where students can experience hands-on learning in a work-integrated environment. The five-year funding agreement will help innovators and entrepreneurs develop business concepts from idea to investor-ready. This includes helping launch ventures, support business plan competitions and create co-op opportunities. 
"Coast Capital Savings is an exceptional partner for our innovation centre and university," says UVic President Jamie Cassels. "This game-changing investment allows us to take learning beyond the classroom and research outside the lab. Our centre's entrepreneurs make significant impacts in our community and beyond." 
The partnership with UVic reflects a key component of Coast Capital Savings' commitment to create a stronger community that will be more attractive to youth and to build a community culture that creates opportunities for them.     
"Coast Capital Savings' community leadership mandate is to support youth in their pursuit of financial independence while building strong, vibrant communities," says Calvin MacInnis, president and chief executive officer of the federal credit union. "Our ongoing support of the Coast Capital Savings Innovation Centre at UVic is a tangible contribution to the future of the amazing young people who benefit from the centre's support as they pursue their entrepreneurial endeavors. These young people are the business leaders of tomorrow, the fuel for our country's economy and the innovation that bolsters the change makers of tomorrow." 
Following a relaunch in 2016, CCSIC has supported more than 500 students from all faculties across campus and supported the launch of 70 startup companies. Roughly half of all program participants are from underrepresented groups including women, visible minorities and Indigenous Peoples. 
Juan Orrego, co-founder and CEO of Cuboh, which offers online ordering, payment and delivery solutions for the restaurant industry, said the UVic innovation centre provided the vital support and resources he needed to think, plan and act more strategically about his venture. 
"The innovation centre opens so many doors. They pushed me to dream big and then helped me—every step of the way—turn my ideas into action," said Orrego, 22, who is a graduate of commerce from UVic's Gustavson School of Business. Cuboh now has a team of more than 10 people and was a recent graduate from Y Combinator, a prestigious accelerator program in Silicon Valley. He was also listed in BCBusiness magazine's 30 Under 30. 
CCSIC is part of UVic's Research Partnerships and Knowledge Mobilization unit within the Office of the Vice-President Research. The unit connects faculty, staff and students with external partners including industry, government, not-for-profit organizations and communities. 
About Coast Capital Savings
Coast Capital Savings is Canada's largest credit union by membership and BC's first credit union to become a federal credit union. Owned by its 572,000 members, Coast Capital offers banking and investment services digitally and through its 52 branches in the Metro Vancouver, Fraser Valley, Okanagan and Vancouver Island regions of British Columbia. An Imagine Canada Caring Company and a Certified B Corporation in recognition of its social performance, Coast Capital invests 10 per cent of its bottom line in youth-focused community organizations, programs, partnerships and events. The credit union has been recognized as one of Canada's Most Admired Corporate Cultures™ and holds a Best Managed Companies Platinum Club designation. Coast Capital has a history of introducing innovative products to help their members achieve financial wellbeing including Canada's first free chequing account from a full-service financial institution and Help Extras®, enabling members to invest in their future. To learn more, visit coastcapitalsavings.com.
A press kit containing high-resolution photos is available in Dropbox.
-- 30 --
Photos
Media contacts
Jennifer Kwan (University Communications + Marketing) at 250-721-7641 or researchcomm@uvic.ca
Erin McKinley (Coast Capital Savings) at 604-836-6924 or erin.mckinley@coastcapitalsavings.com
In this story
Keywords: research, funding, technology, Research Partnerships and Knowledge Mobilization, Coast Capital Savings Innovation Centre, Office of the Vice-President Research
People: Jerome Etwaroo