From co-op student to co-op employer
Engineering, Co-op, Peter B. Gustavson School of Business
- Carly Grabher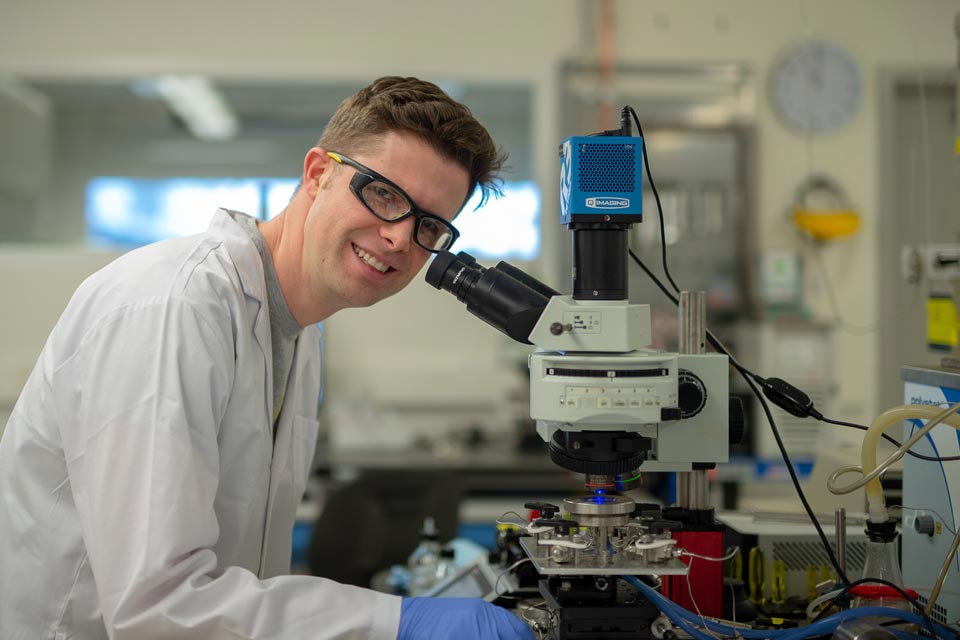 Two alumni, a technology start-up that drives environmental impacts down, and a path from co-op student to co-op employer
For mechanical engineering alumnus Thomas De Haas, a chance encounter and a lot of hard work were ingredients for success—and UVic played a major role in both. The Chief Operations Officer and co-founder of Interface Fluidics, an Alberta-based start-up that uses nanotechnology to reduce the environmental impact of oil production, can trace his path back to his first day at UVic.
De Haas met his future business partner, Stuart Kinnear, in UVic residence when they were paired together as roommates. De Haas was pursuing a degree in mechanical engineering while Kinnear was studying music—later completing his MBA at UVic. The combination of their respective talents in engineering and business would prove to be lucrative years later, when De Haas recognized a gap in the oil production industry: testing safer bitumen extraction methods before applying them in the field. 
"I knew that we could do better—that there were alternate methods that could minimize the impact of the process," says De Haas. So with their collective engineering and business experience, De Haas and Kinnear launched Interface Fluidics in 2015 along with former UVic engineering professor David Sinton. Interface's research lab mimics the heat and pressure of an oil well in order to develop processes that minimize the impact on the environment. The company's microfluidic devices allow companies to develop safer extraction processes before applying these in the field.
"This technology allows for new methods to be inexpensively screened before being used in the field," says De Haas. "The types of big changes that Interface hopes to enable are water-free fracturing for shale reservoirs and bitumen extraction without steam." 
As De Haas admits, it took a lot of hard work to get here. Kinnear and De Haas took a risk by walking away from steady jobs at Canada's largest companies—Canadian Natural Resources and Suncor—to get their company off the ground. Between loans, funding from friends and family and small cash prizes at various entrepreneurial competitions, the trio were able to afford lab space, but it took six months before he and his business partners were making a personal salary.  
Their three-year-old company now has projects across North America and Europe, employs 14 staff and was voted Alberta's Top Technology Startup in 2017.
UVic's engineering co-op program was integral to helping De Haas prepare for his role as co-founder of Interface. He completed several terms, including two with global engineering and construction company WorleyParsons, and another in Germany working for Dynetek Europe. 
"The co-op program emphasized the real-world application of what I was learning in school," says De Haas. "I learned what I was and wasn't looking for in my future career, and I learned about diverse management styles and work culture—this has been invaluable for my work with Interface. Now it's my turn to support the next generation of co-op students."
Completing the circle, Interface Fluidics hired its first UVic co-op student in 2017, and plans to post a position on UVic's Co-op and Career portal later this year.
Photos
In this story
Keywords: co-op, employment, alumni, research, energy, nanotechnology, pollution
People: Thomas De Haas, Stuart Kinnear
Publication: The Ring