Carving a career with love of surfing and alma mater
Human and Social Development, Social Sciences
- Jenny Manzer
Dom Domic (BA '92 - Sociology, MPA '96 - Public Administration) speaks about surfing as if he's a teen again, feeling the pure exhilaration of gazing on the vast stretches of Long Beach for the very first time.
Domic, executive director of Surf Canada, was raised in Victoria, but learned to surf on family vacations in warm-weather climes such Hawaii and California.
Back in the 1980s, a passion—and a profession—was born on Long Beach. Domic surfed in international competitions while attending UVic. He became the Canadian U21 Champion and represented Canada at three World Championships, all as a UVic student.
His love of UVic was equal to his love of surfing, so combining the two was a natural step.
I had a blast here. UVic to me was one of the best times of my life.

—UVic alumnus Dom Domic, executive director of Surf Canada
Ravenous for BC's cold-water waves
Like many people at the time, Domic grew up not knowing Vancouver Island has its own surf spots, albeit ones where surfers keep carafes of hot water to pour over numb hands. As a teen in the mid-1980s, he heard talk of surfing near Tofino and cajoled his parents into a family road trip. His journey began with the words: "Dad, we gotta go."
The area was so off the beaten path back then that the family couldn't find the turnoff for the Pacific Ocean and had to seek guidance at Pacific Rim National Park. They arrived at the Combers Beach section of Long Beach. It was the August long weekend, but the parking lot was empty and the beach deserted. Domic ran to the water, thinking: "I've found it, the pot of gold at the end of the rainbow. There are actually waves on Vancouver Island."
The family hit the road again and visited a small surf shop to rent an old divesuit and a 1970s fibreglass single fin board. Domic returned to Long Beach, where a sole surfer was catching a wave. Domic paddled up to him, exuberant. "I was so excited, grinning ear to ear," Domic recalls. "He wanted nothing to do with me."
Domic went home ravenous for more cold-water waves. "Surfing's pretty territorial. People stick to their own little zones. There wasn't a lot of intermingling back, then," says Domic, sitting on the sunny patio of Mystic Market. He has biked to campus, toting a backpack that helps him blend in with the students around him.
Surfing in jaw-dropping rainforest scenery
Domic helped organize one of the area's first surf competitions in 1988. Tofino was not yet an international tourism hub. It was a resource town, with its hotels largely reserved for fishermen and loggers. Surfing helped change all that, though the jaw-dropping rainforest scenery didn't hurt.
When it came time to graduate with a BA in sociology and to leave UVic—Domic decided to stay: "I did not want it to end."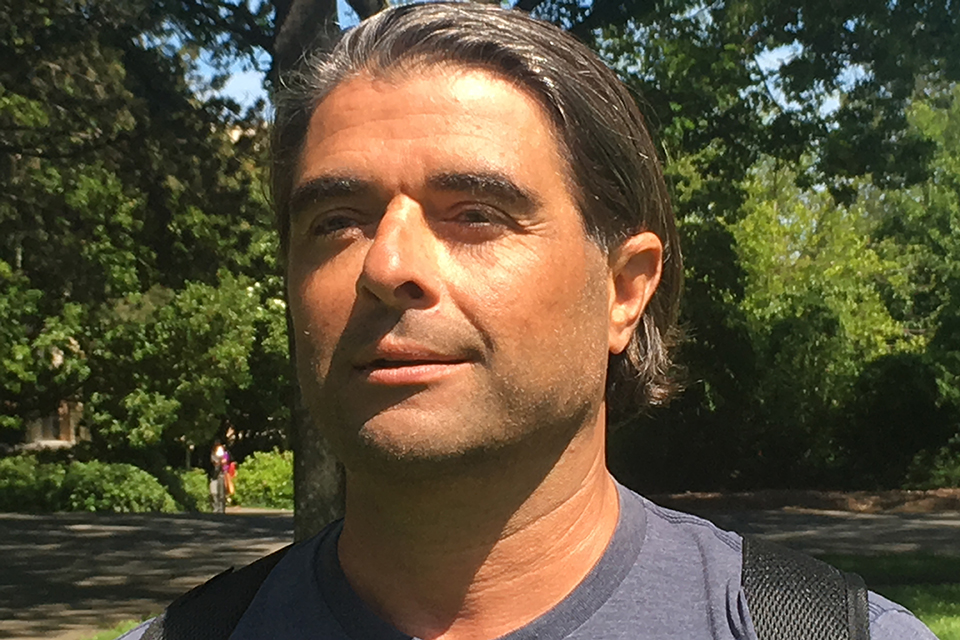 He enjoyed his studies, the small campus, the lifestyle and occasionally socializing at Felicita's Pub. He took a year off to compete in Europe and then returned to UVic to complete a Master's in Public Administration, graduating in 1996.
Domic had no long-term plan at the time, yet what he learned at UVic provided the perfect primer for his career in sports administration.
Carving a career to the top
His mother had warned him long ago not to be petty or burn bridges in life, and her advice has served him well.
After organizing the contests in Tofino, Domic worked his way to become president of the British Columbia Surfing Association for 12 years before taking on his current role at Surf Canada in 2011. While BC and Canada are known to have surf spots with stunning backdrops, Domic also strives to get our top surfers recognized.
We want to put our surfers up against the world's best. 

—Domic on Canadian surfers in Lima 2019 and 2020 Olympics
These days, Tofino's beaches are far busier and surf schools and contests are an established part of the landscape. Canada has a bona fide surf scene and our athletes are poised to compete with the world's best, starting with the XVIII Pan American Games in Peru this summer.
Biggest athletic competitions on the planet
The Lima 2019 Pan-Am Games, taking place July 26 to Aug. 11, will be a warm up to 2020 when surfing joins the most storied athletic competition on the planet: the Olympic Games.
Domic describes himself as "obsessed" with surfing, resilient and with a drive to help people. He often wakes at 4:30 a.m., his head churning with ideas.
What's the next step after the 2020 Summer Olympics in Tokyo? Wave pools, for one.
Domic wants to widen both the appeal and the availability of the sport that hums through his veins. Surfing's entry into the Olympics will broaden the fan base and provide the next stage in the evolution of Canadian surfing.
"It's going to change it so dramatically," he says. "The thing that keeps me up at night is making sure that I'm not missing anything, that I'm providing a platform for our qualified surfers to perform at their peak when they need to. Everything I do is athlete-driven."
Inspiring a love of the ocean
He says what competitive surfers learn over time is ocean knowledge. "It's not just your technical ability, but it's your tactical ability to compete and you get a lot of that from experience."
One of Canada's top surfers is teen Mathea Olin, born and raised in Tofino—and close to the same age Domic was when he discovered waves on Vancouver Island.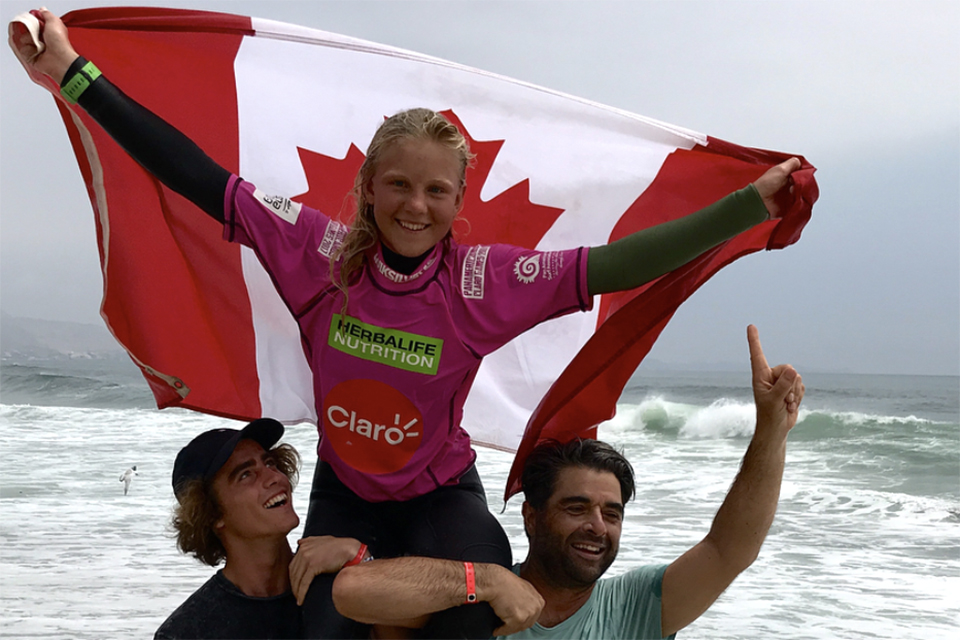 "As someone born and raised surfing in Canada, I'm proud to be nominated to this team," said 16-year-old Olin, who will compete in longboard at the Pan Am Games. "It would mean the world to represent my Canadian roots at the Olympics and show the world what it truly means to be a Canadian surfer."
The surfing competition at Lima 2019 has a direct impact on the 2020 Olympic Games qualification. Read more about the Pan Am Games surfing team here.
Photos
In this story
Keywords: alumni, oceans, administrative, athletics, sociology
People: Dom Domic