3M Canada Teaching Award for UVic field school founder
- Stephanie Harrington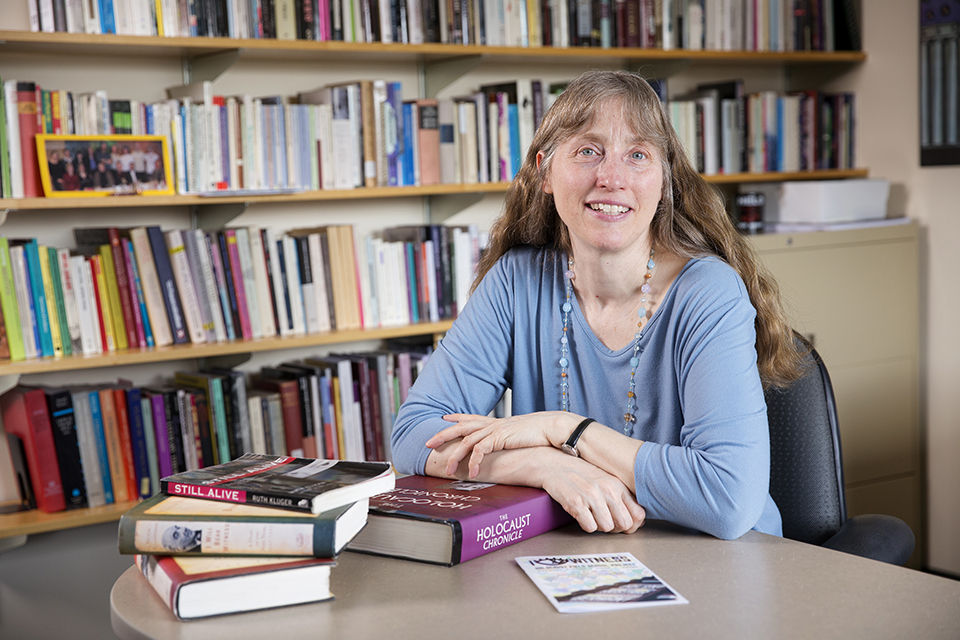 "Think higher, feel deeper."
When Helga Thorson heard Nobel Laureate Elie Wiesel speak those words in Vancouver in 2012, she felt affirmed as a teacher. A year earlier, she had launched UVic's first I-witness field school, the only one of its kind at the time for undergraduate students at a Canadian university, which brought UVic students to Europe to explore Holocaust memorialization.
Wiesel himself was a survivor of Buchenwald concentration camp in Germany. His words for young audience members resonated with Thorson. 
"Listening to someone whose works I had frequently read and taught, I realized that he had just captured—in four simple words—the very essence of my teaching philosophy," she says.
Thorson's vision for and commitment to Holocaust education was honoured this week with Canada's most prestigious award for excellence in leadership and teaching. Thorson is the third UVic scholar in five years to become a 3M National Teaching Fellow, and one of only 10 higher educators to earn the distinction this year in Canada.
"I am very honoured. I have never aspired to be a leader," Thorson says. "It happened because I'm passionate about teaching and because I'm passionate about what I teach."
Life-changing experiences
Through the I-witness field school, Thorson says she sought to create an educational experience in which emotion played as central a role in learning as intellectual rigour. The result has transformed students' lives and career choices. 
Recent history MA graduate Jake Sherman credits his award-winning work in photojournalism to Thorson's encouragement. 
"Helga, quite literally, changed my life. Her teaching on the field school helped me to transcend my own personal limitations, and push my studies, my research, and my own craft beyond what I thought possible," Sherman says. 
As a result of their experiences, field school participants have gone on to law school, programs in Indigenous governance and international relations, and co-op or practicum placements ranging from London's Helen Bamber Foundation to the Auschwitz memorial museum, and various other international human rights organizations.
"There's something about the field school where the students gain so much academically in terms of their confidence as scholars," Thorson says. "It also just opens their mind to what it means to be a human being with their own responsibilities in the world and leads them to contemplate what they want to do with their lives."
Overcoming indifference
The I-witness field school, the next of which will take place in 2020, has changed Thorson too. She now approaches teaching differently and says she incorporates more hands-on research activities into her classes. Thorson's innovations have also led to the creation in UVic's Faculty of Humanities of the first and only graduate-level Holocaust studies stream in Canada, also one of only a few in the world.
Thorson cites another famous quote from Elie Wiesel as inspiration in the classroom: "The opposite of love is not hate, it's indifference." Thorson wants her students to overcome indifference. 
"I want them to have a better understanding of the world around them, to possess the confidence to assess their own values and perspectives, and to care enough to work for change," she says. 
Past 3M winners
Thorson says she is most excited to meet other 3M National Teaching Fellows and to follow in the footsteps of past UVic winners, including UVic President Jamie Cassels (law) in 2002; David Blades (education), 2016; and Jin-Sun Yoon (child and youth care), 2015.
"These are all people I admire very much. They have this passion about teaching and learning that is pretty magnificent," Thorson says.
The 3M National Teaching fellowship was established in 1986 through the generosity of 3M Canada and the Society for Teaching and Learning in Higher Education.
Watch a UVic video with Thorson speaking about the field school. 
Read a recent story about Thorson in the UVic alumni magazine.  
Photos
In this story
Keywords: 3M National Teaching Award, teaching, 3M, award, field schools, human rights, Germanic and Slavic studies
People: Helga Thorson
Publication: The Ring