UVic honours six inspirational leaders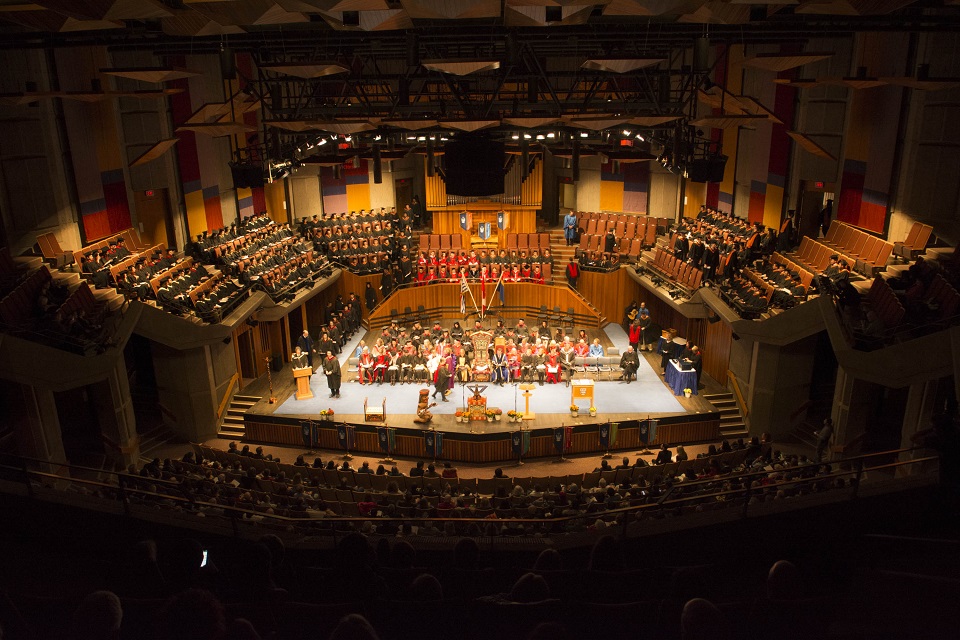 A group of extraordinary individuals will receive an honorary degree—the university's highest academic honour—at the upcoming spring University of Victoria convocation ceremonies. Honorands include an Indigenous language activist, an expert in mathematical biology, a trailblazer in Indigenous governance, a law-education innovator, a pioneering marine naturalist and a teacher devoted to revitalizing an Indigenous language. 
STOLȻEȽ John Edward Elliott Sr., Honorary Doctor of Education (DEd)
June 10, 2019 | 2:30 p.m. 
STOLȻEȽ John Elliott is a respected Elder from the W̱JOȽEȽP Tsartlip First Nation who played a pivotal role in the preservation and revitalization of the SENĆOŦEN language. He is a historian, mentor, language warrior, traditional knowledge keeper and a gifted teacher. He taught at the ÁU, WELṈEW̱ Tribal School for 40 years, immersing students from kindergarten to Grade 10 in the SENĆOŦEN language. He now teaches adult students who are working on their education degrees through UVic and the W̱SÁNEĆ School Board. Over the years, he also taught classes and supported many projects at UVic and Camosun College focusing on Indigenous knowledge, culture and language revitalization. 
In 1999, STOLȻEȽ co-founded FirstVoices, a ground-breaking online Indigenous language archiving and teaching resource. He paved the way for the Tribal School to employ nine full-time SENĆOŦEN immersion teachers from pre-school to Grade 5. He served for many years as a member of the BC First Nations Education Council sub-committee on language and on the board of First Peoples' Cultural Council. 
STOLȻEȽ continues to model the Coast Salish teachings of humility and of honouring the Elders and his ancestors. He is tireless in his service to the W̱SÁNEĆ (Saanich) people. 
Simon Asher Levin, Honorary Doctor of Science (DSc)
June 14, 2019 | 10 a.m. 
Simon Asher Levin is a pioneer and world leader in mathematical biology, an interdisciplinary area that broadly applies mathematical models and computational tools to understand and answer questions in many areas of biology, including ecology, epidemiology, environmental studies and evolution. 
After graduating with higher degrees in mathematics, Levin began his career at Cornell University, where his interests broadened to include biology and ecology. He applied his mathematical insights to understanding a variety of biological systems, including modelling disease, population dynamics and community processes. 
Levin's research focuses on the evolution of diversification, the mechanisms sustaining biological diversity in natural systems and the implications for ecosystem structure and functioning. More recently, his attention has been directed to the evolution and ecology of collective behaviour, from the movements of flocks of birds and schools of fish to human decision-making. He is concerned with improving policymaking to address global environmental challenges and the creation of more collaborative social systems. Levin has received many awards, including the National Medal of Science, an honour bestowed by the President of the United States. 
Joe Gallagher, k̓ʷunəmɛn, Honorary Doctor of Laws (LLD)
June 11, 2019 | 10 a.m. 
Joe Gallagher, k̓ʷunəmɛn of Tla'amin Nation is an outstanding leader and a trailblazer for First Nations self-determination and governance in BC and Canada. 
As the inaugural chief executive officer of the First Nations Health Authority, Gallagher implemented the BC First Nations Health Governance structure. Gallagher helps advance the shared vision of "healthy, self-determining, and vibrant BC First Nations children, families and communities." This work led to the formation of the First Nations Health Authority. Gallagher's leadership paved the way for the Declaration of Commitment to Cultural Safety and Humility in health services for First Nations and Aboriginal people in BC. 
Gallagher was chief negotiator in his own nation's treaty negotiations though the Sliammon Treaty Society. He also served as director of programs at Health Canada's First Nations and Inuit Health Branch, BC Region. 
Gallagher earned a Bachelor of Arts from the University of Victoria in 1987 while playing for the UVic Vikes men's soccer team. Gallagher also played soccer for Team BC at the 1993 North American Indigenous Games. In 2018, Gallagher was awarded the Leadership in Quality Award by the BC Patient Safety and Quality Council. The BC Coroners Service recognized Gallagher for his advocacy on behalf of his late niece, Makara, which led to systemic changes for all children and families in BC. 
Neil Gold, Honorary Doctor of Laws (LLD)
June 11, 2019 | 2:30 p.m. 
Neil Gold has had a profound impact on the way law is taught in Canada through his innovative approaches and inspired teaching. He challenged students, legal educators and practitioners to become thoughtful, engaged citizens and leaders. Gold, a professor emeritus with the University of Windsor, was an early innovator in experiential learning, notably in clinical legal education. 
In 1975, Gold was recruited to the UVic Faculty of Law as a member of its founding group of law professors and became the founding director of the Law Centre Clinical Law Program. This was the first clinical program in Canada to provide law students with a full-time intensive experiential learning opportunity. The program provided advice and representation to numerous disadvantaged people each year in a fully integrated legal services environment—combining the services of the local bar, the Community Action Group as well as social support services through UVic's School of Social Work. 
Gold has made many other contributions, including developing innovative teaching techniques. He argued that legal education must include the teaching of lawyering skills such as interviewing, counselling, drafting, negotiation, mediation and litigation processes. He also pioneered the blending of interdisciplinary expertise and learning in the delivery of legal services. 
Andy Lamb, Honorary Doctor of Education (DEd)
June 13, 2019 | 2:30 p.m. 
Andy Lamb is a pioneering marine naturalist who co-authored the authoritative species identification guides for waters of the Pacific Northwest. His books—Coastal Fishes of the Pacific Northwest (1986 and 2010), and Marine Life of the Pacific Northwest (2005)—have sold thousands of copies and are essential resource materials for any marine enthusiast, be they recreational divers or leading researchers. 
Lamb, who earned his Bachelor of Science in Zoology from the University of British Columbia in 1971, received his National Association of Underwater Instructors certification in 1967 when diving was in its early days and few people ventured underwater. He worked for the Vancouver Aquarium and the West Vancouver Laboratory of Fisheries and Oceans Canada in various roles including aquarist, fish culturist and educator. He was named a fellow of the Royal Canadian Geographic Society to honour his contributions. 
Throughout his career and in retirement, Lamb has been an enthusiastic and tireless educator. He influenced thousands of students through the marine-life identification course and programs at the Vancouver Aquarium. He continues to volunteer his time, participating in local education events where he often dives to create a mini aquarium exhibit to teach people—especially children—about marine life. 
Sti'tum'at Ruby Peter, Honorary Doctor of Laws (LLD)
June 10, 2019 | 10 a.m. 
Sti'tum'at Ruby Peter of the Quamichan First Nation has dedicated her life to documenting, teaching and revitalizing the Hul'q'umi'num' language. As a young woman, Sti'tum'at saw a shift in her community from speaking Hul'q'umi'num' to English. Concerned by this trend, she and her three sisters approached UVic in 1970 to develop Indigenous teacher training. The women's push to acquire the literacy and linguistic skills needed for their work led UVic to develop the first community-based programs in North America to support Indigenous language teaching, including the Native Indian Language Diploma Program and the Native Indian Language Teacher Training Program. 
In addition to teaching students at many levels, Sti'tum'at has a long history of research on the Hul'q'umi'num' language, including her co-authored Cowichan Dictionary (1995), the most extensive work of its kind. She also served as a language consultant and translator for dozens of projects and is still actively engaged in partnerships between universities and the Hul'q'umi'num' Language and Culture Centre. Sti'tum'at's knowledge spans not only the elements of language needed to communicate in Hul'q'umi'num', but also cultural teachings related to traditional stories, weaving, dance and longhouse ceremonies.
A media kit containing high-resolution photos is available on Dropbox.
-- 30 --
Photos
Media contacts
Ian Case (Director, Ceremonies and Events) at 250-721-7632 or iancase@uvic.ca
Jenny Manzer (Alumni Communications) at 250-721-7642 (cell) or alumcomm@uvic.ca
In this story
Keywords: Convocation, alumni
People: STOLȻEȽ John Edward Elliott Sr., Simon Asher Levin, Joe Gallagher, k̓ʷunəmɛn, Neil Gold, Andy Lamb, Sti'tum'at Ruby Peter