Eco-gastronomy, viticulture and the science of wine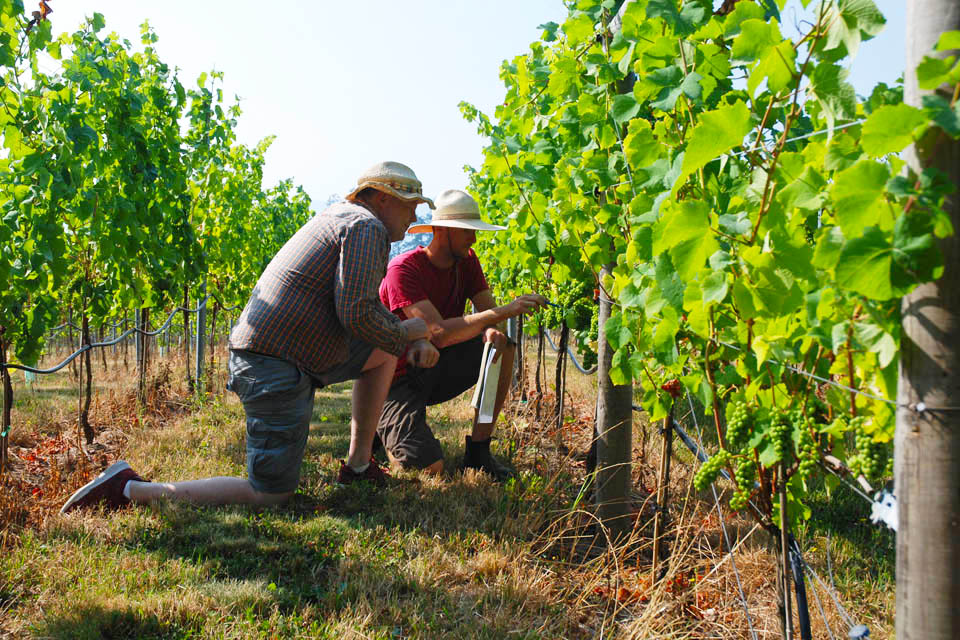 A two-year study led by University of Victoria ecologist John Volpe has the potential to transform the wine industry on the west coast. At a time when climate change is threatening other winemaking regions around the world, combining innovative spectrometry technology with field manipulations at three BC vineyards will pinpoint the perfect time to harvest grapes, says Volpe.
"The novelty of our approach stems from the use of a specific type of molecular analysis to assess the effect of our field manipulations," says Volpe, whose research interests include ecology, biodiversity, gastronomy, sustainability and food production. "We expect to gain insights on how to make great wine at a resolution never before available and it will help growers harvest with confidence that their produce is in peak state to produce the best wines possible."
Great grapes make great wine. Quality is assured by harvesting exactly when molecules responsible for aroma and flavor are at maximum density; this peak is called physiological ripeness and occurs only briefly. Vineyards, in choosing when to harvest, use a "best guess" approach by testing sugar ripeness, which is easily measured in the field. The new study proposes to identify markers of physiological ripeness instead.
The approach also involves minimal intervention on the vine, which will allow the wine to most closely reflect the ecosystem in which the grapes were grown.
It matters entirely what's in the vineyard if we want to allow the best expression of the land—the 'placyness' or terroir—in the wine.

—UVic ecologist John Volpe, also a certified sommelier
The field work will be conducted at Blue Grouse Estate Winery in Duncan, and Unsworth Vineyards and Enrico Winery in the Cowichan Valley, using pinot gris, the single most popular varietal for wine in BC. The research findings will offer value to growers and winemakers across the province.
"This is an exciting opportunity to bring scientific rigour and analysis to measuring ripeness parameters and to learn how they vary with viticulture practices," says Lamont Brooks, a UVic alumnus and president of the Wine Islands Growers Association (WIGA). "This important new knowledge will allow our winery businesses to continue to produce and improve the crisp aromatic wines so characteristic of our growing area."
Initial data is being collected this summer by Andrew Watts, who is currently working at Unsworth and will join UVic this fall to pursue a master's degree in UVic's School of Environmental Studies; this research project will form the foundation of his MSc thesis. The researchers will also be testing the use of kaolin as a new method of boosting grape quality, which has not yet been systematically examined in North America.
This project was supported by WIGA through the Government of BC and Agriculture and Agri-Food Canada through programs delivered by the Investment Agriculture Foundation of BC.
Volpe expects to present preliminary findings next spring, with the study wrapping up in 2020.
A press kit containing high-resolution photos is available on Dropbox.
-- 30 --
Photos
Media contacts
Dr. John Volpe (School of Environmental Studies) at jpv@uvic.ca
Tara Sharpe (University Communications + Marketing) at tksharpe@uvic.ca
Anne MacLaurin (Social Sciences Communications) at 250-217-4259 or sosccomm@uvic.ca
In this story
Keywords: agriculture, climate
People: John Volpe