Shoot for the Cure campaign hits home for Vikes hoops teams
- Cameron Doherty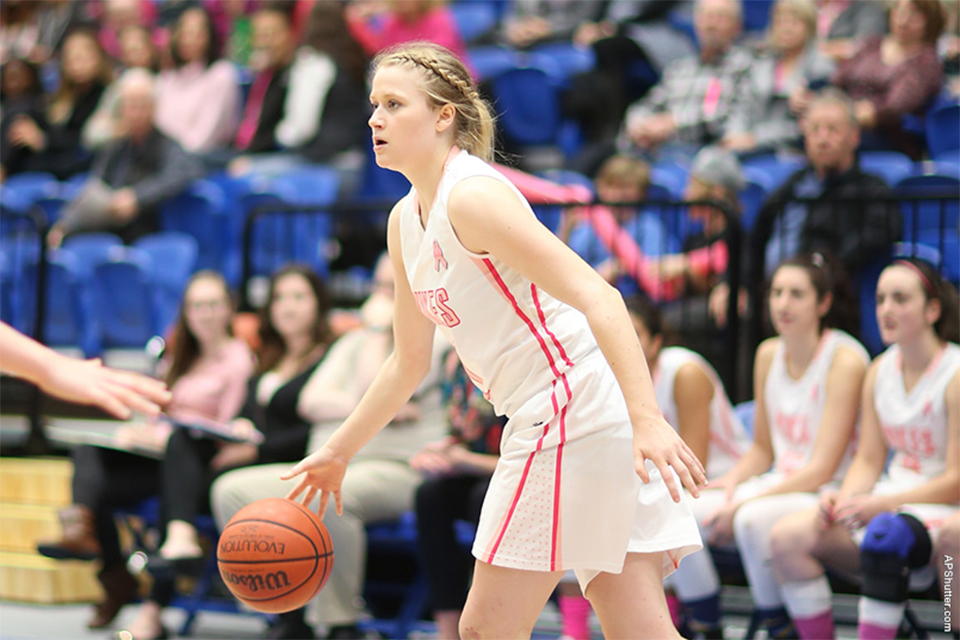 Seventeen years ago legendary University of Victoria Vikes women's basketball coach Kathy Shields received a diagnosis that would forever change her life.
"When I was diagnosed with breast cancer, I knew little about the disease nor what it meant to live with the anxiety and fear of a diagnosis with no known cure," said Shields, who led the Vikettes for over 20 years and amassed eight national titles. "I am a survivor but, as we survivors all know, we live with this disease every day with hopes that our next appointment, test, or scan will be good."  
An estimated 26,300 Canadian women were diagnosed with breast cancer in 2017, according to the Canadian Cancer Society. Mothers, daughters, aunts and nieces are all at risk for the most commonly diagnosed cancer and the second leading cause of cancer-related death among Canadian women.  
In 2007-08, the U SPORTS basketball community came together to create a nation-wide Shoot for the Cure, an initiative designed to draw awareness to, and raise funds for, the Canadian Cancer Society as well as other related local and provincial charities.  
Rod Gilpin, the long-time coach of Bishop's women's basketball program, spearheaded the concept that has grown exponentially in the ten years that it has been running. Raising $50,320.87 in its first year, Shoot for the Cure has now grown to include all 47 U SPORTS women's basketball schools and has raised $1,133,558 to date.  
"It's great that we have the opportunity to do what we do," said current Vikes women's basketball coach 
Dani Sinclair
, also an alumna who played under Shields. "We can have a huge impact within our team and in the community, but these types of things put it all into perspective as to what really matters. Anything we can do to help or help raise money is a bonus and we are happy to do that."  
In Victoria, the Shoot for the Cure initiative is a prominent focus for the men's basketball program too. Both teams have dedicated pink jerseys that they sport for the annual Shoot for the Cure game night.  
"Anytime you are talking about cancer then you are talking about something that has affected almost everybody at one point, or knowing somebody who has suffered from the disease," said Vikes men's basketball head coach 
Craig Beaucamp
. "This is just a little part of what we can do in that fight and that struggle. Every year we are more than happy to be part of it and to be linked with the women's team on this cause is an added bonus."  
Having raised over $100,000 in each of the last eight years, Shoot for the Cure nation wide has grown to a level that was hard to imagine during its initial years.  
"It's a testament to the basketball community coming together," said Beaucamp. "That initiative has gained so much momentum since its beginning, it seems like every year it grows a little more, it certainly has here. It's exciting to see how that fundraising initiative has really taken off. I think for us to be a part of it, the basketball community and the community at large is exciting, people can have more of an impact than they actually realize so we are proud to a part of it."  
One of the reasons for the growth of this initiative is the sense of competition inherent in both the coaches and athletes who participate at the U SPORTS level.  
"It's a great thing to do within a group of competitive people because if you see someone is raising more money than you, you want to be competitive and try to match or beat that," said Sinclair. "It comes down to great people doing great things for a great cause."  
The Vikes basketball teams are once again raising funds this year and so far the squads are poised to blow past their previous fundraising efforts.  
"You can never really do justice to it, it's such a big thing," added Sinclair. "Last week our individual donations went live and within a few hours we had already raised almost $1,000. That speaks for itself, we have girls on our team that have very recently and are currently directly affected by that disease within their family and it puts what we do in perspective."  
 For Shields, the goal of Shoot for the Cure is clear; that at one point in the future, it will come to an end.  
"One day the need for this amazing initiative will no longer be needed because one day, a cure for breast cancer will be found," said Shields.   
In addition to game night activations at the Jan. 26 Vikes basketball games, additional efforts have been happening around the UVic campus. T-shirt sales at the UVic Bookstore, donations from the Jan. 12 Yoga Rave event and an annual amount from the Vikes varsity council also contribute to the UVic totals.  
Each Vikes basketball team member has their own
fundraising
page.  
The Vikes basketball teams will don their pink jerseys on Friday, Jan. 26 in the CARSA Performance Gym at 6 p.m. (women) and 8 p.m. (men) against the Mount Royal Cougars. The second game of the double-header weekend will take place Jan. 28 at 5 p.m. (women) and 7 p.m. (men).
Photos
In this story
Keywords: Vikes, cancer, athletics, sports
People: Kathy Shields