Vikes soccer captain named President's Cup winner
- Ali Baggott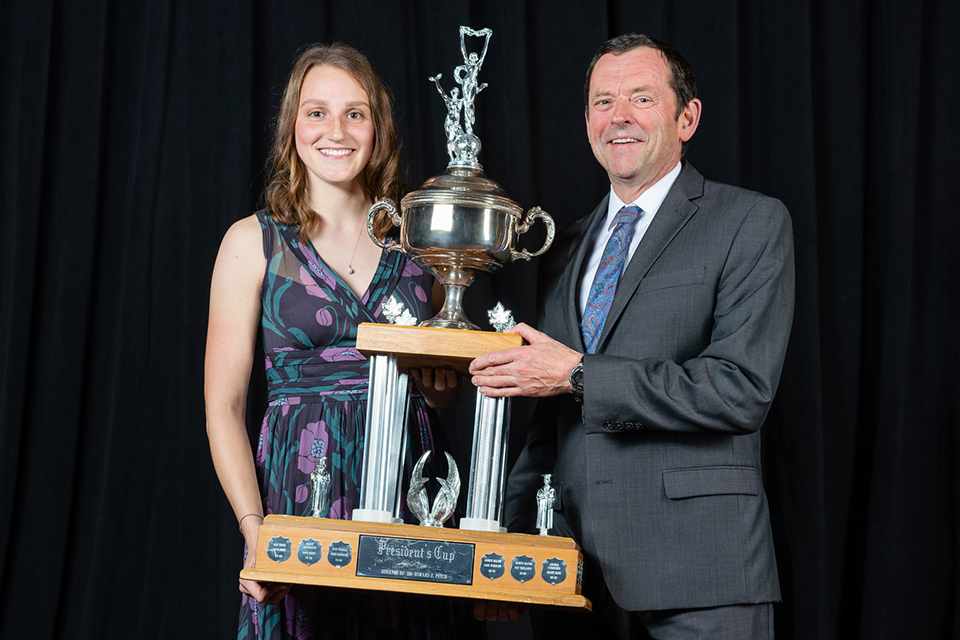 On April 4, hundreds gathered at the Victoria Conference Centre for the UVic Vikes Celebration of Champions and UVic Sports Hall of Fame.
Fourth year women's soccer captain and two-time Provost Award winner Emily Lieuwen took home top honours at the April 4 Celebration of Champions and UVic Sports Hall of Fame event after she was named the President's Cup winner.
The President's Cup is given annually to the outstanding student-athlete in fourth or fifth year who best combines scholastic achievement and athletic ability.
Emily Lieuwen
An important contributor in all four of her years with the Vikes women's soccer team, Lieuwen has also been an Academic All-Canadian in all four of her university seasons.
Also a two-time Provost Award for Excellence winner, she holds a cumulative GPA of 8.75 in the Faculty of Science. She intends to pursue a career as a veterinarian after graduating from UVic with a chemistry degree.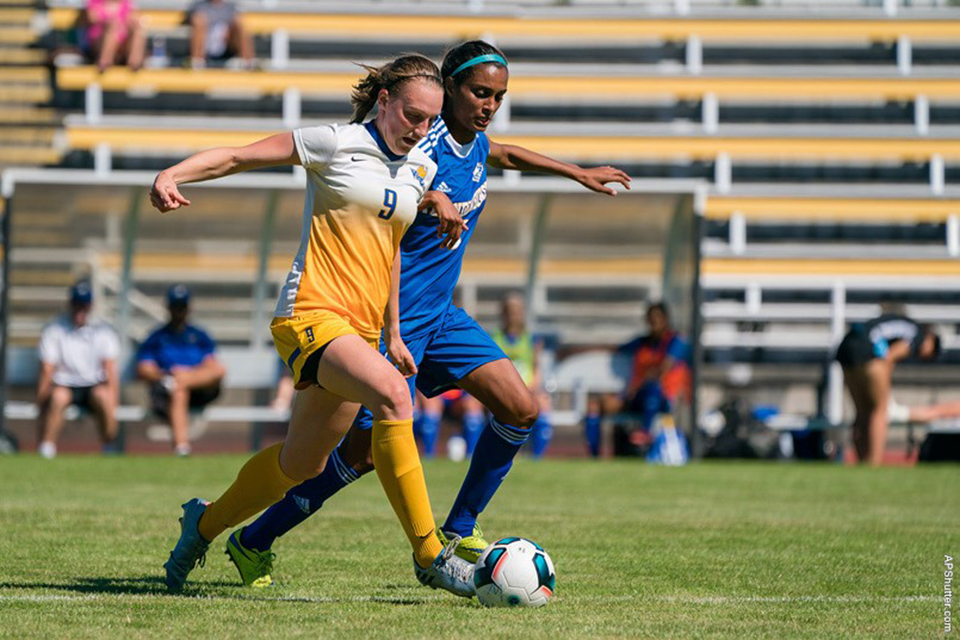 Selected to the CoSIDA Academic All-American team this year, Lieuwen is a shining example of someone who achieves both on and off the field. A starting central midfielder since her second season with the Vikes, Lieuwen is a dominant force in the middle of the pitch for a team that has qualified for the post-season in the past five-straight seasons.
In 20 games in 2017-18, Lieuwen played less than the full 90 minutes just once, when she was subbed off after the win was secured in the Vikes' 7-0 victory over Fraser Valley. Her constant presence in the midfield helped the Vikes achieve an outstanding record of just six goals against in 14 regular season games, while also chipping in offensively with two goals and four assists.
The native of White Rock, BC was named a Canada West First Team All-Star for her outstanding play on the field in 2017-18.
More varsity award winners
Among those also recognized Wednesday evening were gold medalist Caileigh Filmer (rowing) and goalkeeper Puck Louwes (soccer) who shared Female Athlete of the Year honours.
Patrick Keane (rowing) was named Male Athlete of the Year.
Adam Donaldson (rowing) was named the Chancellor's Award winner, and Rookie of the Year went to Brandon Vail (cross country) and Brea Christie (soccer).
UVic Sports Hall of Fame inductees
This year's UVic Sports Hall of Fame inductees were MacKenzie Downing (women's swimming), the athletes from the 1987 women's cross country championship team and the 1994-97 men's cross country championship teams.
More from Vikes
Details about the major award winners and highlights of the evening are featured on the Vikes website.
Photos
In this story
Keywords: sports, vikes, award, athletics, chemistry, student life
People: Emily Lieuwen, Jamie Cassels