University Club begins its next half-century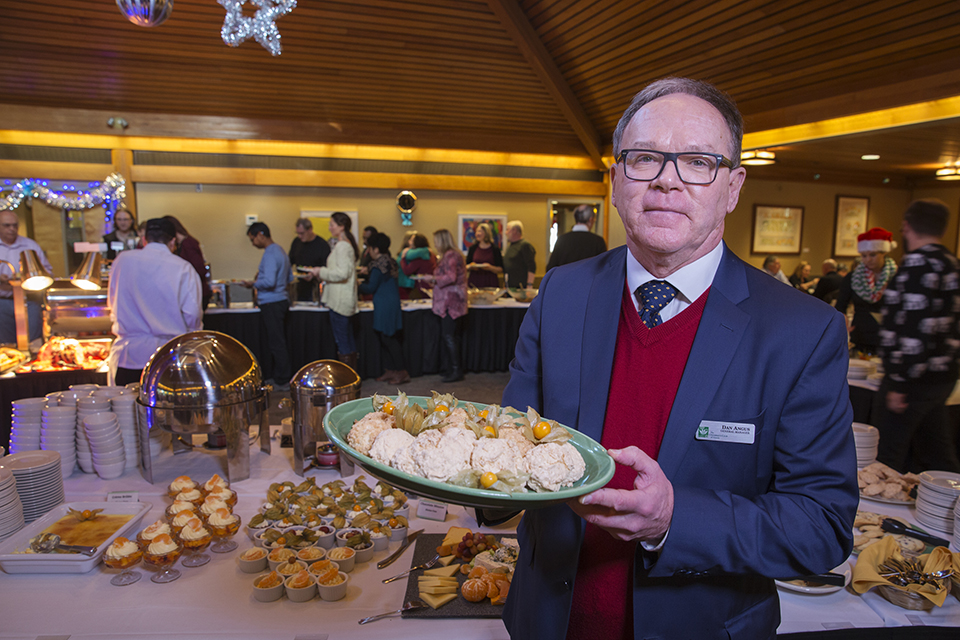 The University Club is the kind of place where "everybody knows your name." The club celebrated a double anniversary in 2017—50 years since its establishment as a social club for UVic employees, and 35 years since moving to its current location on the west side of campus.
"Everybody knows me here. It's like family. The staff know my name and my order," says Professor Emeritus Reg Mitchell, a 40-year member and former chair of the board.
The club (originally the Faculty Club) came into being in 1967 as a social space for faculty and staff of the then-new University of Victoria. Located in E hut at the corner of McKenzie and Finnerty Roads—a former officers' mess for the Gordon Head Army Officer Training Camp—it wasn't long before the club was pushing the limits of its physical space. Membership more than doubled between 1967 and 1976, from 168 to 400 members.
In 1977, the club's board—led by Mitchell—began discussions with the UVic Board of Governors to find a new location.
"It didn't make economic sense to renovate E hut and bring it up to code," says Mitchell. The board agreed to fund a new building in a less-busy part of campus, and construction began on the current site in 1981. On March 15, 1982, the club hosted its gala opening. It became the University Club of the University of Victoria in 2000.
An independent entity governed by its own board of directors, the club's main revenue comes from membership dues, dining and special events.
"We're one of the few university clubs in Canada that's survived," Mitchell says. "We've had great managers over the years and the special events offer something for everybody."
The club has strong support from UVic faculties and units for meetings and events, and can accommodate gatherings of 10 to 275 people. Popular events range from the traditional (Valentine's Day, Mother's Day, Christmas buffets) to children's themed events and special monthly member events, including patio barbeques and beverage tastings. The club also hosts private gatherings such as weddings and celebrations of life.
"This is a vibrant place and our location is spectacular," says general manager Dan Angus. "Private clubs are really a home away from home for their members. It's a great place to network and to relax with colleagues outside of the work environment."
The first year of club membership is free for faculty, staff and UVic alumni who have not previously been members. More information about the club's services and history is available at club.uvic.ca. Watch a new video about the club on Facebook.
By the numbers
1,350 — number of current members
300 — serving capacity of the dining room
63 — number of members in attendance at first board meeting on Oct. 26, 1967
40 cents — price of a beer at the club in 1967
33 — number of years executive chef Mark Davie has been with the club
7 — number of resident turtles in Mitchell's Moat (the pond)
Photos
In this story