Driven by curiosity
- David Silverberg
UVic engineering grads contributed to key projects for NASA's Curiosity Rover mission
Cambria Logan (BEng '08) might have never been to space, but her years of hard work helped send the Curiosity Rover on a successful mission to Mars.
Logan led the team at NASA's Jet Propulsion Laboratory (JPL) that was responsible for testing the sampling tools on the end of Curiosity's robotic arm, which landed on Mars in 2012. These tools drill, sieve, scoop, and portion Martian rocks and sand, then deliver those samples to instruments on the back of the rover for analysis.
"It was challenging, at first, to be given such a major responsibility," Logan says in an interview from Roberts Creek, BC, where she lives with her husband, William, (BEng '08) and one-year-old daughter, Ada. "There is a lot expected of you, and NASA puts a lot of trust in you that everything will be designed precisely."
Both Cambria (née Hanson) and William landed jobs at NASA soon after graduating from the University of Victoria. They moved to Pasadena, California where they worked in the JPL lab. The couple recently returned to BC to be closer to family—and to enjoy the outdoors. Cambria is from Roberts Creek and William was raised in Bamfield.
Cambria's team worked for years to complete the testing needed to understand the best way to operate the hardware and to ensure it would be robust enough to weather the conditions on Mars. They mimicked the pressure and temperature on Mars by placing the sampling tools in a thermal vacuum chamber, about twice the size of a large refrigerator. "Within that chamber we replicated Mars pressure and temperature while practising drilling and processing sample," Cambria explains.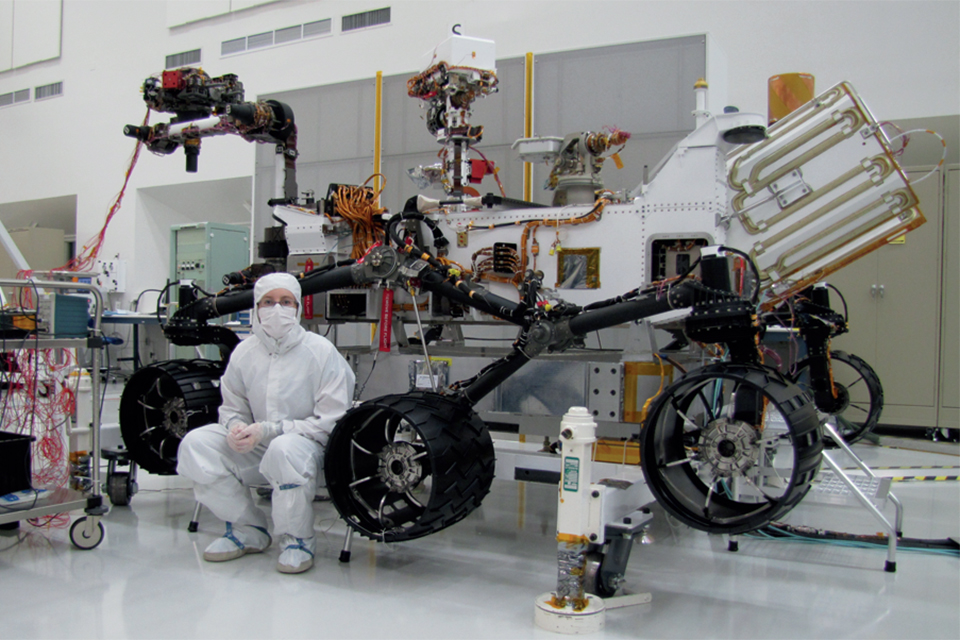 What she finds most fulfilling about her NASA work is stepping back and realizing, big picture, that her project is part of the overall mission to find life beyond Earth.
She can share that excitement with William, whom she met in classes at the University of Victoria. He also contributed to the Curiosity sampling team. "We leave work at work though," Cambria notes, with a short laugh. "We don't geek out about space stuff too much at home."
William is currently working on another kind of space—constructing their new house. It's a family tradition. Cambria's father and brothers built their homes, too.
Cambria continues to work remotely for NASA, this time on the Mars 2020 Rover mission. She and her team focus on the feed mechanism which is part of the the coring drill. Designing the feed mechanism involved going from whiteboard sketches to prototype tests to final design. "Then we have to model all the parts in a 3D-design program, create drawings, work with manufacturing engineers to get parts made and cleaned, and then work with quality assurance and technicians to assemble the hardware," she says.
If it sounds like a painstaking, time-consuming job, it is. "Some missions can take nine years and a 5,000-person team, like Curiosity," she says.
Despite the rigours of designing blueprints and testing the tech, the excitement is clear in Cambria's voice as she recalls a highlight in her career: "When Curiosity first drilled into Martian rocks, you might think the material would be all red and oxidized. Mars is the Red Planet, after all. But below the surface the powder was grey, which was very exciting because it shows there's valuable science to uncover right below the surface which hasn't been weathered away by Mars' harsh conditions."
Photos
In this story
Keywords: alumni, astronomy, engineering
People: Cambria Logan, William Logan
Publication: The Torch