Building a greener engineer
- Brad Buie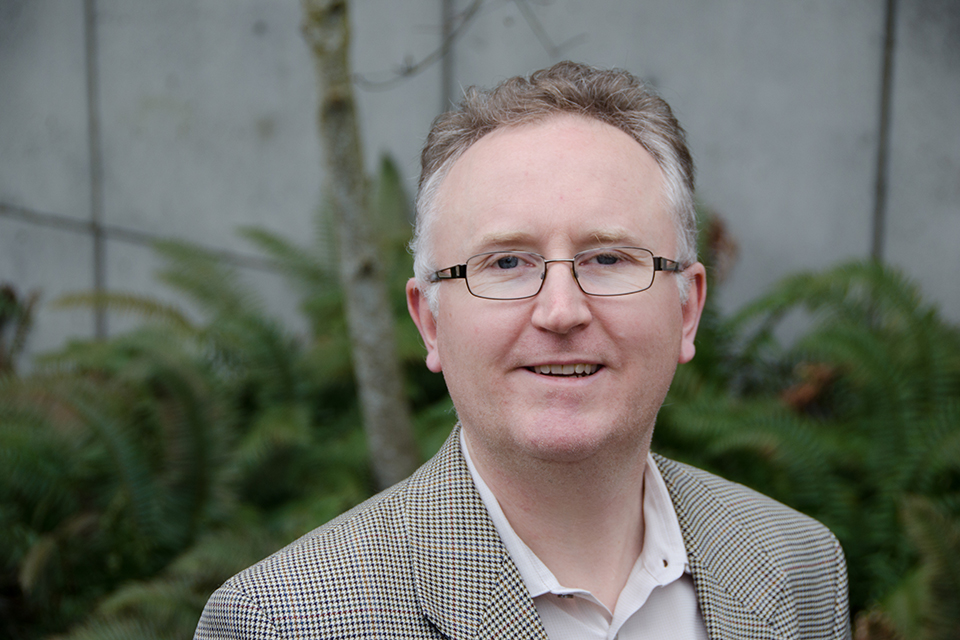 UVic's civil engineering program is teaching grads to see projects through a green lens
The University of Victoria's civil engineering department has a lofty aim: to be the greenest program of its kind in Canada. Demand—and need—for the program is high.
"The average age of a civil engineer in BC is 50 years old," says Dr. Chris Kennedy, chair of the department, which launched in 2016. "There are three jobs for every civil engineer, so there is a legitimate need."
While its graduates are in high demand, the decision to devote the program to green pursuits stems from a global urgency. "Scientists believe a sixth mass extinction in Earth's history may be under way," says Kennedy. "Engineers are so far away from relating their activities to that challenge. Because we are the ones building the manufactured capital, we must address it."
Students in the program learn about different systems, including ecosystems. For example, they may learn how to quantify biodiversity and then how to engineer for its conservation. Kennedy cites the wildlife overpasses and underpasses on the Trans-Canada Highway through Alberta as just one example of an engineering solution to a conflict between environment and development.
"It's a deep approach," explains Kennedy, "And the combination of our faculty is what makes the program so exciting."
The department is close to its goal of hiring 15 faculty members. In addition to fundamental engineering knowledge, they collectively possess expertise in groundwater and geotechnical systems, innovative construction materials, energy-efficient buildings, steel and timber structures, infrastructure system modeling and water and wastewater treatment.
The faculty recently met with an architect and the university's facilities management to envision a potential building expansion. "The standard for a university structure was formerly a LEED Gold building, which is what the government used to dictate," says Kennedy, referring to the Leadership in Energy and Environmental Design distinction. "But we're way beyond that. We're looking at beyond net zero."
Kennedy's own expertise is as an industrial ecologist. He studies resource use in society. "We're like economists except instead of dollars and cents, we use kilograms and joules," he explains. "On the applied side, we want to change energy and material flows to reduce the environmental impact, not only carbon but also biodiversity loss."
Specifically, Kennedy analyzes the flows of materials and energy in a city, what's known as urban metabolism. In one exercise, he gives his students data on a megacity's physical flows: gasoline, natural gas, aviation fuel, electricity, industrial production and waste. From these flows, students calculate the greenhouse gas inventory. Kennedy helped establish this methodology for the United Nations and the World Bank.
Kennedy uses this data along with other information—such as the city's density and wealth—to ask what strategies cities should use to reduce their emissions. "Driving an electric car in BC might be a good idea," suggests Kennedy, noting the province's formidable hydroelectric power. "But not so much in Alberta where you're transferring emissions from tailpipe to smokestack."
Graduates of UVic's Civil Engineering program will be characterized by their ability to understand context. "It's a marriage between the systems-level understanding of society and the environment with engineering skills," says Kennedy. "To know, for example, the difference between a timber versus a concrete structure—how to engineer both and understand the carbon calculation on each and not just take it on face value."
---
Kennedy's three green engineering ideas to benefit Victoria:
Electrify everything (i.e. replace fossil fuel powered engines and furnaces with electric motors)
Capture resources from our waste streams (e.g. new wastewater treatment plant)
Stop using carbon-based forms of cement
Photos
In this story
Keywords: alumni, civil engineering, sustainability
People: Chris Kennedy
Publication: The Torch