Cultural connection
- Brad Buie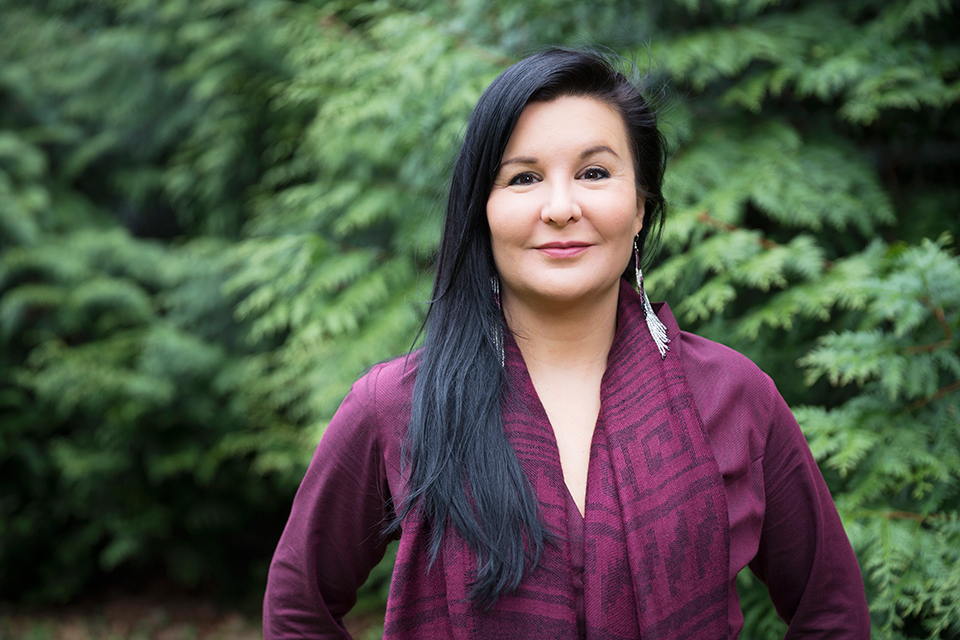 Dr. Sandrina de Finney brings cultural identity into the classroom through research projects such as sisters rising
Chantal Adams recalls her first encounter with Sandrina de Finney (BA '00, PhD '07), an associate professor at the University of Victoria's School of Child and Youth Care. Adams was a first-year student when De Finney and a master's student visited one of Adams' classes. They spoke about their work with Indigenous children and families, sang and drummed and discussed the concept of intersectionality: how forms of oppression such as sexism, racism and colonialism are interdependent.
"She came at a time when I felt disconnected," says Adams, who is of Haida and European ancestry. "I was still holding my culture in to keep it protected. Their songs hit a place in me where I longed for connection."
Adams' reflections on her community and identity led her into the Indigenous specialization in Child and Youth Care and then to become a research facilitator with de Finney on an ongoing project called Sisters Rising, an Indigenous-led research study to support Indigenous responses to high rates of sexualized violence.
Meeting the needs of students like Adams is at the heart of de Finney's teaching. "We support students to bring their ancestral knowledges into their education and research projects, to hold them at the centre of their education, so they don't experience as much the sense of incongruence between multiple worldviews."
In her research, de Finney also emphasizes community vision and need. "Our community-based approach to scholarship is in many ways a return to the ancient and wise ways of knowing that have always sustained Indigenous communities," she says. "These knowledges are generative, contemporary and vibrant."
e Sisters Rising research project is one example of such work. The project supports the wellbeing and dignity of Indigenous girls and youth by listening to and recording their experiences and their stories of resistance and strength. ese experiences are often conveyed through art, storytelling and culturally grounded practices.
Adams contributed to this research by producing a 20-minute film about her 2017 visit to Haida Gwaii. There, she interviewed local women on the topic of land and body. The film interweaves stunning footage of Haida Gwaii's shorelines and forests—both intact and clear-cut—with these interviews. In the film, Adams draws a link between "land sovereignty" and "body sovereignty." Adams and fellow student Shezell Rae Sam also presented their work as featured speakers at a national conference in Toronto.
"I see how the land can be held as sacred, and I see how the land can be treated as an object to be violated," says Adams in the film's voiceover. "I see how Indigenous bodies can be treated in these same ways.
The women Adams interviews span generations. In one scene, Adams' aunt, Alice Montjoy, or Killer Whale Woman, and friend, Terri Russ, or Yappy Bird, forage for red huckleberries in the rainforest.
"I am happy to see when all the young women are out berry picking," says Montjoy in the film. "Our grandmothers and great-grandmothers and generations back all picked the berries and cared for the land." In another scene, a young woman, Jordan Stewart, underscores this relationship with the land: "I love the island, I love the beaches. . . I find it healing for the stuff I've been through."
Throughout the film and in other research pieces produced for Sisters Rising, the concepts of consent and respect are prominent: consent and respect between individuals, between people and the land, and between the researchers themselves and the communities.
"With Sisters Rising we've been able to follow good protocols," says de Finney. "The students are not jeopardizing their ethics. They are getting support from their communities and Elders."
---
de Finney shares three songs that move her:
"Vivir sin aire" by Maná
"Broken Arrow" by Robbie Robertson
"Au bord du Lac Bijou" by Zachary Richard
Photos
In this story
Keywords: alumni, child and youth care, Indigenous, community, teaching, film, youth, sexualized violence
People: Sandrina de Finney
Publication: The Torch