Street Fighter tournament transforms gamers into virtual ninjas
- Stephanie Harrington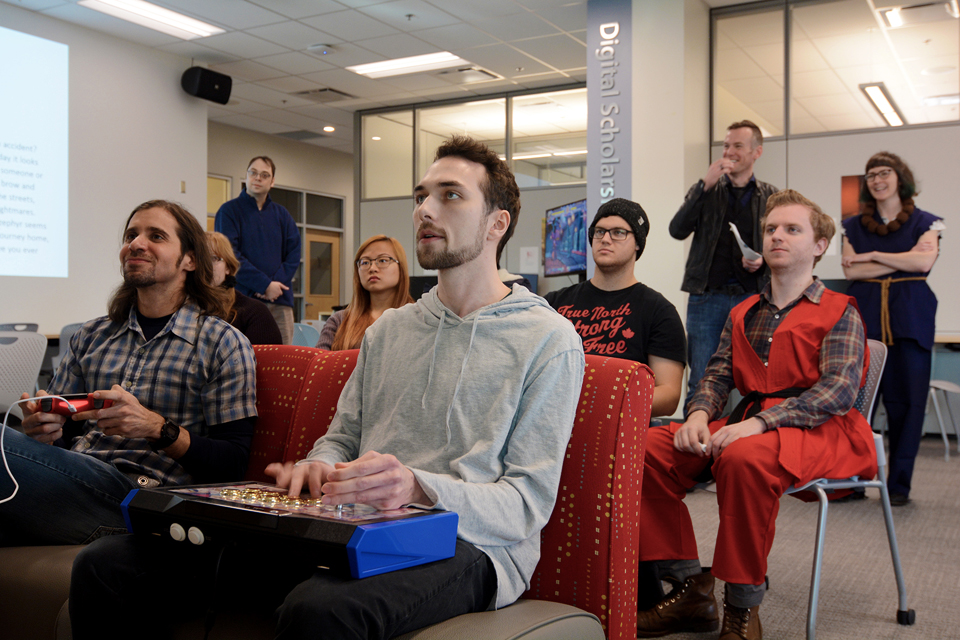 A Virtual Ninja research project that culminated in a Street Fighter tournament at UVic has been putting a different spin on video game culture.
Humanities Dean Chris Goto-Jones, who started the research in 2010, has found that far from causing more violence, fighting games are a form of martial art that can make us better people.
The Faculty of Humanities held its inaugural Virtual Ninja Street Fighter tournament on Jan. 26 in the new Digital Scholarship Commons, located in UVic's Mearns Centre for Learning - McPherson Library. Sixteen UVic students and staff competed on two Sony PS4 consoles, which were later donated to the library, for the crown of UVic's top ninja.
Video games as a spiritual pathway
Goto-Jones, a philosophy professor who specializes in Japanese and East Asian philosophy, says his research shows that gamers can engage with fighting games as a form of "ethical self-cultivation."
"The hypothesis is that playing fighting games is actually a form of martial art and so discipline through fighting games can lead to self-transformation and personal betterment," he says.
The Virtual Ninja project, which Goto-Jones started at Leiden University in the Netherlands, draws on Bushido, a warrior code of behaviour influenced by Zen Buddhism.
In certain threads of Bushido, it's argued any skilled act practised to the point of forgetting about the activity and becoming expert is a kind of spiritual pathway. We become an expert at it but also better as a person—there's a moral quality to it. – Chris Goto-Jones, UVic dean of humanities who started the project in 2010

Goto-Jones says the role of discipline, focus and contemplation required for this self-transformation suggests that video games could be considered martial arts in their own right. (Japan is campaigning to have video games included as an Olympic sport by the 2024 Paris Games.)
Tournament winner goes undefeated
The concept resonates with the winner of the inaugural tournament, Jun Nguyen. The applied linguistics student, who plays under the moniker iLLFader, has spent hundreds of hours refining his Street Fighter skills.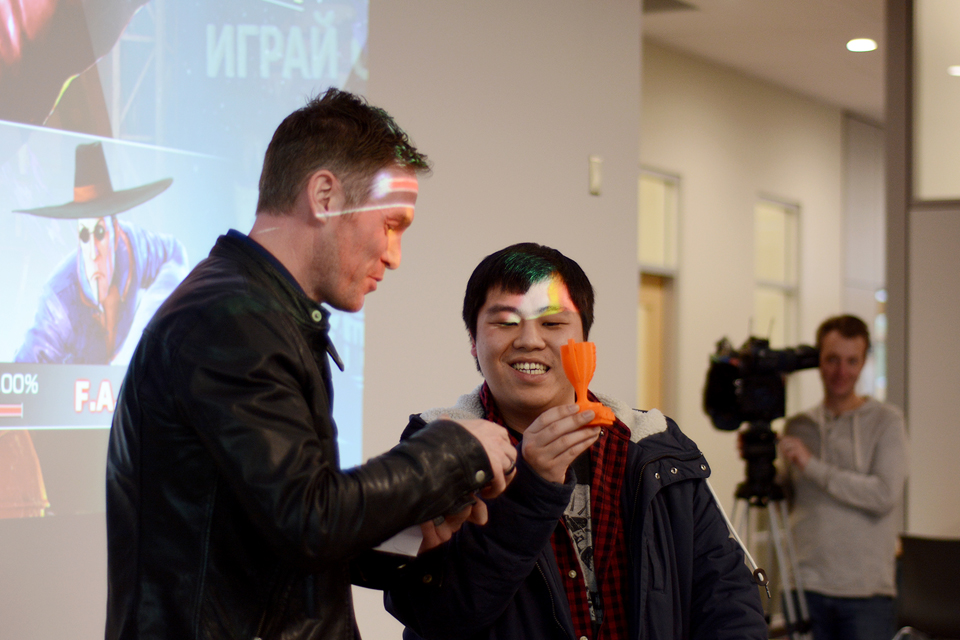 Nguyen's dedication shows—he went undefeated in the tournament over four knock-out rounds, beating his opponent Aron Tong, who played as Double Eh, in the final.
Nguyen says he appreciated the opportunity to meet other gamers in a friendly but competitive atmosphere.
"I took part in the Virtual Ninja Street Fighter tournament because I used to be really serious about trying to get into competitive fighting games, and this was a fun experience to try to get a taste of a tournament setting and see how skilled other players were," he says.
Remaining calm and focused is essential to winning, adds Nguyen, who dismisses the perception that video games cause violence as "ridiculous."
"If you want to reach high-level pro play in fighting games, you can't be a person who gets highly emotional," he says.
Learning through play
Supported by video game developer Capcom Vancouver, the tournament included an exhibition of artwork from the Virtual Ninja project and a talk from Goto-Jones to a class of Pacific and Asian Studies students.
Goto-Jones says he was pleased with the turnout and hopes to run another tournament next year.
"Part of the Virtual Ninja Project rested upon the hypothesis that play can change people, so it's exciting to see so many people experimenting with this kind of experiential engagement in a tournament," he says.
The findings of Goto-Jones's research were published in the 2016 book, The Virtual Ninja Manifesto: Fighting Games, Martial Arts, and Gamic Orientalism.
Photos
In this story
Keywords: video games, computers, martial art, virtual ninja, libraries, digital scholarship commons
People: Chris Goto-Jones