Seeing the "God gap" in US politics through literature
- Stephanie Harrington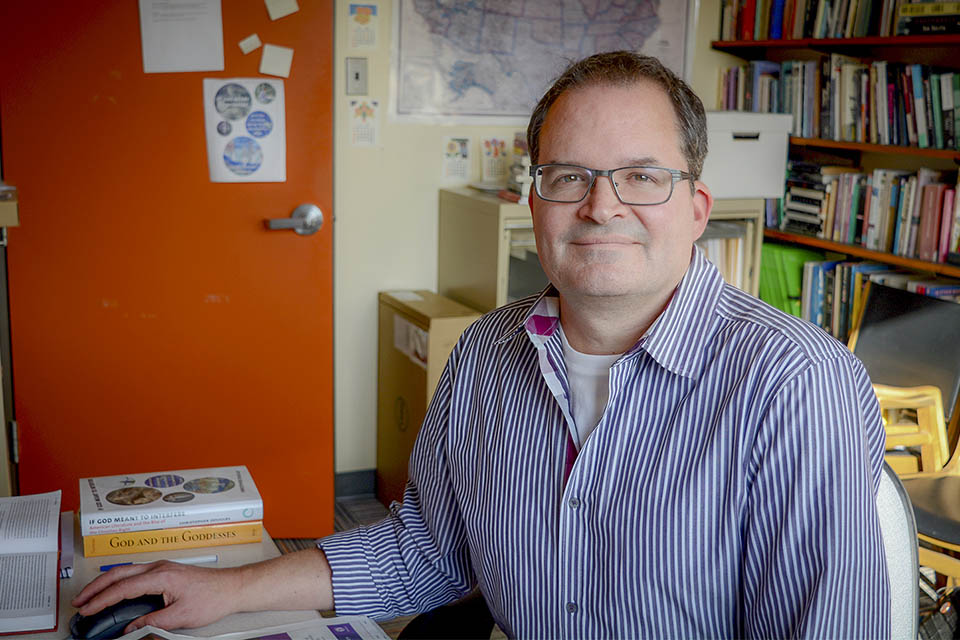 English professor Chris Douglas is examining Christian right literature to gain insight into this powerful American demographic
As lawmakers and social media companies scramble to find ways to stop the spread of fake news ahead of the US midterms, a UVic English professor is taking a close read of America's political "God gap."
Chris Douglas's research examines the rise of the Christian right in American politics and society since the 1970s through an often-overlooked medium—literature.
"The social and political empowerment of the Christian right in last forty years is one of the most important religious transformations in the US. It is also the under-examined context for religiously interested literature," Douglas says.
From gender, sexuality, and race to science and knowledge, Douglas says America has become more and more divided along religious lines. The phenomena, called the God gap, refers to the rift between increasingly secular Democrat supporters and Republicans' staunch religious base.
"Donald Trump captured the White House in 2016 in no small part by garnering 81 per cent of the white Evangelical vote, a higher percentage than all other recent Republican candidates, including the born-again George W. Bush," Douglas says.
Literature as witness
Evidence of the God gap can be found in literature, from literary reactions to the Christian right such as Margaret Atwood's The Handmaid's Tale to books that espouse Evangelical values and beliefs. Douglas cites the fundamentalist Left Behindseries, which has sold more than 60 million copies, as one example of Christian right literature, as well as William P. Young's The Shack, which sold 12 million copies and was made into a feature film.
Douglas says that for decades theNew York Times bestseller list excluded Christian book sales, to the detriment of American media and voters, who were blindsided by the Christian right's growing cultural presence. For his latest research, Douglas will be examining books written by Christian right authors to gain insight into this powerful demographic.
"Literature is a kind of witness to contemporary events. It helps us understand what's going on," Douglas says. "I see Christian right literature as the literary arm of a broader social movement, and reading it critically can be a way into understanding that movement."
Fake news and religion
Douglas's research on the Christian right and literature has also led him to investigate conservative Evangelical knowledge systems. Some studies suggest that conservatives share more fake news than liberals and that fake news might have won Trump the 2016 election.
"I suggested a possible origin story for the way in which fake news seems to be better received by religious conservatives: that this receptivity was born of a hostility to mainstream science and journalistic expertise," he says.
"This faith tradition didn't just oppose modern knowledge—it cultivated institutions of counter-expertise to oppose ideas like evolution, historical Bible criticism and now climate change."
Mid-term elections
Last year, the Cambridge Institute for Religion & International Studies commissioned Douglas to present his findings on fake news and religion in the 2016 and 2017 elections to Western diplomats gathered in Paris.
Douglas, who says we're caught in the same patterns around fake news and the attack on professional journalism that dominated politics in 2016, will be watching the midterms closely on Nov. 6.
"An epistemological crisis in America became a political crisis, and is now rapidly becoming a constitutional crisis as well."
Douglas is the acting director of UVic's Centre for Studies in Religion and Society, which will host journalist Chris Hedges' talk on "Christian Fascism and the Rise of Donald Trump" on Jan. 17.
"It's a topic dear to my heart, in a manner of speaking," Douglas says.
Douglas has received funding from the Social Sciences and Humanities Research Council to support these research projects.
Photos
In this story
Keywords: languages and linguistics, research, politics, religion, English, Centre for Studies in Religion and Society
People: Chris Douglas
Publication: The Ring