New funding strengthens UVic's national leadership in protein research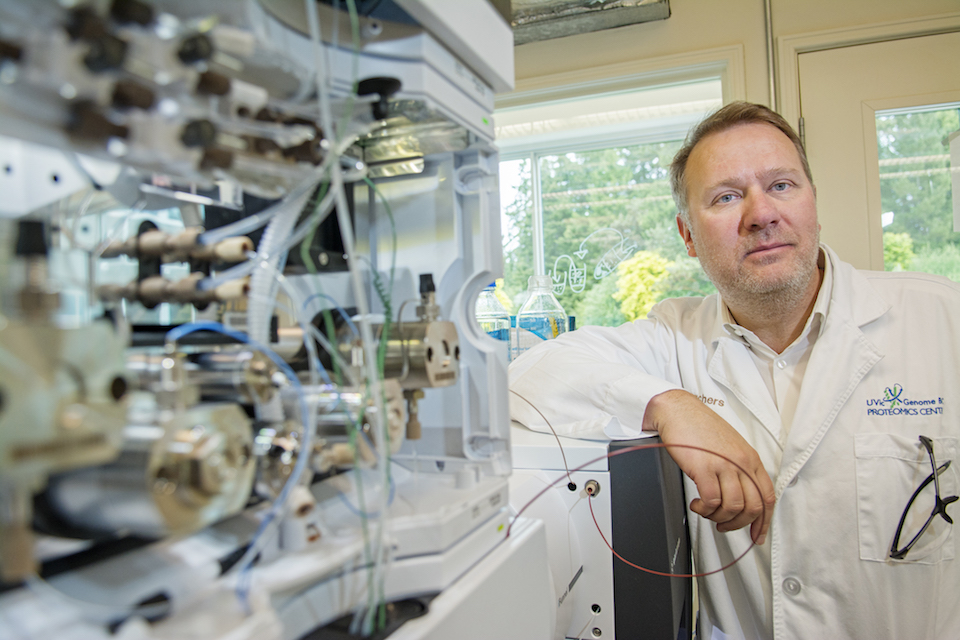 More than $18 million in funding awarded today to two national platforms in which the University of Victoria plays a key role will result in improved diagnosis and treatment of a range of diseases such as cancer and Alzheimer's.
The funding from Genome Canada and Genome BC will strengthen connections between academia, industry and clinicians, helping them to more efficiently translate research results into new approaches to diagnosis and treatment within hospital settings.
UVic's Christoph Borchers, an internationally recognized protein chemist and director of the UVic-Genome BC Proteomics Centre, is leading a new pan-Canadian proteomics research platform. Other partners are the proteomics centre at the University of British Columbia, two nodes at the Hospital for Sick Children in Toronto and McGill University's Jewish General Hospital in Montreal.
Funding is also going to an expansion of the Metabolomics Innovation Centre at the University of Alberta, which provides Canadian scientists and trainees with access to cutting-edge metabolomics services and technologies. UVic is a founding member of the centre, which is co-led by Borchers.
Proteomics focuses on understanding the structure and function of proteins—how they interact and contribute to basic life processes. Metabolomics is the complementary study of the molecules used and produced by cellular processes.
"This funding is terrific news for UVic, for proteomics research across the country and for Canadian health care in general," says David Castle, UVic's vice-president research. "The research conducted by these facilities will transform how we diagnose and treat a wide range of diseases and, in particular, expand the possibilities for the rapidly advancing field of personalized medicine."
The UVic-Genome BC Proteomics Centre is the most advanced proteomics research facility in Canada, used by academic, government and industry researchers from across the country and around the world. It also serves as a national facility for large-scale research projects funded by Genome BC and the Canadian government.
The UVic and UBC proteomics centres currently work closely with the pharmaceutical industry, environmental companies and non-profits such as the Gates Foundation and the Jain Foundation to solve problems ranging from the biological mechanisms behind muscular dystrophy to the development of inexpensive tools for screening the health of newborn babies.
With the BC partnership expanded to Toronto and Montreal, proteomics research is now a pan-Canadian effort, enabling researchers to work with clinicians to deliver improved diagnostic techniques, understand complex disease and support the development of new treatments. Expansion of the metabolomics centre in Edmonton augments this national effort.
"Extending the proteomics and metabolomics centres into a Canada-wide network provides additional and complementary capacity and capabilities in these areas," says Borchers, who is also the Proteomics Chair at the Jewish General Hospital in Montreal. "This means faster sample processing time and allows our customers, clients and collaborators to have their valuable samples analyzed at a 'one-stop shop,' while working with the top experts in this field in Canada."
The new pan-Canadian network has already secured more than 60 projects, worth more than $7.8 million, for 2017 to 2022.
UVic researchers are world leaders in the development, use and application of genomics and proteomics technologies. Their research lays the groundwork for disease diagnosis and treatment, and the design of new drugs and therapies. Other applications of proteomics research include forestry, fisheries, agriculture and environmental remediation.
A press kit containing high-resolution photos is available on Dropbox.
-- 30 --
Photos
Media contacts
David Schibli (UVic-Genome BC Proteomics Centre) at 778-746-1802 or dschibli@proteincentre.com
Vimala Jeevanandam (Communications Officer, Faculty of Science) at 250-721-8745 or scieco@uvic.ca
In this story
Keywords: proteomics, science, biochemistry and microbiology, metabolomics, protein research
People: Christoph Borchers