When the pen is mightier than the paper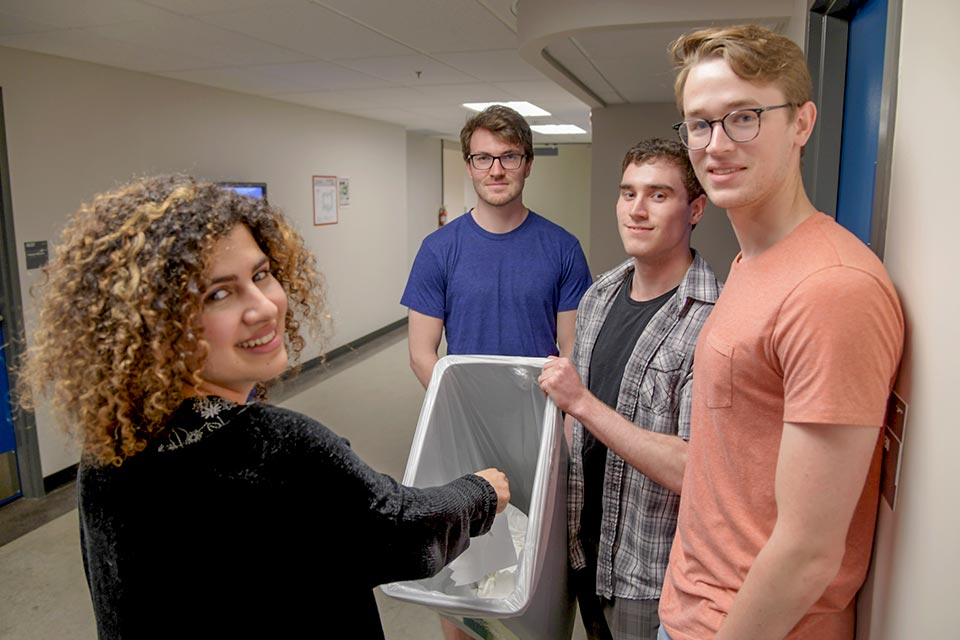 Technical writing course sharpens skills by tackling campus waste reduction
Making technical recommendations on sustainability might not be the first thing that comes to mind for an Academic Writing Requirement course. But the engineering and computer science students who enrolled in Suzan Last's technical writing course this summer did just that—transforming coursework into real-life learning. 
Their class projects gave the students a chance to focus on professional communication competencies needed in their chosen field of study: brevity, clarity and impact. 
As they honed those skills, the students had the opportunity to work with an on-campus educational partner to tackle a substantial environmental issue: plans to reduce the amount of paper products that end up in the landfill. 
From mug-sharing schemes to electronic timers on paper towel dispensers, students in the Department of English class prepared and presented proposals to UVic's waste reduction manager in June.
Last tasked the teams with writing a formal technical report that included recommendations as part of the assignment. 
Patrick Holland, whose group presented on reducing paper towel waste, said it was useful to learn how to write concisely and clearly.
"I was glad it was workplace writing because it's applicable to our careers," Patrick Holland says. "It's nice to be told to get straight to the point." 
Although UVic saves 71 per cent of its waste from landfill, the university has a goal to increase that amount to 75 per cent by 2019. 
Facilities Management waste reduction manager Nadia Ariff says an audit this year showed that paper towels make up almost 10 per cent and coffee cups six per cent of UVic's landfill waste, despite robust composting and recycling programs. That translates into more than 75 tonnes of paper towels and 37 tonnes of paper cups a year going to landfill.
Holland and his teammates Rand Bawab, Ryley Woodland and Nick Karamanian found the amount of paper towel waste in bathrooms could be halved by introducing motion-sensor timers on paper towel dispensers across campus. 
Their research showed people used 2.92 sheets of paper towels on average. Installing timers would mean people would have to wait until a second sheet of paper towels was dispensed, thus discouraging them from using excess amounts. The groups found that timers were much more cost-effective than installing hand-dryers across campus. 
Holland says even though paper towels are recycled it takes energy and time to recycle them. 
The students' proposal also included a social media campaign to raise awareness of paper towel waste. Woodland said the assignment was satisfying. 
"It was cool to get involved with something that was meaningful," Woodland said. 
Ariff, who is now considering the proposals, said the presentations were thought-provoking. 
"I was really impressed by the students' commitment and passion for the subject," she said.
Photos
In this story
Keywords: sustainability, writing, student life, English
People: Suzan Last
Publication: The Ring