ONC completes installation of earthquake early warning sensors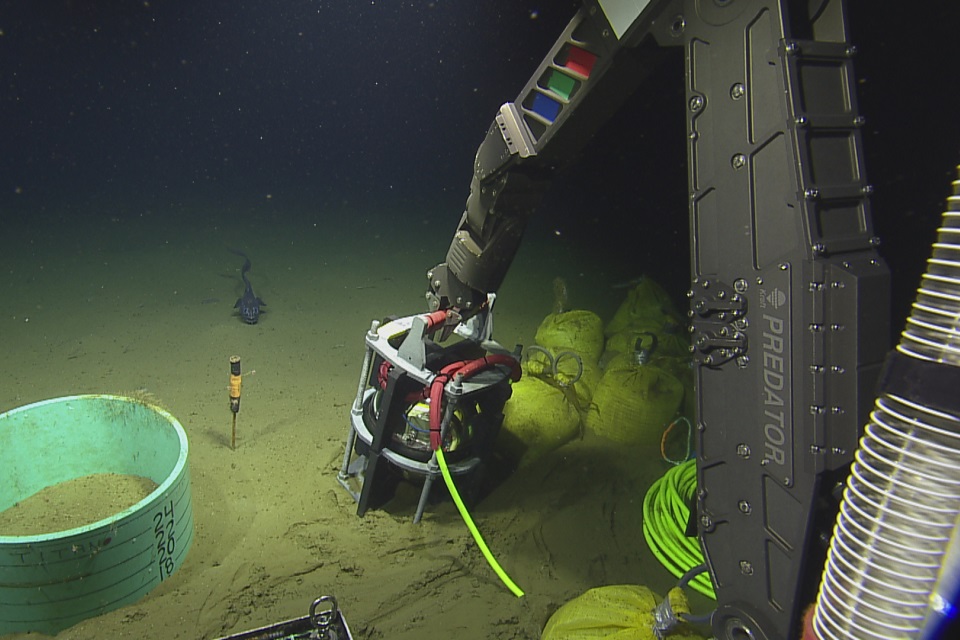 Ocean Networks Canada (ONC), an initiative of the University of Victoria, has installed the final set of underwater earthquake early warning sensors off the west coast of Canada that will be part of a system alerting authorities to take preventative and protective measures for public safety. The system would enable a warning of 20 seconds to two minutes in the event of a significant earthquake. 
Today, ONC will mark a significant operational milestone in partnership with the operator of Vancouver's Canada Line rapid transit system. A simulated exercise—as if responding to a megathrust earthquake affecting the Canada Line—will demonstrate how the network will help data end-users such as transit authorities respond to emergencies. 
The densely populated southwest region of BC is located on the Cascadia subduction zone, which stretches from northern Vancouver Island to northern California and is capable of producing a megathrust earthquake above magnitude 7 that would significantly affect public safety, property and infrastructure. The exercise will allow the Canada Line's operator to simulate slowing down trains and holding them at stations. 
"Ocean Networks Canada's earthquake early warning technology promises a new era of earthquake preparedness that will enhance the safety of both riders and workers on the Canada Line," says Canada Line general manager Ron Powell. 
Canada Line is a 19-kilometre automated rail-based rapid transit system that connects downtown Vancouver with the city's international airport in Richmond. More than 150,000 passengers ride the Canada Line on an average weekday. 
The simulated exercise will include the Great BC ShakeOut drill, an annual earthquake preparedness drill held around the world. 
"Ocean Networks Canada's earthquake early warning technology has the potential to provide the time needed to take critical, life-saving actions—like Drop, Cover and Hold On—before the shaking starts," says Dave Cockle, president of the BC Earthquake Alliance and Oak Bay fire department chief and emergency program coordinator. 
ONC installed the final set of underwater earthquake early warning sensors during this past summer's Expedition 2018: Wiring the Abyss on its cabled deep-sea observatory along the Cascadia subduction zone approximately 200 kilometres offshore Vancouver Island. Work continues with Natural Resources Canada on land-based seismic and GPS sensors. 
"Ocean Networks Canada is thrilled to implement this world-class earthquake early warning system," says ONC business analyst Teron Moore. "Once completed, ONC's system will be able to estimate location and magnitude of a megathrust earthquake from the Cascadia subduction zone, enhancing tsunami monitoring and enabling a warning time of anywhere from 20 seconds to two minutes, allowing partners and decision-makers to proactively take preventative and protective measures." 
The BC government, through Emergency Management BC, invested $5 million in 2016 to install the infrastructure for earthquake early warning. Once the extensive network of underwater and land-based earthquake early warning sensors is completed, ONC will deliver the system to the BC government. 
"ONC's earthquake early warning system positions Canada and BC as a world leader in seismic and tsunami research and science," says Moore. 
About Ocean Networks Canada: 
Ocean Networks Canada, an initiative of the University of Victoria, monitors the west and east coasts of Canada and the Arctic to continuously deliver data in real-time for scientific research that helps communities, governments and industry make informed decisions about our future. Using cabled observatories, remote control systems and interactive sensors, and big data management, ONC enables evidence-based decision-making on ocean management, marine safety and environmental protection. ONC also works in collaboration with educators, students, communities and Indigenous peoples on ocean monitoring initiatives along BC's coast and in the Arctic. 
A backgrounder with illustrations that explains how the earthquake warning system works is available on Dropbox.
A press kit containing high-resolution graphics, maps, photos and videos is available on Google Drive.
-- 30 --
Photos
Media contacts
Greig Bethel (Media Relations, Ocean Networks Canada) at 250-216-7510 or gbethel@uvic.ca
Denise Helm (University Communications + Marketing) at 250-721-7656 or dhelm@uvic.ca
In this story
Keywords: oceans, research, marine, ONC, earthquake, tsunami, emergency, science, transit, shakeout
People: Teron Moore