UVic and Library and Archives Canada strengthen their engagement
- Lisa Abram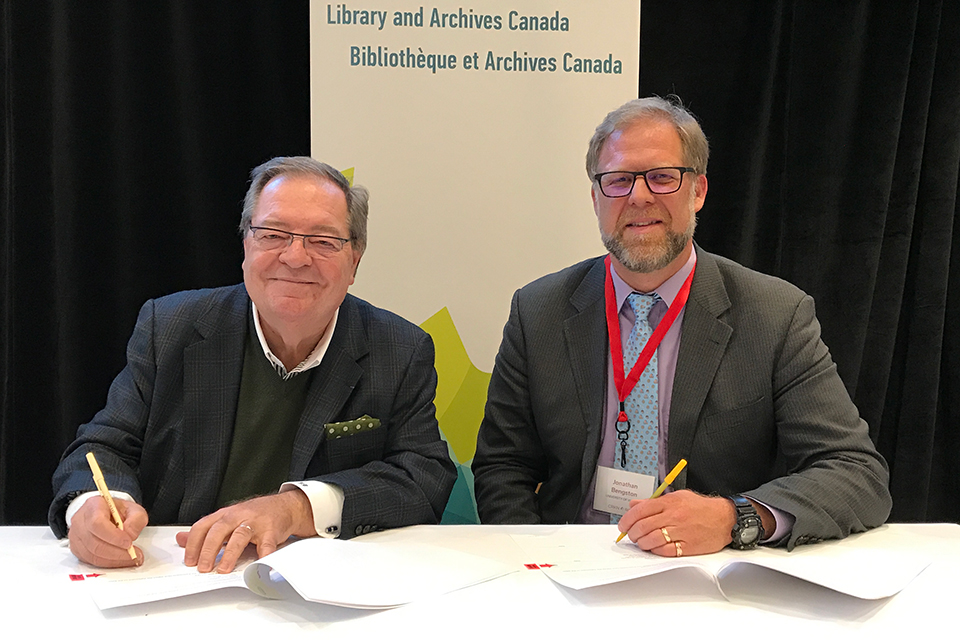 UVic has a new agreement with Library and Archives Canada (LAC) that will strengthen existing engagements between the two institutions and lead to new endeavours to facilitate the sharing of expertise and knowledge.
"The University of Victoria is delighted to be the latest university to enter into a partnership with Library and Archives Canada to work on topics of mutual interest and share expertise and knowledge," says University Librarian Jonathan Bengtson. "UVic faculty, staff, and students already work closely on projects with LAC, and this new agreement will help us expand these opportunities more broadly across the community in Victoria and the local region."
A current example of collaboration between UVic and LAC is Dr. Eric Higgs' Mountain Legacy Project that involves LAC's resources for scanning and describing photographs from the Dominion Lands Survey and other relevant collections.
A Memorandum of Understanding, signed during a ceremony Oct. 16 in Vancouver, will provide a framework of collaboration for UVic faculty and students, supporting academic advancement, research practices, technological developments, and proactively facilitate community outreach to promote the broad value of Canadian documentary heritage.
LAC now has multiple bilateral agreements in place with a wide range of Canadian universities including the University of Ottawa, Dalhousie University, Queen's University, the University of Toronto, Western University, the Université Laval and the École de bibliothéconomie et des sciences de l'information at Université de Montréal.
Photos
In this story
Keywords: library, digital humanities, partnerships
People: Jonathan Bengtson