UVic gears up for walk to eradicate global poverty
- Joy Poliquin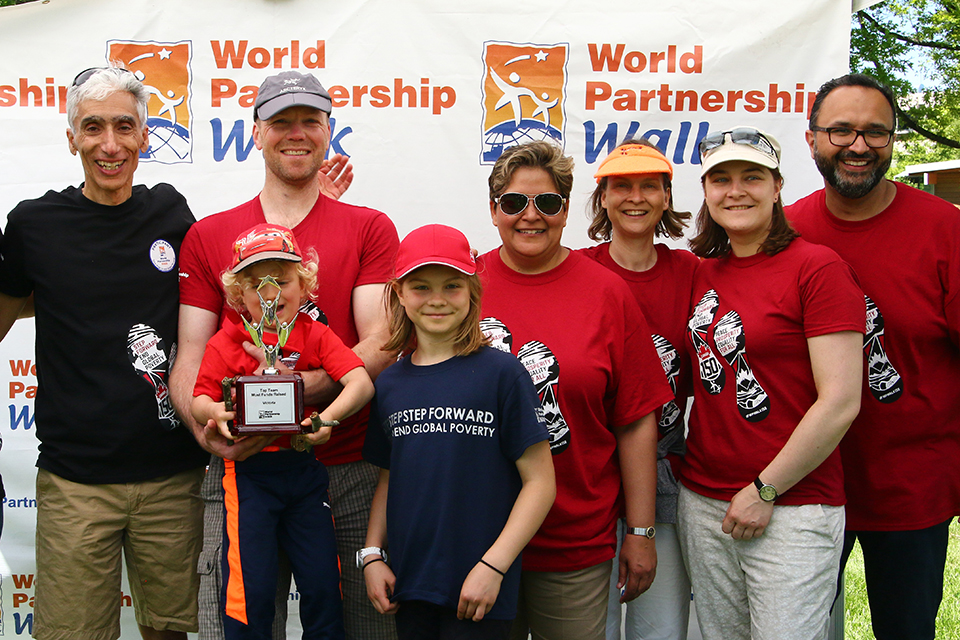 On Sunday, May 27, more than 1,000 community members, staff, faculty and students will be on campus to take part in Victoria's annual World Partnership Walk (WPW)—a walk that raises funds to improve access to education and health care, increase food security and create economic opportunities in communities across Africa and Asia. This year's event will include a speech by UVic President Jamie Cassels.
Raising funds to eradicate global poverty
For the past three years, UVic has raised more than any other Canadian post-secondary, with last year's record total coming in at $43,070. The university's involvement has been led by Karima Ramji, UVic's manager of international co-operative education programs, and the Walk's chair.
"I've been involved with the WPW for more than 20 years," says Ramji, who grew up in Kenya and attended a school that was funded by an agency of what is now the Aga Khan Development Network (AKDN), a not-for-profit that champions economic and social development initiatives across Africa and Asia. The AKDN's Aga Khan Foundation Canada also spearheads the WPW.
I was looking for a way to give back and to make a vital impact in my community and beyond; it's been so inspiring to see colleagues and friends become involved in the walk—each person makes such a difference.

—Karima Ramji, UVic's manager of international co-operative education programs
Faculty champions inspire
UVic economist Paul Schure and political scientist professor Amy Verdun have been involved with WPW since 2011; they met Karima through their children, who go to school with Ramji's two kids. For the past three years, Schure and Verdun have each contributed $5,000 to the walk and have brought other faculty and staff members on board as donors and fundraisers. This year, they are once again challenging the UVic community to match their $20,000 combined personal donations.
"The walk brings the community together towards a powerful cause," says Schure. "It is also a fun event that my children love to go to. But ultimately I am involved because the Aga Khan Foundation is very effective in finding sustainable solutions to poverty—here is an opportunity for making a real impact on peoples' lives."
Ramji's passion for intercultural engagement is also evident through her work with Co-op and Career—she led the creation of Co-op and Career's intercultural competency development curriculum and facilitates partnerships with employer organizations around the world. She is also one of the leads on a project that is helping the University of Central Asia (UCA) establish its own co-operative education program—UCA is also a member of the Aga Khan Development Network.
Student volunteers gain hands-on experience
Several UVic students sit on the Victoria WPW's core committee and are managing the walk's digital marketing, corporate engagement and walk day experience portfolios. These experiences are not only providing hands-on learning opportunities, they're also counting towards the students' co-curricular records, an experiential learning program run out of Co-op and Career.
Join UVic's WPW team
There's still time to get involved—join the UVic team to take part on walk day or make a donation to the WPW. The event begins at 10:30 a.m. on Sunday, May 27 (registration at 9:30 a.m.) in front of McPherson Library. The walk will be followed by a celebration of diversity at an Asian Heritage Celebrations event.
Find out more
Photos
In this story
Keywords: international, community, homelessness, philanthropy, co-op, administrative
People: Karima Ramji, Jamie Cassels, Paul Schure, Amy Verdun
Publication: The Ring