Ian Manners and materials science
- Jody Paterson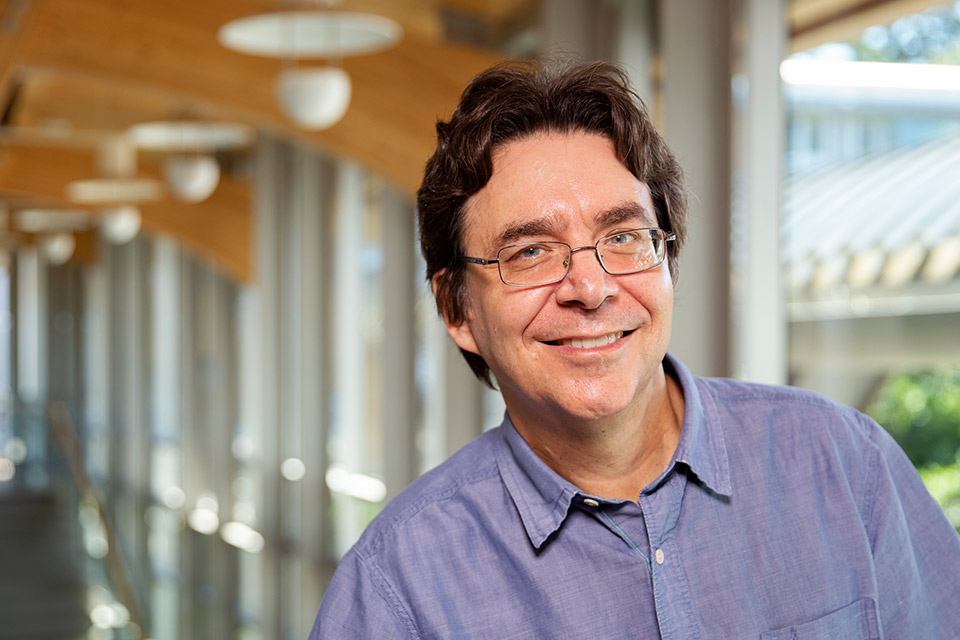 Renowned UK chemist Ian Manners joins UVic as Canada 150 Research Chair
In the Age of the Enlightenment, scientists turned their analytical minds to studying ancient observations on the properties of metals and minerals. Materials science was born.
Those 18th century researchers couldn't have imagined how vital materials science would be to the world three centuries later. The arrival of renowned UK chemist and materials scientist Ian Manners this fall as the University of Victoria's Canada 150 Research Chair underlines UVic's own determination to take its place as a world leader in the growing field.
Developments in materials science at UVic bring international recognition for researchers in the faculties of science and engineering, and drive innovation at UVic's Centre for Advanced Materials and Related Technology (CAMTEC). From recyclable super-plastics able to withstand 400 C temperatures to improved cancer treatments through the use of gold nanoparticles smaller than a cell nucleus, materials science is reshaping the future.
A breakthrough called self-assembly
Manners and his research team at the University of Bristol, along with collaborators, made a game-changing discovery a decade ago that some polymer-based materials can be made to "grow." That finding has taken materials science in previously unimagined directions, and helped to make Manners one of the most oft-cited inorganic chemists in the world.
"Here at UVic, you can see that the leadership wants UVic to be a top institution. It's a team on the way up," says Manners about his decision to relocate to UVic. "That's the kind of environment I want to work in."
Materials science is about enhancing the performance of existing materials and developing new ones for a range of applications. Inorganic materials include polymers (plastics and resins), glass and precious metals. Manners' discovery of a previously unknown process, crystallization-driven self-assembly, identified a new way to control the growth of polymer-based materials to create the sizes common in biological systems.
That holds much promise in diverse areas, including cancer treatment.
"What if one could design a way to deliver chemotherapy drugs directly to a tumour and bypass the collateral damage of cancer treatments–some sort of 'smart capsule' that would keep the drug inside and then deliver it only when commanded?" asks UVic chemist Alexandre Brolo, director of CAMTEC.
"That would be revolutionary, as would new materials that could improve contrast in medical imaging, improve the efficiency of memory devices, help on the fabrication of microchips and so on. What Ian Manners does is find smart ways to produce those types of materials."
Manners will be in good company at UVic, where materials scientists in five science and engineering departments are engaged in similar multi-disciplinary research. Six researchers are also Canada Research Chairs: Katherine Elvira (new materials and techniques); Magdalena Bazalova-Carter (medical physics); Jeremy Wulff (bioactive small molecule synthesis); Reuven Gordon (nanoplasmonics); Stephanie Willerth (biomedical engineering); and Fraser Hof (supermolecular and medicinal chemistry).
Manners is an impressive addition to the team. His research has been cited an astounding 43,000 times, making him the third-most-cited inorganic chemist in the world and sixth in self-assembly according to Google Scholar. Published in more than 640 publications, Manners has given more than 540 international invited talks, won 20 awards, holds 12 patents and has co-authored four books. He is a Fellow of both the Royal Society of Canada and London.
"It's a lock-and-key effect," says UVic Vice-President Research David Castle about having Manners on faculty. "The tremendous scientific leadership in the Department of Chemistry and CAMTEC has created enormous potential for world-leading science and the development of innovative technologies. Ian Manners' arrival is key to unlocking that potential and propelling the field of materials science forward at UVic, and for Canada."
A new horizon of possibilities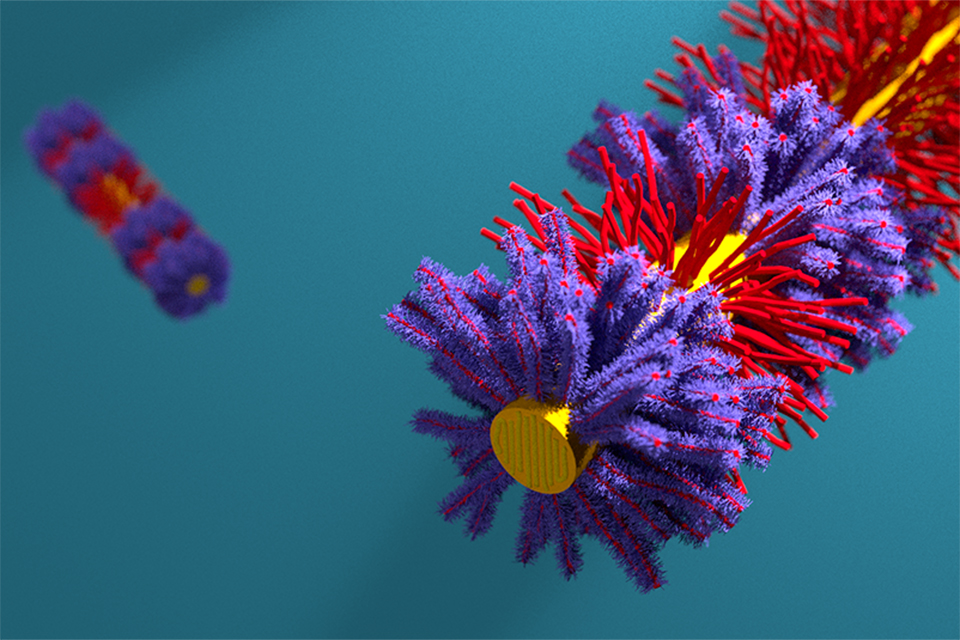 The ability to create tiny particles with dimensions anywhere from 10 to 10,000 times smaller than the width of a human hair–and to control their shape, size, composition and thus their properties–is a major global challenge critical to advances in many future technologies.
"The discovery was accidental," says Manners. "We and our collaborators were studying and making fibre-like structures and saw that under certain conditions, these structures were sometimes long and sometimes short. We couldn't understand why. During the course of exploring that, we found that we could add materials so the short ones could grow."
Up until that 2007 discovery, chemists had struggled to make synthetic structures at the same scale as the functional structures of biology, such as cell components and viruses. They were making structures at the molecular scale but couldn't match the slightly larger scale of biological structures.
Biology is an expert in making structures that are beyond the size of molecules. So we want to prepare structures using chemistry methods that match that size. Where you might see applications is in medicine and electronics–in targeted drug delivery, for instance, or in the creation of much more efficient solar cells with enhanced capabilities to harvest energy from light.
—Chemist and materials scientist Ian Manners, UVic's Canada 150 Research Chair
The Canada 150 Research Chair program, a federal initiative to mark Canada's 150th birthday by recruiting the best and brightest scholars from around the world, proved the perfect opportunity to bring Manners to UVic to continue that research.
The decision to return to Canada wasn't difficult. Manners is a dual citizen of Britain and Canada and was on faculty at the University of Toronto from 1990 until his return to Bristol in 2005. He and his wife and research coordinator Deborah O'Hanlon-Manners have two children and three grandchildren living in Ontario.
Nor was it a difficult decision to accept UVic's invitation, Manners adds.
"There are high-quality people already here relevant to the work my research team is doing, and a broad possibility of collaboration with engineering, biology, physics, and others in chemistry," he says. "We will be major users of CAMTEC. The Canada 150 Research Chair program provides money for equipping our laboratory, but you also need the much bigger equipment, the electron microscopes, designed to visualize structures of the size we are making."
New lab to support innovation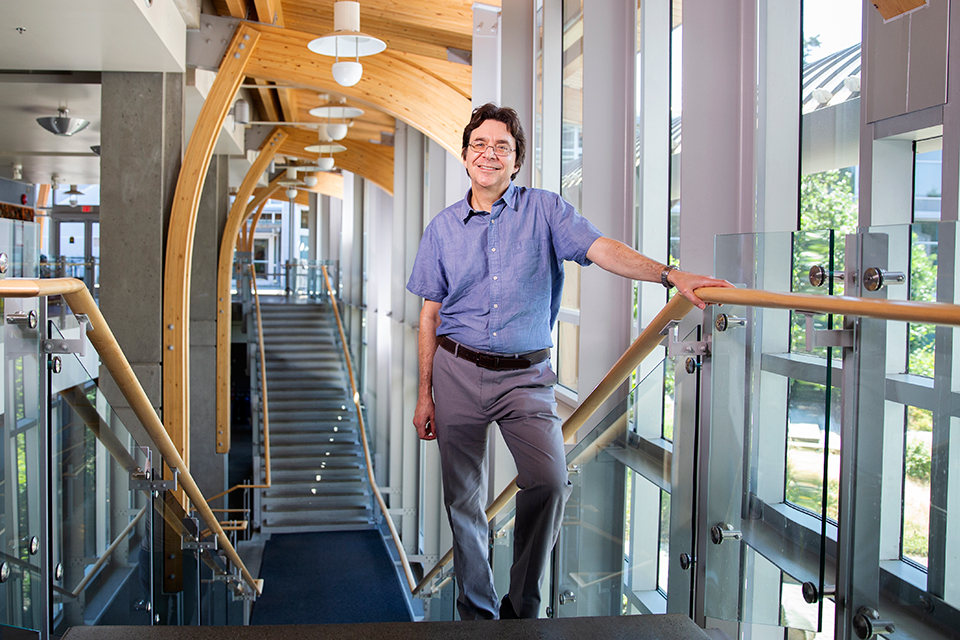 Manners will establish and lead UVic's new Laboratory for Synthetic Self-Assembled Materials, under construction right now and expected to open in early 2019.
UVic is funding the $1.85 million, 6500-square-foot lab in the Elliott Building, which will be a state-of-the-art research facility for Manners and up to 30 co-workers. The goal is a lab that equals or exceeds the leading-edge lab that Manners oversaw at the University of Bristol. 
"I'm convinced that UVic will be a really excellent place for us to flourish as a research group," he says.
"It's exciting to see buildings shared by different departments here on campus. That's not typical internationally, where the practice is often to separate everyone—sometimes even separating the different aspects of chemistry into separate buildings. My view is that different disciplines not only benefit by sharing the same equipment, but that collaborating brings innovation."
The research that will come out of our lab will still require "lots of breakthroughs not only by us but also by other researchers" to build on foundational discoveries and to take the work through to applications, says Manners.
But one day in the future, minuscule drug-carrying capsules made from novel materials could be in common use to deliver specific drug dosages directly to a sick liver or other body organ. Solar cells capable of absorbing 10 times as much energy from the sun as the cells used today could be opening up unimagined applications for alternative energy, even in regions not known for sunshine.
That's an exciting prospect for a man who knew from an early age that he would grow up to be a scientist.
I knew I wanted to be a chemist by age eight. Over the years, I've broadened my interest in science beyond chemistry, and now tell my members of my research group that we are scientists who specialize in chemistry. I'm looking forward to some exciting breakthroughs.
—Chemist and materials scientist Ian Manners, UVic's Canada 150 Research Chair
Photos
In this story
Keywords: chemistry, research, international
People: Ian Manners
Publication: The Ring