Renewed agreement celebrates relationship with faith communities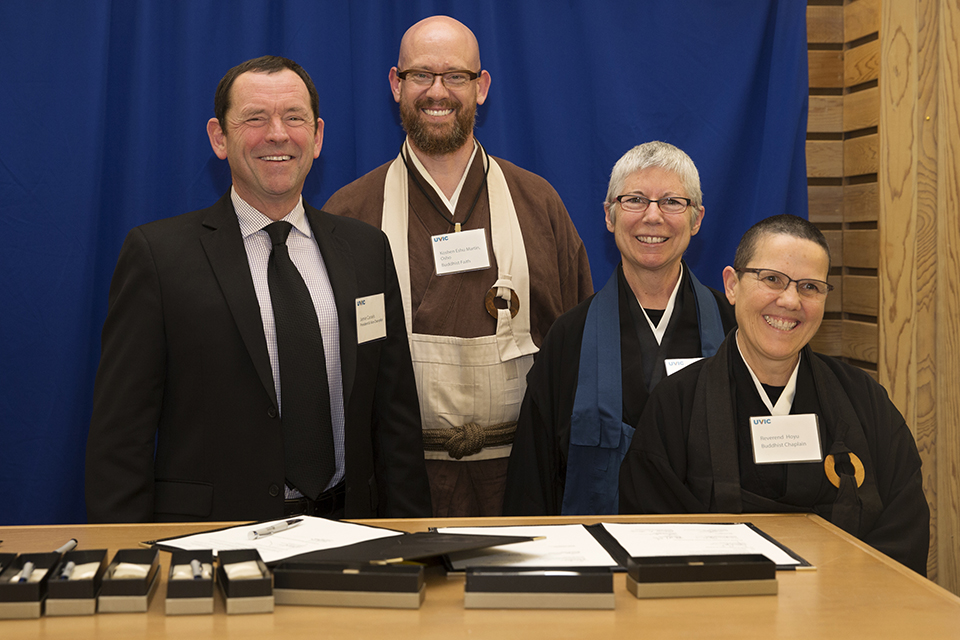 On a typical day at the Interfaith Chapel, a Catholic mass might smoothly transition to a drumming circle, followed by Zen meditation, Muslim prayers or yoga. It's a remarkable feat of organization, as the team from Multifaith Services juggles schedules, office and storage space as well as the varied requirements of 13 faith communities.
"Most days see at least four or five services and activities taking place in either the main chapel area or meditation rooms," notes Rita Knodel, director of Multifaith Services and Counselling Services. "It can be quite the challenge, but everyone works together to make sure it runs smoothly."
On Jan. 18, the representatives of 11 faith communities came together to sign a renewed memorandum of understanding (MOU) honouring the enduring value of their evolving and diverse relationships with the university. The ceremony, attended by Multifaith Services chaplains, students, faculty, staff and community members, embraced song, story, poetry and incantations from diverse spiritual traditions.
"What we've learned at the university is that we are better together," said Reverend Shana Lynngood (Unitarian). "We're at our best when we remember that."
The original MOU was signed in 1977 by UVic and the Catholic, Anglican and United churches, which had established a joint ministry in the late 1960s to provide pastoral care to the university community. The signatories to the renewed agreement represent the Anglican, Baha'i, Baptist, Buddhist, Catholic, Christian Science, Jewish, Lutheran, Muslim, Unitarian and United Church communities.
This agreement reflects the university's understanding of the important role of spirituality in student health and wellness, as well as the diversity of our campus community.
—Rita Knodel, director of Multifaith Services and Counselling Services
Special guest Bishop Remi De Roo, retired Canadian Roman Catholic Bishop of Victoria and a driving force behind the original agreement, congratulated UVic on its successful multifaith services model.
"To my knowledge there is no other multifaith group that is this large and this effective," De Roo said. "You're not only making history, but developing the cause of interfaith collaboration as few organizations are."
UVic President Jamie Cassels acknowledged the chaplains for their ongoing commitment to the spiritual health and education of students, faculty and staff. "Your contributions of time and resources, as well as your encouragement and involvement in thoughtful reflection and dialogue, have a significant and positive impact on our university community," he said.
"This space is special, because it is a space for reflection, a space for contemplation, a space where different faith communities come together to serve students, faculty and staff members," said Ambreen Hussaini, PhD candidate in art history and visual art. "As students and as newcomers to Canada, we are lucky to be embraced by this special community."
Multifaith Services provides spiritual and mental health care for interested students, staff and faculty, including pastoral counselling, prayer and meditation groups, learning circles, religious education, retreats and workshops on a variety of topics. Multifaith Services is now located in the Interfaith Chapel building.
Photos
In this story