Grants fuel community engagement and student learning
Fine Arts, Engineering, Humanities, Co-op, Education, Social Sciences
- Chelsea Falconer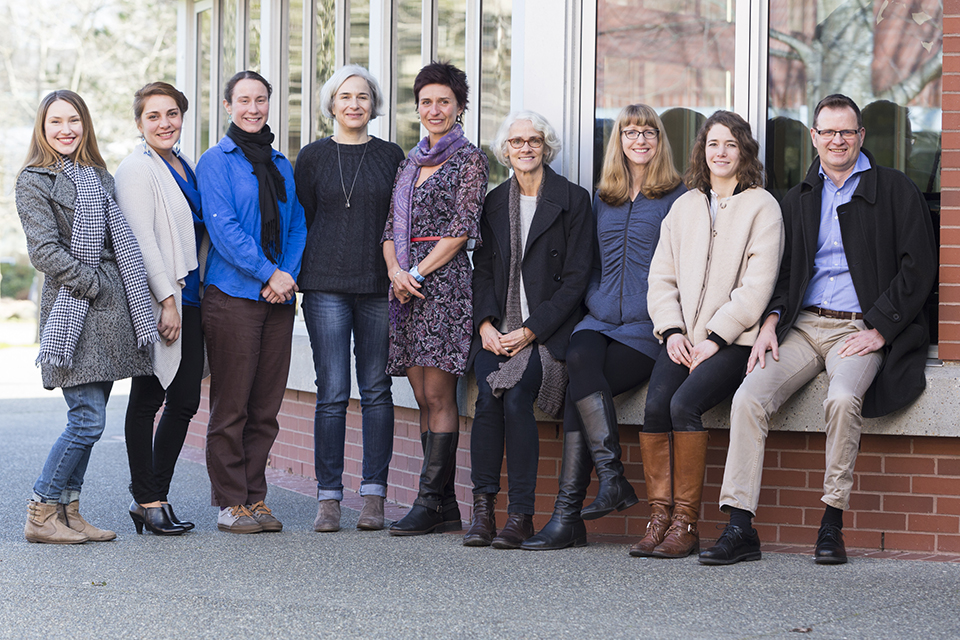 Six UVic faculty members leading projects that strengthen community partnerships and provide engaged-learning opportunities for students have been awarded $30,000 in Community-Engaged Learning (CEL) Grants. Approximately 280 to 480 students will benefit from these curriculum development projects.
The grant recipients are working on a wide-range of projects across campus:
Redesigning a software engineering course
Daniela Damian (computer science) is redesigning a core software engineering course that teaches students critical business analysis skills, software management, project estimation and teamwork in collaboration with the local software industry.
Building relationships with Esquimalt First Nation
Donna Feir (economics) and Ruth Young (social sciences) are building relationships with the Esquimalt First Nation, whose members will identify opportunities for economics students to work on Indigenous-led community projects.
Partnering English students with community organizations
Rebecca Gagan (English), Allison Benner (co-op and career) and Lisa Surridge (English) are developing a course that partners English students with community organizations undertaking a major research project.
Providing graduate students with teaching experience
David Leach and Annabel Howard (writing) are redesigning a course that provides second-year graduate students with teaching experience. Students will develop and lead writing workshops for high school students at the Art Gallery of Greater Victoria.
Supporting faculty through workshops and resources
Kathy Sanford (curriculum and instruction), Rhianna Nagel (social sciences) and Lisa Mort-Putland (Volunteer Victoria) are collaborating with local community organizations to develop workshops and resources that support UVic faculty members interested in including community-based learning in their course and program curriculum.
Exploring human rights violations
Elizabeth Vibert (history) and Charlotte Schallié (Germanic and Slavic studies) are developing a curriculum module that explores how small-scale historical acts and processes can lead to massive human rights violations. The modules will be co-taught to high school students at Victoria High School by Vibert, Schallié, and graduate and undergraduate students.
Learn more
CEL grants support the exchange of knowledge and resources with UVic's local and global communities. These relationships contribute to enhanced student learning as well as a more sustainable, just and healthy world. Learn about completed grant projects.
Funding for CEL grants is provided by the Office of the Vice-President Academic and Provost. The grants are facilitated by the Office of Community-University Engagement.
Photos
In this story
Keywords: research, student life, funding, community
People: Daniela Damian, Donna Feir, Ruth Young, Rebecca Gagan, Allison Benner, Lisa Surridge, David Leach, Annabel Howard, Kathy Sanford, Rhianna Nagel, Lisa Mort-Putland, Elizabeth Vibert, Charlotte Schallie
Publication: The Ring