Federal innovation grants lay foundation for discovery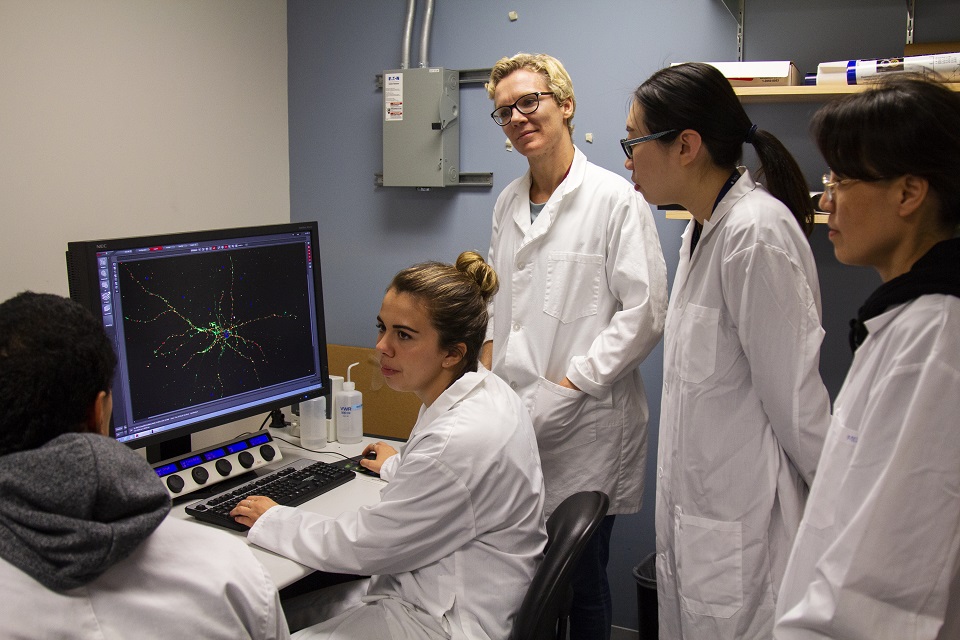 From a cheap and easy way for mining- impacted communities to test their drinking water to a powerful microscope able to observe the tiniest "workhorses" of our cellular system, UVic researchers are putting Canada Foundation for Innovation (CFI) grants to work to address some of the world's most daunting problems.
Federal Science Minister Kirsty Duncan visited the campus April 11 to announce more than $42 million in CFI grants. That included a $355,000 investment at UVic, where researchers Heather Buckley and Leigh Anne Swayne have received CFI support for their projects.
Buckley, a civil engineer, is developing a test strip that will one day let residents of mining communities in BC and around the world quickly and easily test their drinking water as needed for harmful by-products of mining such as arsenic, mercury, chromium, cadmium and lead.
She's receiving $135,000 toward the $337,500 project, which will also lead to the development of a method of extracting valuable metals from mine tailings.
Swayne, a microbiologist, has been awarded $220,000 toward the half-million-dollar upgrade of her lab's confocal microscope, purchased in 2013 through a previous CFI grant and matching funds from the BC Knowledge Development Fund.
The upgrade will allow even closer scrutiny at the cellular level, and for the first time will permit Swayne's research team to observe cellular processes as they occur as part of their work to understand neuron changes related to neuro-developmental conditions such as autism.
Photos
In this story
Keywords: funding, research, water, brain, biomedical, Canada Foundation for Innovation, science, civil engineering, mining, autism
People: Heather Buckley, Leigh Anne Swayne
Publication: The Ring