Federal innovation grants lay foundation for discovery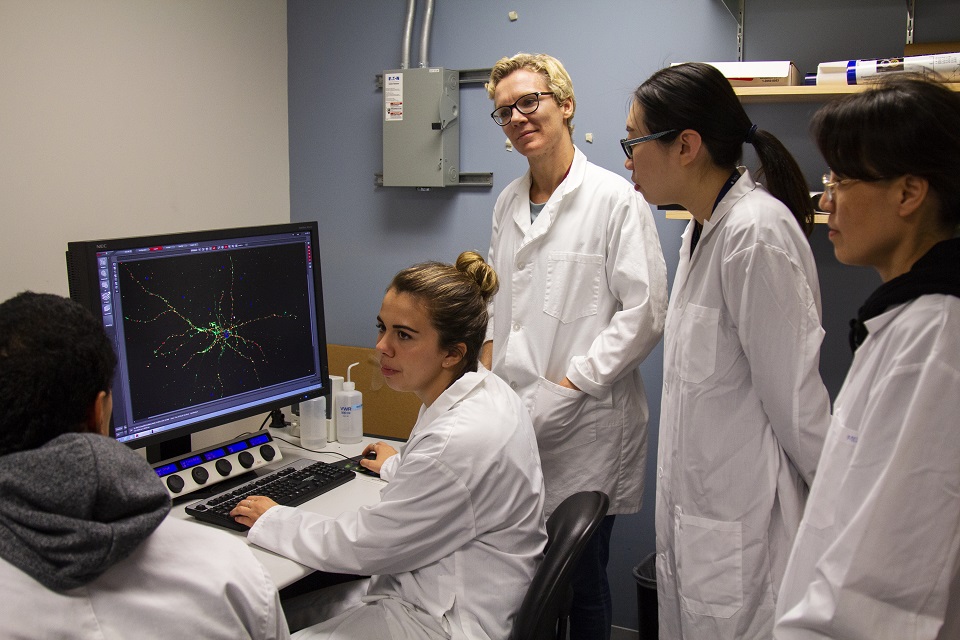 From a cheap and easy way for mining-impacted communities to test their drinking water to a powerful microscope able to observe the tiniest "workhorses" of our cellular system, University of Victoria researchers are putting Canada Foundation for Innovation (CFI) grants to work to address some of the world's most daunting problems.
Federal Science Minister Kirsty Duncan is on campus at UVic this morning to announce more than $42 million in CFI grants, supporting 186 projects at universities across the country. That includes a $355,000 investment at UVic, where researchers Heather Buckley and Leigh Anne Swayne have received CFI support for their projects.
Buckley, a civil engineer, is developing a test strip that will one day let residents of mining-impacted communities in BC and around the world quickly and easily test their drinking water as needed for harmful byproducts of mining such as arsenic, mercury, chromium, cadmium and lead. She is receiving $135,000 toward the $337,500 project, which will also lead to the development of a method of extracting valuable metals from mine tailings.
Swayne, a cell biologist, has been awarded $220,000 toward the $550,000 upgrade of her lab's confocal microscope, purchased in 2013 through a previous CFI grant and matching funds from the BC Knowledge Development Fund. The upgrade will allow even closer scrutiny at the cellular level, and for the first time will permit Swayne's research team to observe cellular processes as they occur as part of their work to understand neuron changes related to neuro-developmental conditions such as autism.
"CFI investments in research infrastructure are absolutely critical for Canadian researchers to undertake cutting-edge research," says David Castle, UVic's vice-president research. "At the University of Victoria, CFI investments support national platforms for ocean science and high energy physics, as well as research programs in neuroscience and remote sensing. On behalf of researchers throughout Canada, I wish to thank the CFI and Minister Duncan for their continuing support to Canadian research excellence."   
Receiving CFI funding for a clean-water project in the UN Decade of Water is particularly meaningful, says Buckley: "The problem of drinking water contamination in mining-impacted communities is one of chronic, long-term illnesses, and I am committed to making low-cost test-strip technologies that are available anywhere in the world where contamination of the water system due to mining is a concern."
Swayne says her lab's CFI-funded microscope is "integral to all the work we do." An upgrade that will add function and higher resolution will "reveal new things that we don't yet know to look for—kind of like getting glasses that suddenly make what you're looking at so much clearer."
Duncan's visit includes a lab tour and a demonstration from a group of local Pathfinders who recently built a remotely operated vehicle while participating in a UVic workshop to increase young women's interest in careers in science, technology, engineering and mathematics.
This round of CFI grants is from the John R. Evans Leaders Fund, aimed at helping universities attract and retain top talent—particularly early-career researchers—through state-of-the-art equipment they need to excel in their field.
A press kit containing a high-resolution photo of Swayne and her research team is available on Dropbox
-- 30 --
Photos
Media contacts
Heather Buckley (Engineering) at 250-472-5879 or hbuckley@uvic.ca
Leigh Anne Swayne (Division of Medical Services) at 250-853-3723 or lswayne@uvic.ca
Jody Paterson (University Communications + Marketing) at 250-721-8746 or jodypaterson@uvic.ca
Click here for the backgrounder.
In this story
Keywords: funding, research, water, brain, biomedical, Canada Foundation for Innovation, science, civil engineering, mining, autism
People: Heather Buckley, Leigh Anne Swayne