Effects of cannabis use on youth: can we predict the future?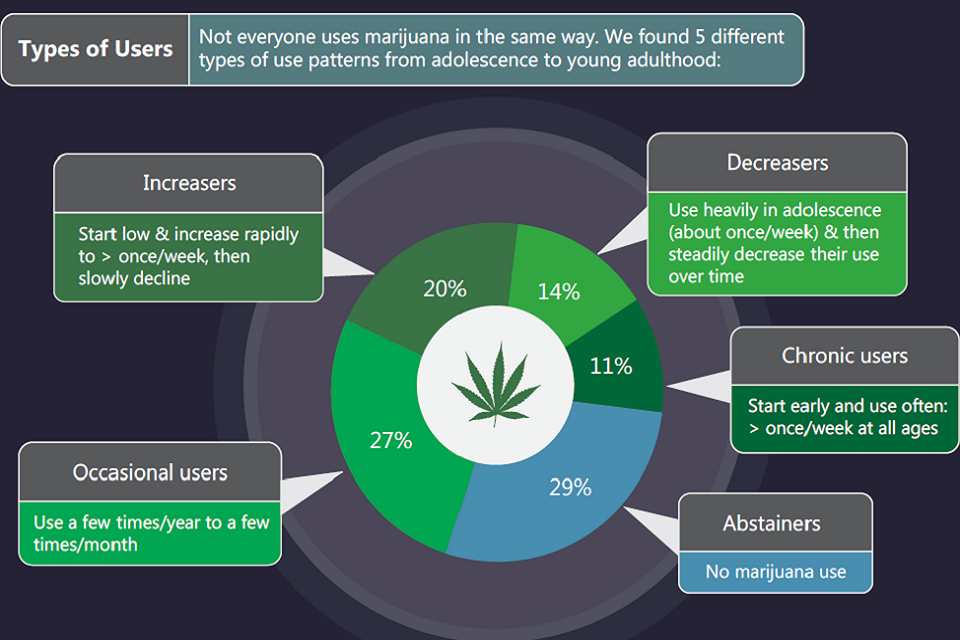 With Canada on the brink of legalizing recreational marijuana, new findings by University of Victoria psychologist Bonnie Leadbeater and lead author Kara Thompson at St. Francis Xavier University have identified specific patterns of cannabis use by youth.
"Our hope is that this work sheds light on how young Canadians use cannabis across adolescence and young adulthood," says Leadbeater, who participated in the studies with Thompson and two other researchers. "We now understand better what predicts different patterns of use and how these patterns contribute to mental health and well-being of youth."
The four researchers examined data from an earlier Victoria Healthy Youth Survey, a longitudinal study led by Leadbeater and conducted by UVic and Island Health. That study spanned a decade (2003-2013) of repeat interviews with 662 young people from Greater Victoria as a random sample of a cohort from ages 12 to 18.
The legalization of cannabis has some health researchers concerned the youth population will have an easier time accessing the product leading to high-risk behavior. Risky patterns of use are associated with poorer health outcomes, substance use disorders, mental health and behavior problems, as well as lower levels of educational and employment outcomes.
The two new studies have identified five patterns of cannabis use: youth who abstained (29 per cent), occasional users (27 per cent), decreasers (14 per cent), increasers (20 per cent) and chronic users (11 per cent). The category "decreasers" refers to youth who used cannabis less over time, while the category "increasers" is the opposite and refers to youth who increased their cannabis use into young adulthood.
The studies are published by the Canadian Journal of Behavioral Science and Prevention Science. The researchers expect these studies will help inform current and future cannabis policies in Canada.

The research is one of 14 projects funded by the Canadian Institutes of Health Research to look at how cannabis legalization and regulation would affect certain groups.

News Release from St. Francis Xavier University
Study 1: Marijuana trajectories in Canadian youth: Associations with substance use and mental health (Canadian Journal of Behavioural Science)
Study 2: Associations Between Marijuana Use Trajectories and Educational and Occupational Success in Young Adulthood (Prevention Science)
A press kit including an infographic is available on Dropbox.
-- 30 --
Photos
Media contacts
Bonnie Leadbeater (Dept. of Psychology) at 250-896-0622 or bleadbea@uvic.ca
Anne MacLaurin (Social Sciences Communications) at 250-217-4259 or sosccomm@uvic.ca
Tara Sharpe (University Communications + Marketing) at tksharpe@uvic.ca
In this story
Keywords: health, psychology, research, longitudinal studies, youth, marijuana
People: Bonnie Leadbeater