UVic medical researchers named Canada Research Chairs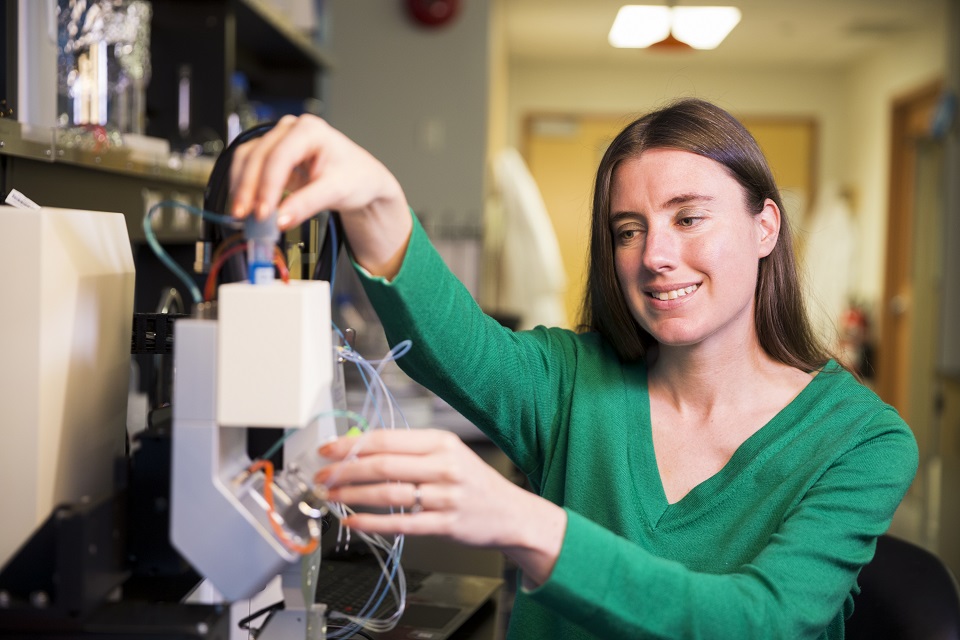 Two prominent medical researchers at the University of Victoria have been named Canada Research Chairs by Science Minister Kirsty Duncan and the Canada Foundation for Innovation, in an announcement Tuesday. 
Stephanie Willerth, a professor in mechanical engineering, uses stem cells to engineer tissues to replace diseased or damaged regions of the nervous system. Willerth is renewed for five years as Canada Research Chair in Bio-Medical Engineering. 
Hector J. Caruncho, a professor of neuroscience in the Division of Medical Sciences, is awarded a new chair, the Canada Research Chair in Translational Neuroscience. Caruncho studies neurobiology of schizophrenia and depression. 
"I believe the efforts in UVic's Division of Medical Sciences to foster health sciences research and the possibility of collaborative endeavors with Island Health provide a fantastic opportunity for me to engage in translational research on mental health," says Caruncho, of his Canada Research Chair appointment. "There is great potential for new discovery on the neurobiology of mood and psychotic disorders, discovery of new drug targets and novel therapies, evaluation of novel biomarkers, and translation of our findings to the clinic and public health domains by using a patients-oriented research approach." 
Caruncho's work focuses on the neurobiology of schizophrenia and depression, and the development of biomarkers and discovery of novel drug targets in mood and psychotic disorders. His work with animal models and neuroimaging are already shedding new light on the molecular and cellular changes that underlie psychiatric illness. 
Willerth's research will help develop the tools necessary to form functional neural tissue from stem cells, exploring how to replicate the signals and structures found in healthy tissue from the nervous system, in order to direct these stem cells to form implantable, engineered tissues.
"The renewal of my Canada Research Chair represents an important endorsement of my research program focused on engineering neural tissue," Willerth says. "I look forward to building on my past success while continuing to train the next generation of biomedical engineers."
Willerth's toolkit for engineering neural tissue includes microparticles that can release chemicals over time, as well as gels that support three-dimensional cell growth. She is combining these materials with reprogrammed adult cells, to create personalized, engineered tissues to repair the nervous system.

Willerth is a member of the International Collaboration on Repair Discoveries, a BC-based organization committed to finding treatments for spinal cord injury. By working with this organization, Willerth will help enable engineered, neural tissues to be used to alleviate the suffering of patients living with spinal cord injuries. 
UVic holds 41 Canada Research Chairs. The Government of Canada is investing more than $156 million for 187 new and renewed Canada Research Chairs at 49 institutions across Canada from the most recent competition. 
The Government of Canada invests in research excellence in the areas of health sciences, engineering, natural sciences, social sciences and humanities through its three granting agencies: the Social Sciences and Humanities Research Council, the Natural Sciences and Engineering Research Council and the Canadian Institutes of Health Research.
View the Government of Canada release on Canada Research Chair appointments. 
A press kit containing high-resolution photos is available on Dropbox.
-- 30 --
Photos
Media contacts
Paul Marck (University Communications + Marketing) at 250-721-6246 or pcmarck@uvic.ca
In this story
Keywords: research, awards, canada research chair
People: Stephanie Willerth, Hector J. Caruncho