Bike-assist powers engineering student into Tesla co-op
- Jody Paterson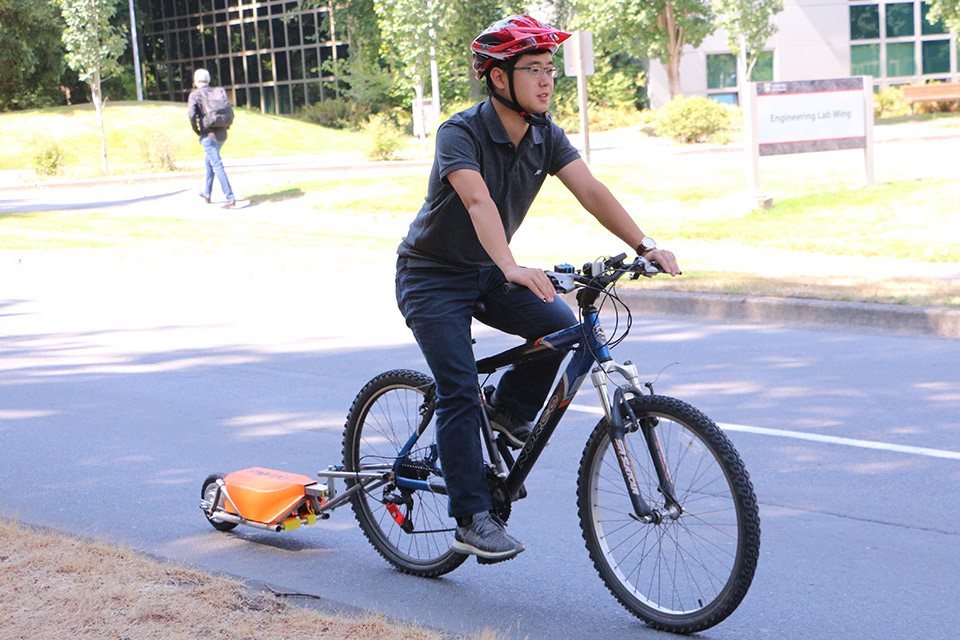 Simon Park is the most recent of 44 UVic co-op students to have landed an internship with Tesla
When the dream is to land work with an innovative, world-renowned company inundated with applicants vying for a spot, it helps to stand out. Happily for UVic mechanical engineering student Simon Park, he does.
Park is the 21-year-old inventor of the Caboost, which converts any bicycle into an e-bike simply by attaching a small electric bike trailer that provides an electrical assist when needed.
Park came up with the Caboost to spare himself the hilly ride to school every day, but he now credits his invention for helping him land a coveted eight-month internship he began this month with Tesla Energy in Palo Alto, Calif.
He believes the Caboost was what caught the eye of the weary Tesla recruiter a year ago at the end of a long day on campus seeking students for internships.
"I've always wanted to work for Tesla," says Park. "I've been applying every single year, whenever I had a co-op term. But a lot of people want to work there."
"So I brought in a very early version of the Caboost to that session. One of the co-op partners brought the Tesla recruiter over to take a look. I think that was enough for me to stand out."
Not enough to actually land an internship right there and then, however. Park went through five interviews with the company after that, and still didn't clinch a Tesla placement. But armed with the recruiter's email, he pressed his case.
"I kept emailing him. I tracked him down on LinkedIn. Getting a co-op with Tesla was something I really wanted," says Park.
He's now working in the reliability department of Tesla's energy division, which produces the Powerwall, a solar-charged mega-battery for people wanting solar power as their primary household energy source. "Everyone thinks of Tesla for cars, but it's more of an energy company than a car company," says Park.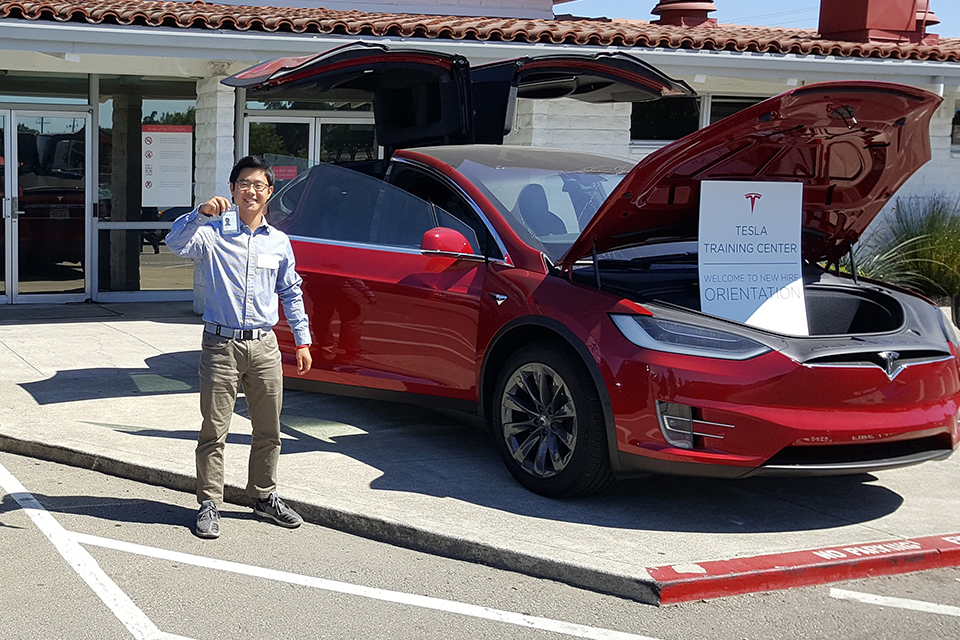 "My thought is that this internship is a really good way for them to have an eight-month-long interview with me," he says. "And just to be working in Silicon Valley is really exciting."
Park is excited about the opportunities for learning that his Tesla internship will provide, some of which might even be applicable to his Caboost project down the line. Everything about the Caboost has been a learning experience, he adds.
"The whole reason I started Caboost was to learn," says Park. "There were certain decisions I made doing the project where the simplest way would have been to do things one way, but I did them the hard way because I wanted to learn."
Park says staff at UVic's Coast Capital Savings Innovation Centre were "the first people to believe in me" for the Caboost project. The South Island Prosperity Project, an economic development initiative for the Capital Region, became "a huge supporter" after Park won the $15,000 Smart South Island Innovation Challenge in March.
UVic has supported the initiative in so many ways, he adds. This summer, Park was a client for a group of UVic electrical and software engineering students who created a smart control system for the Caboost as their capstone project. UVic computer scientist Mantis Cheng turned over his lab for the entire summer so the team had a place to work.
Park returns to UVic in the spring to finish a final academic term before graduating as a mechanical engineer next year.
"After I graduate, I could be shifting into evaluating the Caboost as a business," he says. "The concept is there, and there's lots of potential. But I'm definitely open to working at Tesla, too."
Photos
Videos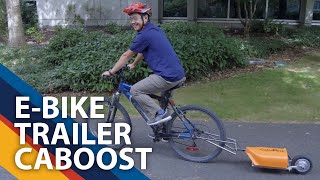 In this story
Keywords: co-op, sustainability, entrepreneurship, engineering, mechanical engineering, student life
People: Simon Park
Publication: The Ring