UVic plans to dazzle at BC's biggest annual technology event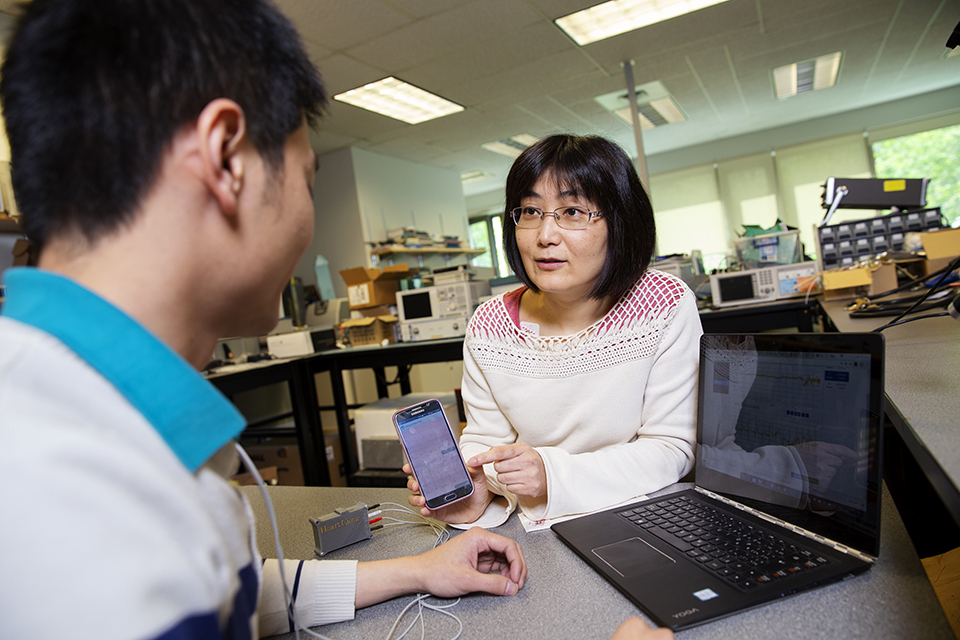 Visitors to the UVic display at the #BCTECH Summit in Vancouver next month will be measuring their mental fatigue, checking in on their heart health, or just being dazzled by the discoveries of UVic's engineers as the university showcases the best of its tech innovations.
The annual summit is the largest tech conference in Western Canada. Aimed at highlighting made-in-BC innovation in technology, the May 14–16 event at Canada Place provides an opportunity for UVic to give the public a glimpse of some of the leading-edge research and entrepreneurial initiatives that are coming out of the university.
Eight UVic researchers will have interactive displays on diverse projects ranging from an "augmented reality" educational tool that brings large data sets to life; a demonstration of wave energy; and the 3D printing of human neural tissue that is setting the stage for personalized medicine.
Benoit Pirenne, director of user engagement for UVic's Ocean Networks Canada (ONC), is a featured speaker at the summit. The computer scientist led the team that built the data management and archiving system for ONC's observatories.
UVic's Coast Capital Savings Innovation Centre will also be at the summit to highlight the products of some of the startups the centre has supported in the past year, from mechanical engineer Mohsen Akbari's "smart" bandage that detects the earliest signs of infection, to a salt-water solution to energy storage.
The summit is an important meeting place for introducing BC-based technology innovators to large corporations, technology buyers, innovation scouts and government procurement specialists.
Among the UVic researchers who are planning to display at the summit:
Computer engineers Derek Jacoby and Yvonne Coady will bring their educational and interactive display used at the Royal BC Museum student learning centre that uses augmented reality to bring large datasets (like that of ONC) to life.
Neuroscientist Olav Krigolson is back for a repeat summit performance of his popular testing stations where visitors can get their brainwaves analyzed. This year, he'll have new software that measures mental fatigue and a bio-feedback station where people can control a virtual ball with their brain waves.
Computer engineer Xiaodai Dong will showcase her high-tech ECG system, Heart Carer, a mobile electrocardiogram for heart monitoring that uses a sensor to collect the signal and then transmits data to the cloud.
Civil engineer Rishi Gupta will display his innovative cement materials and prototypes of equipment that are already in use in a current project with the BC government to evaluate the condition of civil infrastructure such as roads and bridges.
Biomedical engineer Stephanie Willerth will demonstrate her lab's 3D printer that is printing human neural tissue for potential use as a drug-testing platform. It will allow for better prediction of whether novel therapeutics are safe and effective for the treatment of human neurological diseases.
Civil engineer Phalguni Mukhopadhyaya will have two advanced thermal insulations for buildings on display that are up to 10 times more effective than conventional insulation.
Mechanical engineer Brad Buckham, who co-leads the Pacific Regional Institute for Marine Energy Discovery (PRIMED) at UVic, will have a display of marine renewable energy technology and show how alternative energy is integrated into the grid.
Photos
In this story
Keywords: technology, industry partnerships, biomedical, engineering, Coast Capital Savings Innovation Centre
People: Benoit Pirenne, Mohsen Akbari, Derek Jacoby, Yvonne Coady, Olav Krigolson, Xiaodai Dong, Rishi Gupta, Stephanie Willerth, Phalguni Mukhopadhyaya, Brad Buckham
Publication: The Ring