Cool tech, hot research at UVic Tech Summit showcase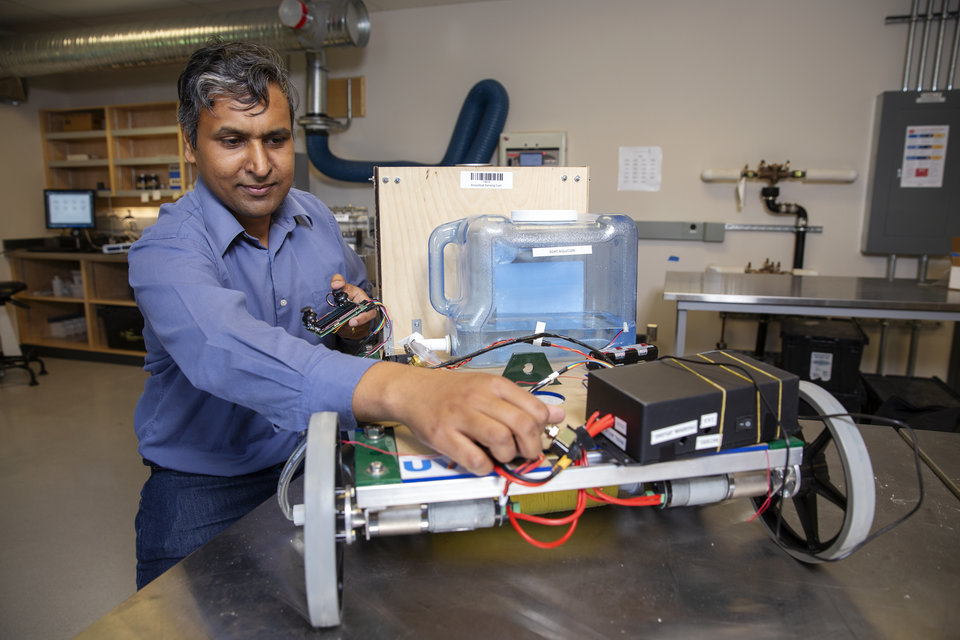 Been a while since you had your brain waves analyzed? Curious about how you'd respond in the crucial period between an earthquake and a potentially deadly tsunami? 
Strike those concerns off your to-do list next week at the University of Victoria showcase at the BC Tech Summit, where UVic engineering and science researchers will be on hand to check your brain health, immerse you in a virtual-reality earthquake scenario in Port Alberni, and get you up close and personal with many more vital and innovative technologies with the potential to reshape the future. 
The three-day tech summit at the Vancouver Convention Centre, May 14-16, is the largest technology conference in Western Canada. This year's event is an important opportunity to experience some of the university's world-leading tech innovations in the areas of health, clean energy and environmental stewardship.
"The tech summit has evolved over the last three years to become the annual showcase event to celebrate success, develop new partnerships, and stimulate new initiatives that further BC's innovation agenda," says David Castle, UVic vice-president research.
"As a vital contributor to the thriving technology sector in BC, UVic will showcase some of our leading researchers and their cutting-edge technologies. This year's summit importantly sets the stage for all of the great initiatives to come with our Cascadia-focused partnerships, and our participation in Canada's Digital Technology Supercluster."
UVic small-business incubator Coast Capital Savings Innovation Centre will also be at the summit with four of the new tech businesses it has helped launch in the past year. Researchers at the summit will have interactive displays and demonstrations of leading-edge technologies. These include:
Follow the #BCTechSummit hashtag on UVic's LinkedIn, Twitter and Facebook accounts from now through May 16 for additional details and photos of UVic researchers participating at the summit. Check out these one-minute videos for more on some of the individual researchers.
A press kit containing high-resolution photos is available on Dropbox.
-- 30 --
Photos
Media contacts
Jody Paterson (University Communications + Marketing) at 250-721-8746 or jodypaterson@uvic.ca
Click here for the backgrounder.
In this story
Keywords: technology, industry partnerships, biomedical, engineering, Coast Capital Savings Innovation Centre
People: Benoit Pirenne, Mohsen Akbari, Derek Jacoby, Yvonne Coady, Olav Krigolson, Xiaodai Dong, Rishi Gupta, Stephanie Willerth, Phalguni Mukhopadhyaya, Brad Buckham