BC announces new scholarship fund for UVic grad students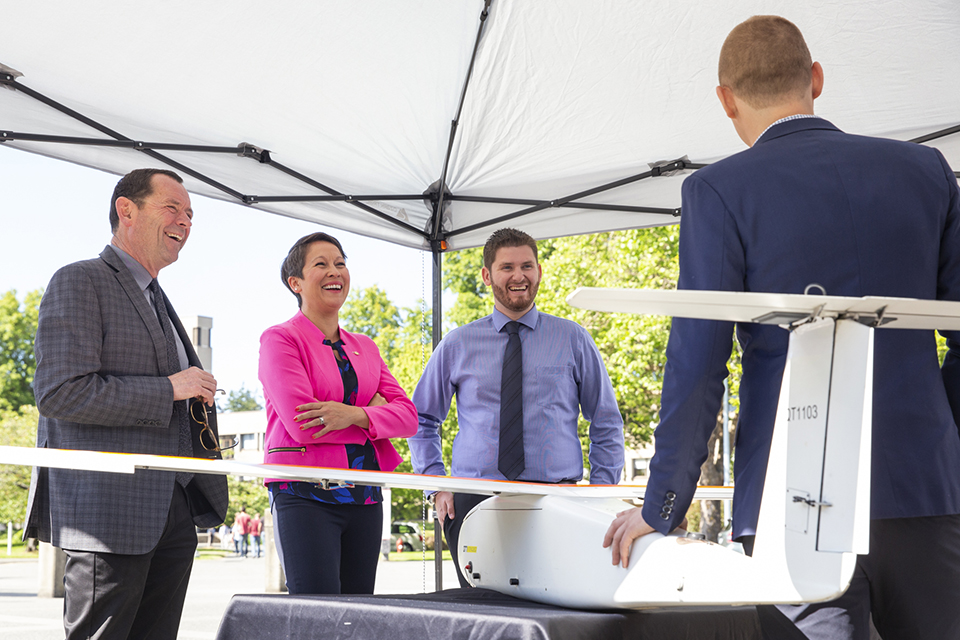 A new scholarship fund of $2.25 million will support University of Victoria graduate students with a research focus on STEM—science, technology, engineering and mathematics—including those in professional programs such as business administration and health.
The announcement was made on campus June 11 by Melanie Mark, Minister of Advanced Education, Skills and Training. The scholarships are part of the $12 million fund announced by the province last month that will support 800 awards of $15,000 each for students in graduate degree programs throughout the province through 2020-21.
"Graduate students play a crucial role in the university's research activity: both as producers of outstanding research, and as connectors of our research to undergraduate students and outwards to business and industry," said Jamie Cassels, UVic president. "Supporting these students is an investment in the discovery and innovation that will make a vital impact in BC and beyond."
"We want UVic graduates to get the support they need so this is a step in the right direction by government," said Arash Isapour, chair of UVic Graduate Students Society. "Helping graduate students achieve their educational goals is a win for everyone." UVic has about 2,600 students in graduate degree programs.
As an example of the kinds of innovative research being done at UVic by graduate students, members of UVic's Centre for Aerospace Research (CfAR) team were on hand to demonstrate their two unmanned aerial vehicles—or UAVs—under development, along with their mobile command centre.
Click here for backgrounder on CfAR.
To hear audio from the news conference, listen below:
A press kit containing high-resolution photos and videos from CfAR is available on Dropbox.
-- 30 --
Photos
Media contacts
Suzanne Ahearne (University Communications + Marketing) at 250-721-6139 or sahearne@uvic.ca
Click here for the backgrounder.
In this story
Keywords: funding, Centre for Aerospace Research, CfAR, Afzal Suleman
People: BC announces new scholarship fund for UVic grad students