Alumni Week celebrates grads' impacts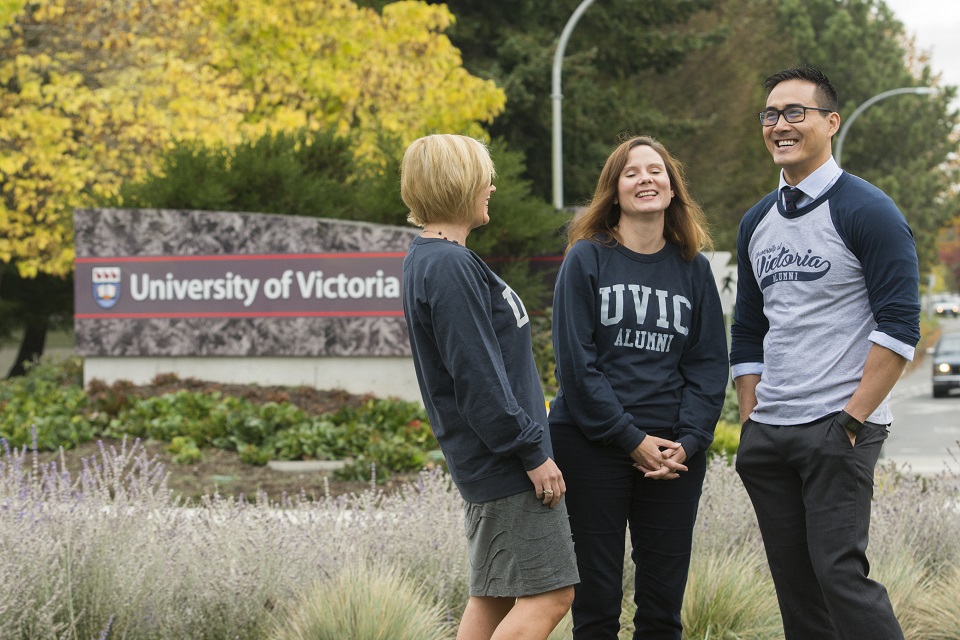 More than a dozen events—including talks, awards, shows and entertainment—highlight the University of Victoria's annual Alumni Week, Feb. 1-7, a community celebration focusing on the vital impact of graduates locally and around the world.
The week kicks off with the UVic Vikes women's and men's basketball teams taking on their University of BC rivals on Feb. 1 at the Vikes for Life Basketball Night.
Alumni Week is a week-long celebration of UVic alumni, their individual and collective successes as well as their many connections to UVic and to each other.   
Highlights include:
Feb. 2-4 – The School of Music celebrates its 50th anniversary with the New Music & Digital Media Festival.
Feb. 5 – The Distinguished Alumni Awards Night at the Songhees Wellness Centre features the accomplishments of 13 outstanding UVic grads including Ry Moran, BA '02, the first director of the National Centre for Truth and Reconciliation; Julie Angus, MSc '01, a scientist, best-selling author and one of North America's leading adventurers; Carli and Julie Kennedy, BMus '08, identical twins who formed the award-winning small town roots country music duo 'Twin Kennedy.'
Feb. 6 – "In Conversation: UVic Chancellor Shelagh Rogers interviews Daniel Sieberg," BFA '98, at First Metropolitan United Church. Sieberg is the author of The Digital Diet, on breaking the tech addiction, co-founder of Civil, a news-making platform, and former Google executive.
Legacy Art Galleries hosts "Trans Hirstory in 99 Objects: The Transgender Archives meets the Museum of Transgender History & Art." The exhibit, which runs until March 29, brings together art and archival material from UVic's world-renowned Transgender Archives to narrate an expansive and critical history of transgender communities.
UVic alumni and interested community members can see the full listing of Alumni Week events at http://bit.ly/UVic-Alumni-Week. Admission is free (unless otherwise specified) and everyone is welcome.
Since UVic was founded, more than 130,000 people have graduated from the university including almost 68,000 who live in BC, with about 40,000 of those in the Capital Regional District.
-- 30 --
Photos
Media contacts
Terry Cockerline (Alumni Relations Director) at 250-721-6255 or terryc@uvic.ca
In this story
Keywords: alumni, Vikes, Distinguished Alumni Awards, donors, chancellor, legacy art galleries
People: Terry Cockerline