Three from UVic awarded 3M National Student Fellowships, recognizing leadership
- Jody Paterson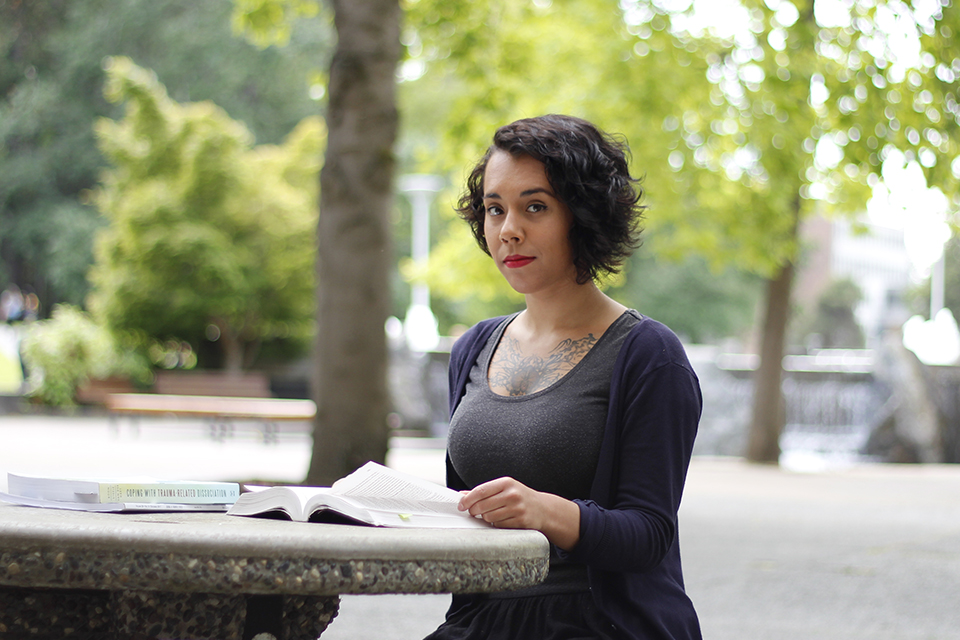 Three of 10 prestigious 3M National Student Fellowships have been awarded to students in UVic's Faculty of Social Sciences. Cara Samuel (psychology), Maxwell Nicholson (economics) and Michael Graeme (anthropology and environmental studies) join seven others to become Canada's 3M fellowship recipients for 2018.
In each of the previous four years, at least one UVic student has been among 10 national recipients of the 3M National Student Fellowship, presented  by the Society for Teaching and Learning in Higher Education. But this is the first time since the fellowships were established in 2012 that three of the awards have gone to students from a single school. All three students are from the Faculty of Social Sciences.
The awards recognize students' achievements and future potential to enhance teaching and learning at the post-secondary level, and include $5,000 for each student as well as support for a year-long collaborative group project. This year, students were asked to submit a higher-education challenge and a solution to the 3M selection committee.
UVic president Jamie Cassels expressed great pride in the accomplishments and recognition achieved by these students. He talked about how students' success and contributions are the "proof points" for UVic's vision "to integrate outstanding scholarship, engaged learning and real-life involvement to contribute to a better future for people and the planet." These students are the embodiment of that aspiration.
There's implicit critique in each of the students' projects in that they focus on the ways in which a UVic education can be improved—but I also like to think that the experience at UVic has also provided the opportunity, inspiration and resources for these students to develop their leadership skills. I am also inspired by the way in which their projects align with the university's goal to create an extraordinary academic environment by enhancing diversity and a supportive learning environment on campus, as well as knowledge mobilization and community engagement.
Big ideas to improve higher education
Nicholson chose to present the challenge of rising textbook costs to the selection committee. He had been struck by the high cost of textbooks as an additional barrier to attending university, and launched a national campaign for open textbooks—texts authored by professors for the specific purpose of being used and taught from without charge. The social media campaign Nicholson put together helped land an additional $250,000 in provincial funding for the BC Open Textbook Project.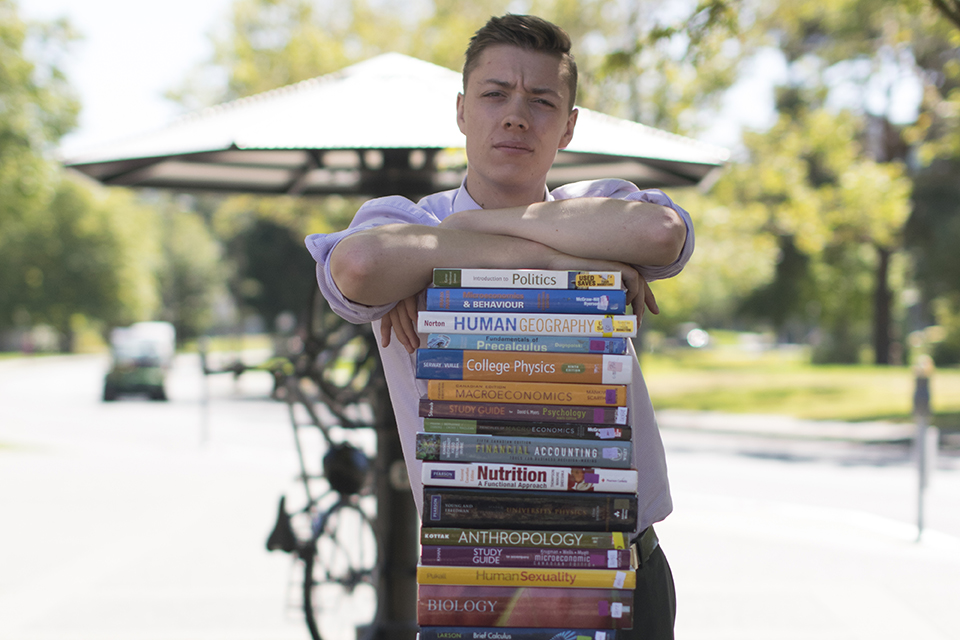 Graeme put forward the challenge of shifting universities' view of their own students, to see them as community resources ready to be connected to real-life issues in their fields of study.
"If students were treated as assets for community growth rather than mere harvesters of skills and knowledge, then all types of social, economic, cultural and ecological projects across Canada could swell in potential," says Graeme, who adds that UVic's School of Environmental Studies is at the forefront of the movement to connect students to their communities and bring research to reality.
Samuel took on the problem of "privilege and exclusivity" in Canadian universities, arguing that many processes for admission and scholarship funding favour students with sufficient financial resources and exclude those from challenged economic circumstance and different cultural backgrounds.
As a marginalized student, I am all too familiar with this struggle. I can't even begin to describe what this feels like, to know that your peers not only have an unfair advantage, but also that no one seems to care—and in fact they are benefitting from your marginalization.
—3M Fellowship recipient Cara Samuel, in her written submission to the selection committee
Her eight proposed solutions included applying universities' equity practices to the admission process; acknowledging all forms of learning and experience as valid criteria for admission; mandatory workshops for faculty and students on creating an inclusive and anti-oppressive environment; and a mandatory undergrad class on diversity and inclusivity.
As award winners, they will participate in a collaborative post-secondary leadership project next year with their 2018 cohort. All three students are committed to being leaders in whatever future awaits them after graduation.
"If I reflect on what good leadership has felt like, in every case it is that light that flickers when justice and peace are co-created out of injustice and conflict—no matter the scale," says Graeme, whose research focuses on deforestation in Ecuador.
I feel like I have been a good leader when I have mobilized others to empathize with, and act for, the resolution of injustice and conflict.
—3M Fellowship recipient Michael Graeme
Drawn to campus, to make a wider difference
Nicholson, who is about to begin his final year in UVic's honours program in economics, says leadership is all about taking action to bring about change.
"It's not watching, hoping or waiting. It's taking the first step, and inspiring others to follow," says the one-time pastry chef, who ran his own cake-making business before putting aside plans to go to culinary school in order to follow his true passion to be an entrepreneur. 
Leadership is realizing that you can't do everything yourself. It is building partnerships with others who share common goals and collaborating to achieve results. This focus on action and collaboration are core to my style of leadership.
—3M Fellowship recipeint Maxwell Nicholson
Samuel's passion for leadership and advocacy began while working in child protection and community mental health in Winnipeg, where she saw first-hand the impact of pervasive systemic oppression. She saw a role for herself in giving a voice to oppressed and marginalized people.
"I want to make a difference in marginalized people's lives," she says, noting that UVic's diversity, sexualized violence policy and social justice courses were among the primary reasons she felt drawn to study at the university. She hopes to complete her PhD at UVic and eventually go on to work as a psychologist with Doctors Without Borders, "a dream since high school."
Graeme selected UVic after "hearing good things" about the programs he was interested in. Having a family member in the city who could offer accommodation was a bonus.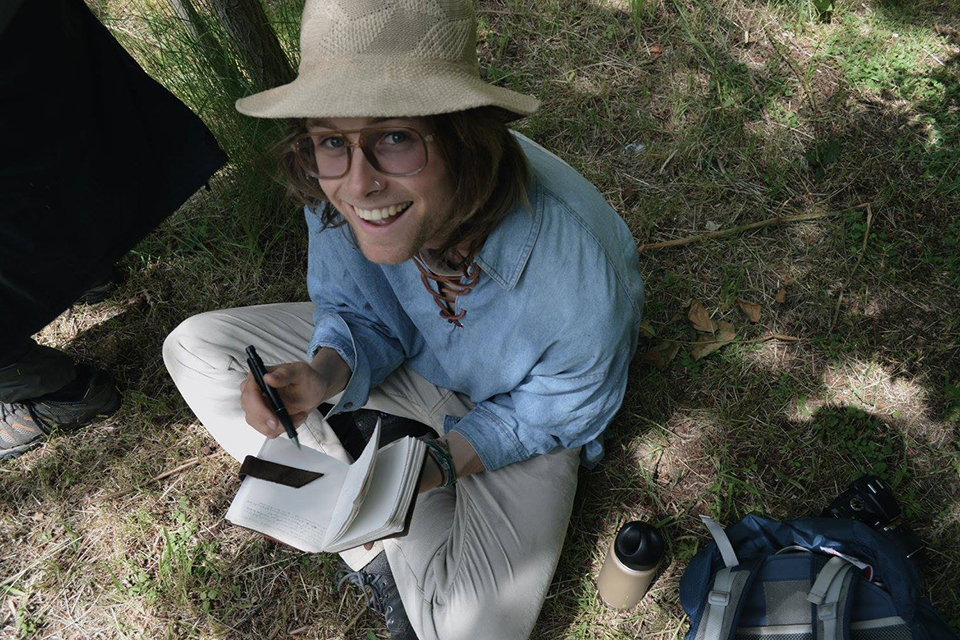 "I've come to love UVic even more for all the decolonization initiatives happening here, as well as those for food security and waste diversion," says Graeme. "I hope to bring what I learn back home to my hometown of Nelson one day."
As the head of UVic's Environmental Studies Student Association, Graeme helped spearhead a fundraiser last year for Mosqoy, a non-profit started in 2006 by another UVic environmental studies student, Ashli Akins, to support and empower the Quechua population in the Peruvian Andes.
Nicholson has bountiful appreciation for the "UVic difference"—abundant student support, opportunities to get involved in leading-edge projects, a collaborative study environment.
"Unlike some other schools, where you feel like a number in a seat, at UVic it is very easy to seek and implement the changes you wish to see," he says. "In my studies, I was able to work closely with many of my professors, and ultimately collaborate with them for the open textbook project," says Nicholson.
All 3M Student Fellowship recipients are invited to the annual conference in June of the Society for Teaching and Learning in Higher Education.
While at the conference, they will develop a cohort-based collaborative project for the coming year with the goal of enhancing teaching and learning at the post-secondary level. The students are challenged both to implement and sustain their project, and to call on past award recipients for support.
Photos
In this story
Keywords: STLHE, student life, award, psychology, anthropology, economics, environmental studies
People: Cara Samuel, Maxwell Nicholson, Michael Graeme
Publication: The Ring