When pennies turn to millions
- Sarah Tarnopolsky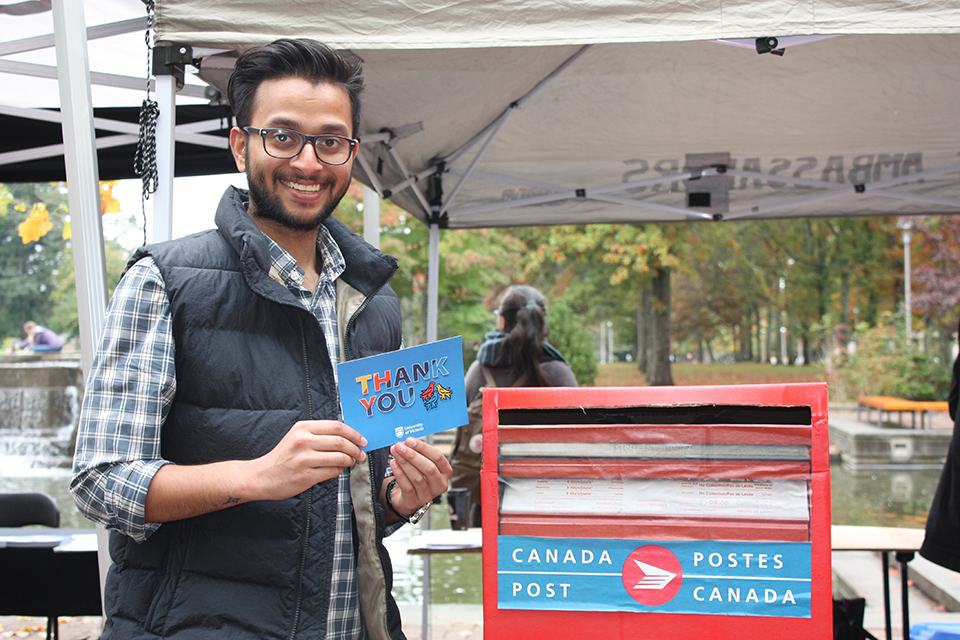 After surpassing last year's fundraising goal of $14 million by over $2.2 million, the university has set out an aspirational five-year fundraising plan, with a target of raising $25 million per year by 2022.
The stimulus for this ambitious target is the university's commitment to diversifying its funding sources, to continue enhancing the quality of teaching and research, and to advancing its reputation in an increasingly competitive landscape.
"The shift from raising an average of $15 million a year to $25 million annually won't be easy," says Tom Zsolnay, associate vice-president of alumni and development. "Future partnership opportunities will rely heavily on positioning the university as an attractive investment."
The UVic Edge plays a key role in enhancing our reputation and answering the question that prospective investors often ask: why UVic? However, it's at the ground level—through the actions and mindset of faculty, staff and students—where the foundation for that shift is built. That's what a recent review of fundraising at UVic referred to when it advised the university to concentrate on cultivating a culture of philanthropy.
"What we mean when we talk about the culture of philanthropy is a shared appreciation for giving, and the desire to make a positive impact in the lives of others," Zsolnay explains. "But it's not that the culture is missing. It's here in abundance. It's just not celebrated or nurtured as much as it could be."
A shining example of this culture in action is the Faculty of Education's pennies-per-paycheque campaign, which ran this spring and raised $10,000 to create an emergency fund for education students experiencing hardship.
Another is the annual Thank-athon, held just before Thanksgiving, where hundreds of students sign thank you notes to donors expressing their appreciation for the difference they make to the university. This fall, several champions from different faculties have stepped forward to champion the Elders Engagement Fund.
"When external donors see the energy and commitment to philanthropy within the university, it's a sign to them that this is an institution they should invest in," says Zsolnay. "We may not get to $25 million by adding pennies to paycheques, but we certainly won't get there without it."
Photos
In this story
Keywords: philanthropy, donor relations, fundraising, student life, community
People: Tom Zsolnay