Google grant fuels hand project growth
- Suzanne Ahearne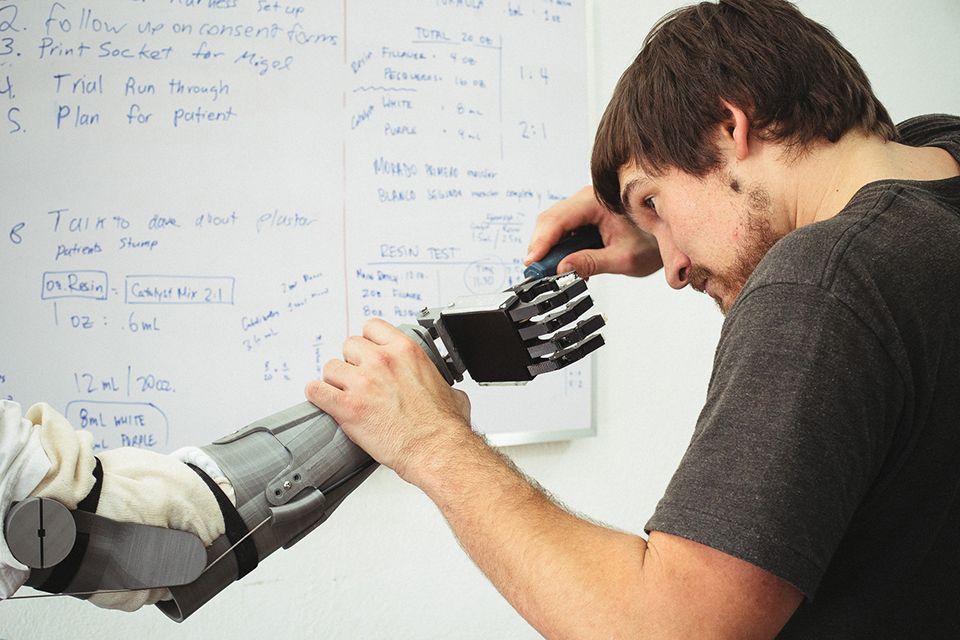 The Victoria Hand Project (VHP), a nonprofit based in the University of Victoria's Biomedical Design and Systems Lab headed by mechanical engineer Nikolai Dechev, is one of five organizations to receive a $250,000 grant from Google Impact Challenge Canada.
Last month in Toronto, Google.org—Google's philanthropic arm—awarded $5 million to a total of 10 organizations through the nationwide competition, which provides funds to non-profits that are using technology to tackle some of the world's toughest social challenges. More than 900 organizations applied for funding.
The VHP helps amputees in developing nations by providing them with low-cost, highly functional and custom-fitted 3D-printed, upper-limb prostheses at a cost of $400 each.
Dechev started the project in his lab in 2013, based on a hand design he'd made out of metal for his MASc in 1999, at a cost of about $10,000 at the time. In 2014, Dechev received an initial grant of $100,000 from Grand Challenges Canada to take the project out of the lab and into deployment.
In 2015, UVic's Office of Research Partnerships and Knowledge Mobilization helped to launch the project as a non-profit organization to enable the deployment aspect. Later that year, a further $70,000 from Grand Challenges Canada allowed the project to expand into Cambodia and Nepal.
Of the 40 million amputees worldwide, 80 per cent live in low- to middle-income countries and less than five per cent have access to prosthetic care. VHP currently works in five countries: Nepal, Haiti, Cambodia, Ecuador and Guatemala.
In each of the partner countries, VHP establishes a 3D print centre, equipping it with 3D scanners, 3D printers and software to produce 3D-printed prostheses on site. The project trains and pays on-site printing technicians to produce the hands within these countries, and trains health care partners to deliver hands and provide ongoing care, creating a sustainable business and medical model of care.
"With the new funding, we plan to create new partnerships in a few other countries, one of which will be Egypt," says Dechev. "We're looking forward to working with Google.org over the next year to help us achieve our goals. Google has an array of support programs that we'll use over the next year through their Google Ambassador program."
"I'm proud of the team," says Dechev, "and really look forward to this next phase of VHP as we ramp up for a much bigger presence and impact worldwide."
Photos
In this story
Keywords: adaptive technology, health, mechanical engineering, technology, international, community, research, biomedical, google
People: Nikolai Dechev