Victoria Hand Project a finalist in Canada's first Google Impact Challenge
- Suzanne Ahearne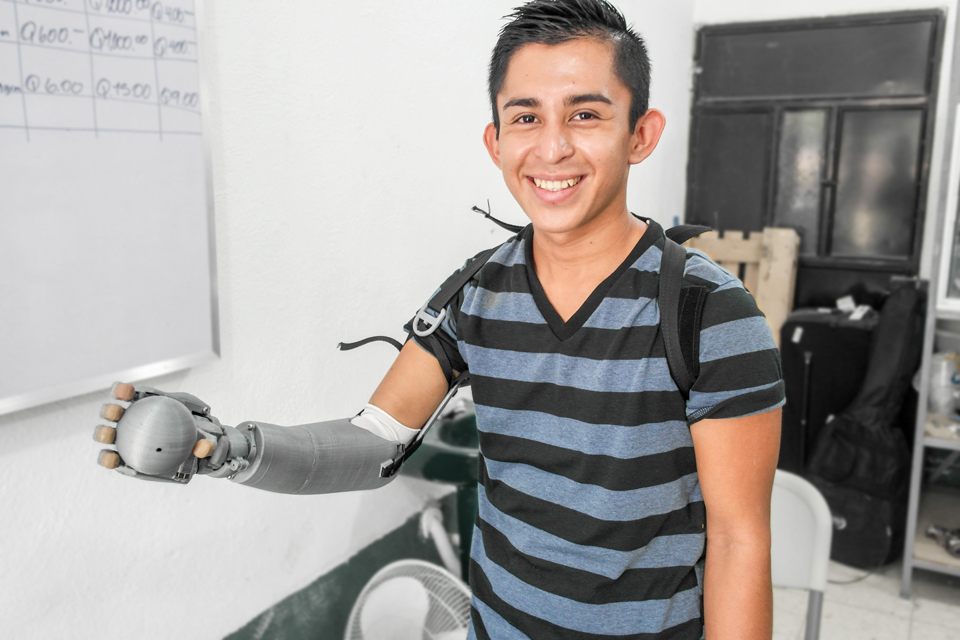 Victoria Hand Project (VHP) has been selected as a top-10 finalist in the Google Impact Challenge Canada, a nationwide competition providing funds to non-profits using technology to make Canada and the world a better place. This is the first time the grant has been awarded in Canada.
Google.org, Google's philanthropic arm, will award $5M dollars to 10 organizations; five organizations will receive $750,000 grants, and five additional finalists will receive $250,000.
VHP provides affordable 3D-printed upper-limb prosthetic devices in low-to-mid-income countries at a cost of $400 each ($300 USD). The project started in Nikolai Dechev's Biomedical Design and Systems Lab in the Faculty of Engineering at UVic, and received two initial grants from Grand Challenges Canada to take the project out of the lab and into deployment. Later, UVic's Research Partnerships and Knowledge Mobilization division of Research Services helped to launch the project as a non- profit organization to enable the deployment aspect.
Of the 40 million amputees worldwide, 80 percent live in low- to middle-income countries and less than five percent have access to prosthetic care. VHP currently works in five countries: Nepal, Haiti, Cambodia, Ecuador, Guatemala.VHP trains and pays on-site printing technicians produce the hands within these countries, and trains healthcare partners in each country to deliver hands and provide ongoing care, thereby creating a uniquely sustainable business and medical model of care.
If VHP is successful in receiving the google.org grant, it will allow VHP to expand services to five more countries and provide prostheses to a total of 750 people over the next three years.
One of the five winners will be selected based on votes from the public, and the remaining winners will be selected following a live event on March 30, when shortlisted projects will pitch their projects to a panel of judges.
Photos
In this story
Keywords: adaptive technology, health, mechanical engineering, technology, international, community, research, biomedical, google
People: Nikolai Dechev