Impassioned legal scholar comes home to UVic
- Tara Sharpe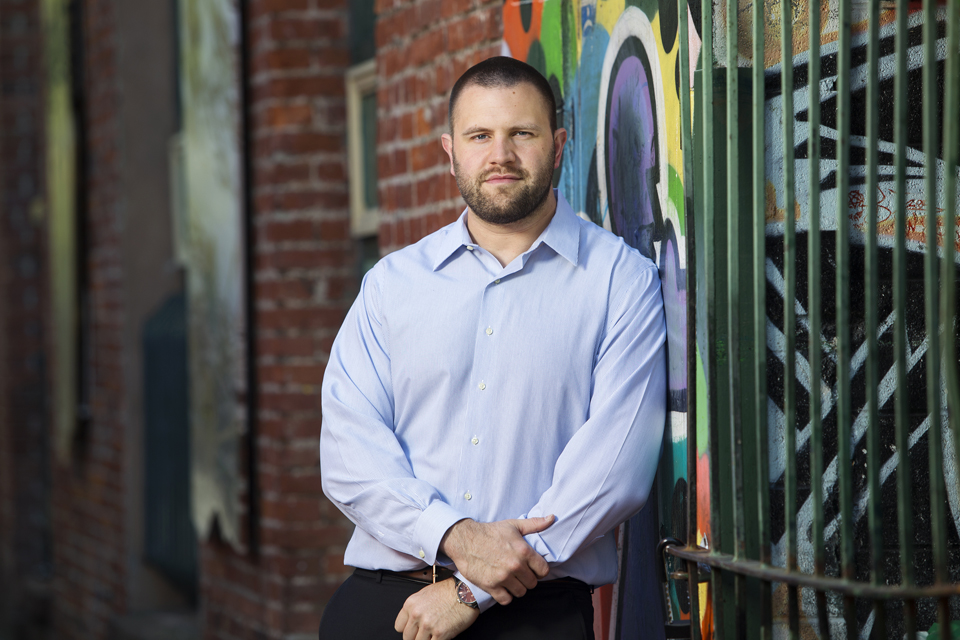 Ryan Tonkin could have pursued his doctoral studies anywhere. He chose to come home to the University of Victoria.
The 31-year-old alumnus—who graduated with a BA in philosophy from UVic in 2010, an MA in philosophy in 2011 and a Juris Doctor from Harvard Law School in 2014—is the first student in UVic's Department of Philosophy's new PhD program.
UVic has always felt like a second home to him and most poignantly at a time in his life when he did not have one. Born in Victoria, Tonkin left home at 14. As he describes, his first lessons were "deeply personal. I dropped out of high school and spent my teenage years on the street, in group homes and in foster care."
He decided to return to education in 2007. After earning his BA, Tonkin squeezed in an MA in only 16 months before heading to Boston.
Innovation in tax law
Tonkin will now focus his doctoral research on doctrines of justice in the context of taxation and income inequality. "The study of philosophy can make a vital impact in the world," he says, "because philosophy is a discipline of ideas. Ideas change people and it is people who make change in the world.
"My project is looking at revolutionizing the tax system. My role is to provide policies that might appeal to advocates, legislators, policy analysts and the public. In an era of increased automation, innovation in tax law is increasingly critical to our survival as a civil society."
His MA supervisor Colin Macleod, chair of the Department of Philosophy, recounts when Tonkin wrote the LSAT that he took it "only one time and scored in the 99.85th percentile. There seems to be no field in which he cannot and does not excel."
Dedication to public service
Tonkin is the recipient of a 2017 Vanier Canada Graduate Scholarship, administered through the Social Sciences and Humanities Research Council, and on July 5, was named a Trudeau Scholar 2017 by the Pierre Elliott Trudeau Foundation. He is the eighth UVic student (and the first in philosophy) to win the prestigious Trudeau scholarship since the program's inception in 2004.
"I used to visit this beautiful campus and see the students on the grass studying," says Tonkin, "and I had so much admiration for them. I thought they're the future leaders and I wanted to be a part of it."
"Ryan's brilliance as a student is exceeded only by his compassion and dedication to public service," adds Macleod. "[Having had] first-hand experience with poverty and injustice, he's not naïve about what he confronts in his work. He just cheerfully rolls up his sleeves and gets to work."
Tonkin is currently directing the Justice as Fairness Society and also founded a public legal education platform at Rock Bay Landing Emergency Shelter, Vancouver Island's largest homeless shelter, which he continues to operate today.
Out in the community
He's been a long-time community volunteer with groups such as Together Against Poverty Society (TAPS); Victoria Cool Aid Society; Victoria Hospice; Fighting for Fairness; Homeless Partners; Victoria Literacy Task Group; Sanctuary Youth Centre; and Mustard Seed Food Bank. He also served as chair of UVic's Philosophy Students Association and worked as a volunteer librarian for the department.
"Universities have a major role to play in shaping both public discourse and policy," says Tonkin. "Students seeking to do either will feel well at home at UVic."
He and his fiancée are currently building a house in Victoria. His motorcycle will be in the drive and his pug ensconced inside the new home. It has come full circle for Tonkin—he now creates sanctuary for others.
Photos
Videos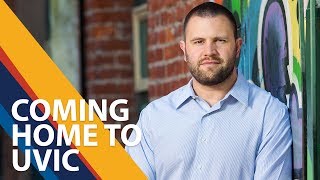 In this story
Keywords: homelessness, law, philosophy and ethics, alumni, social justice, community, research, student life
People: Ryan Tonkin