Anthropology students turn up the sound at the Royal BC Museum
- Chelsea Falconer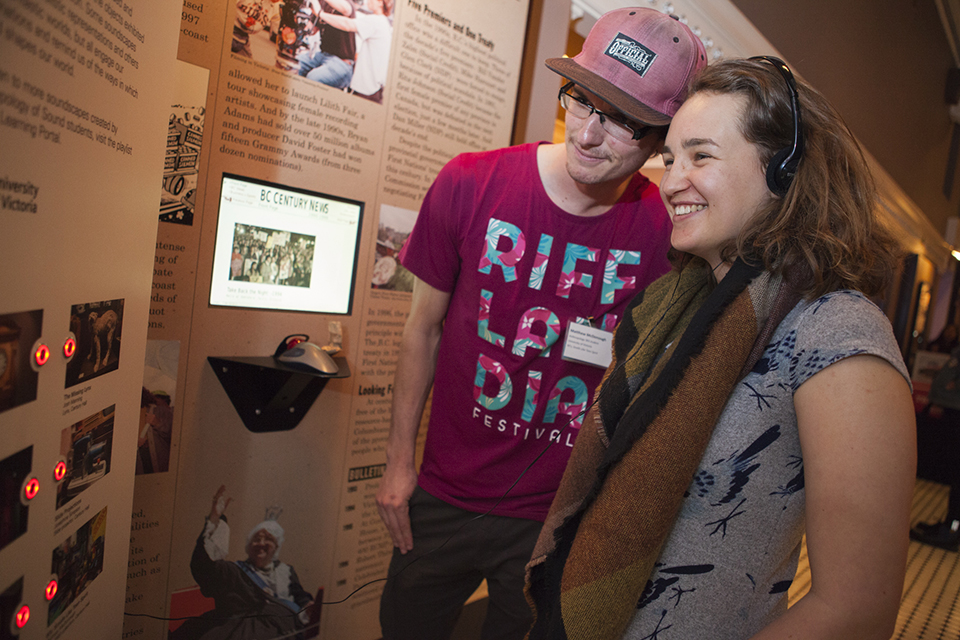 University of Victoria students are making noise again at the Royal BC Museum. Last fall, 39 students in Alexandrine Boudreault-Fournier's third-year anthropology course worked with learning program developers at the museum to create soundscapes that have brought sonic life to many objects on exhibit.
Over the years, UVic anthropology students have created soundscapes for several permanent exhibits at the museum including the "seashore diorama" and the natural history gallery, as part of Boudreault-Fournier's "Anthropology of Sound" course.
Students choose objects on display at the museum and receive training on how to collect, produce and edit a soundscape. The sound compositions encourage museum visitors to take a deeper look at an object or exhibit they may not otherwise notice.
While Boudreault-Fournier has run this course in partnership with the museum for the past three years, this year marked a significant advancement. The UVic team acquired a 2017 Community-Engaged Learning (CEL) grant from UVic's Office of Community-University Engagement (OCUE).
In this course, students are exposed to an entire universe that they never thought existed—the sonic world that we too often take for granted. As they develop a soundscape, they learn practical hands-on skills and discover how their work can influence the experience of museum visitors.
—UVic anthropology professor Alexandrine Boudreault-Fournier
The CEL grant supported the installation of two listening stations in the museum's galleries as well as the creation of an online playlist showcasing 84 student compositions produced by the previous three anthropology classes. This infrastructure provides a home for the students' sound compositions.
Several years ago, a student in the course developed a soundscape for a glass buoy in the "Becoming BC" gallery. "Listening to the soundscape of water and boat sounds, skillfully shaped, took me to another place," says Chris O'Connor, learning program developer at the museum and project partner with Boudreault- Fournier. "I had never noticed that object, even after years of working at the museum. That's the power of this project."
Listen to the online playlist of student sound compositions on SoundCloud.
CEL funding provides UVic faculty and staff with an opportunity to redevelop or expand courses to include a community engagement component. Grants are facilitated by OCUE with funds provided by the Office of the Vice-President Academic and Provost.
Find out more about past recipients and how to apply for a grant.

Article updated Feb. 1, 2018
Photos
In this story
Keywords: anthropology, history, wildlife, Royal British Columbia Museum, Office of Community-University Engagement
People: Alexandrine Boudreault-Fournier