Centre's transformative work in Gustavson gets Goldcorp support
Peter B. Gustavson School of Business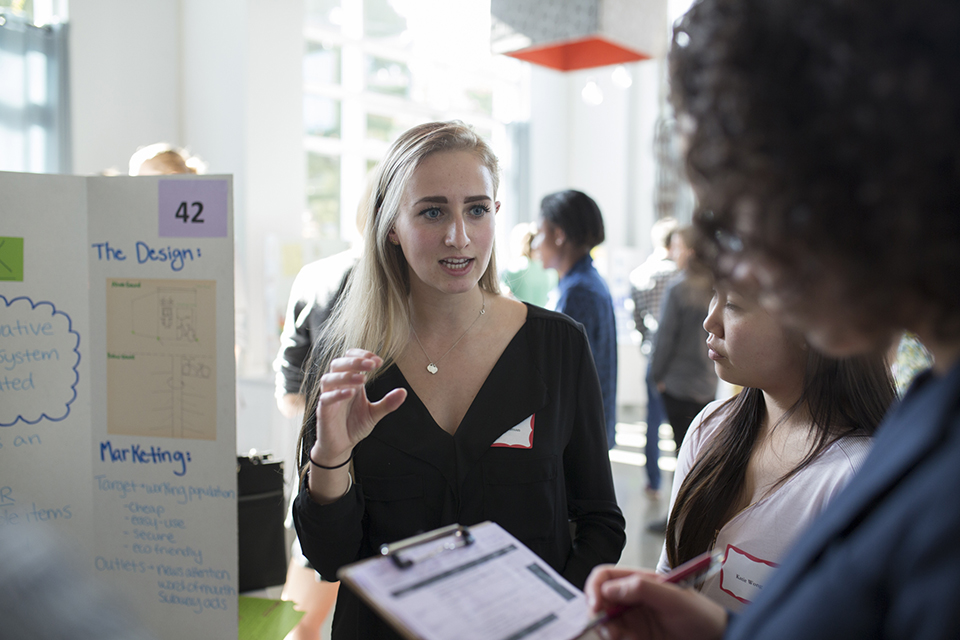 You don't have to dig deep into the Gustavson School of Business's commitment to sustainability and social responsibility before finding the transformative work of the Centre for Social and Sustainable Innovation (CSSI) at the University of Victoria's internationally recognized business school.
Established in 2010, one of the centre's priorities is to increase and strengthen sustainability and social responsibility concepts, cases and tools throughout Gustavson's programs so that students graduate with the knowledge and skills for responsible leadership.
The centre also creates the methods and undertakes research that advances the values and knowledge about the role and impact of corporations with sustainable social, environmental and economic value.
Goldcorp Inc., which has provided $1.25 million in support to the centre since 2013, recently pledged another $600,000 that will help fund CSSI through to 2021, bringing the total financial commitment to CSSI to $1.85 M over eight years.
"We greatly appreciate Goldcorp's ongoing support for the centre," says UVic President Jamie Cassels. "Through Goldcorp's financial support, CSSI is able to provide research opportunities for students and faculty, hire post-doctoral fellows engaged in sustainability and social responsibility research, host leaders in the field, and collaborate with institutions around the world."
"Supporting the Centre for Social and Sustainable Innovation is aligned with our desire to equip the next generation of business leaders with the skills businesses like Goldcorp need," says Brent Bergeron, Goldcorp's executive vice-president, corporate affairs and sustainability. "Goldcorp is committed to sustainable and socially responsible business practices, and CSSI is a thought leader in this field. We're proud to support the incredible work that they have started."
Preparing the next generation of business leaders to manage companies and organizations in a socially responsible way is woven into classroom curriculum. CSSI's 2017 annual review reports 92 per cent of undergraduate and 86 per cent of Master of Global Business required courses contain sustainability and corporate responsibility content.
Gustavson students gain hands-on, practical experience through exercises like the MBA Kitimat Clean case, where students examine plans for a proposed bitumen processing plant in coastal BC and its impact on the environment and local Indigenous communities. And in the annual undergraduate MIIIsion Impossible challenge, students employ a global perspective in their projects to develop a socially responsible business idea that solves an environmental or social issue faced by another country.
"The efforts of CSSI have led to transformational change at Gustavson," says Dr. Saul Klein, dean of the Gustavson School of Business. "As we continue to pursue long-term research, operational and curriculum goals, including a multi-faceted three-year plan for carbon neutrality at Gustavson, CSSI will continue to chart a sustainable, responsible future for the business school and our students."
To arrange interviews with Goldcorp Executive Vice-President, Corporate Affairs and Sustainability, Brent Bergeron: Christine Marks (Goldcorp Corporate Communications) at 1-604-696-3050 or media@goldcorp.com
About Goldcorp Inc.
Goldcorp is a senior gold producer focused on responsible mining practices with safe, low-cost production from a high-quality portfolio of mines. For more information, visit http://www.goldcorp.com/
-- 30 --
Photos
Media contacts
Dr. Saul Klein (Dean, Gustavson School of Business) at 250-721-6422
Krista Boehnert (Gustavson Communications) at 250-721-66630 or boehnert@uvic.ca
In this story
Keywords: sustainability, Centre for Social and Sustainable Innovation, Goldcorp
People: Saul Klein, Monika Winn